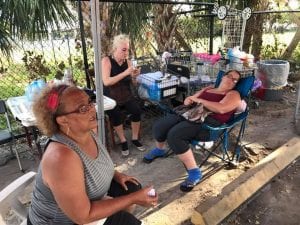 More than 60 households—mostly elderly Latino/a renters—living in the Civic Towers apartment complex in Miami's Allapattah neighborhood have been stranded and homeless for over a week since Hurricane Irma evacuations forced them from their homes. Early Wednesday morning, at around 4am, they were forcibly removed from the site of the complex after Senator Marco Rubio and Mayor Tomás Regalado visited.
Yesterday, they set up a tent city to draw attention to the atrocities they are enduring and provide some level of decent shelter for one another.
"The city and federal government are not providing housing for our people. It's up to us to ensure our people have some level of dignity and shelter. Housing is a human right," said Marcia Olivo of the Miami Workers Center, which is helping to support the families of Civic Towers.
Civic Towers was purchased in February of this year by Redwood Housing Partners, a California based real estate investment firm. Nearly all of the units are project-based Section 8 units, providing vital, affordable housing to Miami's low-income residents. Since Hurricane Irma, HUD has declared the units unsafe for habitability, but little has been done to allow residents in to the building to access their belongings. The landlord has refused to pay for hotels, and local hotels are not accepting vouchers. Renters are now increasingly concerned about deportation by U.S. Immigration and Customs Enforcement and having their children taken from them by the state.
The families are working with the Miami Workers Center (MWC), a grassroots racial, gender, economic, and housing justice organization that is coordinating community recovery efforts as part of a coalition. The coalition has put out a call for donations of tents, air mattresses, fans, water, sanitary products, and financial contributions to support the families.
"Allapatah, like Wynwood, Liberty Heights, and Overtown, is being eyed by predatory equity firms for gentrification. We refuse to allow Redwood Housing Partners and the City of Miami to use Hurricane Irma to gentrify our neighborhoods and displace us from our communities," says Trenise Bryant of the Miami Workers Center. "We saw what happened in New Orleans, and we're not letting it happen here. We are taking care of our own."
This crisis at Civic Towers is part of the larger housing crisis of displacement and rising rents that is wreaking havoc in working class and communities of color throughout Miami and Florida.