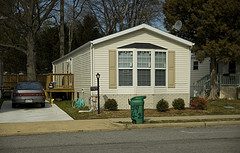 Three years ago, Natividad Seefeld was living in her mobile home in Park Plaza, Fridley, Minnesota, paying rent to the owner of the land it sat on with no guarantee that the following month wouldn't bring news of a rent hike or the sale of the property and possible eviction. Today she is the president of the resident-owned cooperative that holds title to the land the community sits on, making mortgage payments along with her neighbors and safe in the knowledge that the site will remain her home for as long as she wants.
Seefeld's is one of a growing number of success stories where residents are gaining ownership of their communities and their futures, thanks to a number of organizations that recently recognized the untapped potential of the millions of manufactured homes in addressing the affordable housing crisis, and the role residents can play in that transformation.
Manufactured Housing and Its Challenges
The thought of manufactured housing conjures up images of rows of trailer homes on wheels, and that's just what they were through the 1960s. The manufactured home industry has changed dramatically since then, however.
HUD regulations implemented in 1976 imposed construction and safety standards on manufactured housing that ultimately moved the industry away from metal-on-metal travel trailers to today's factory-built frame homes that conform to the same building codes as, and look much like, site-built houses, with asphalt-shingled roofs and vinyl siding and windows. These houses can often be manufactured less expensively than comparable site-built houses, and with greater energy efficiencies.
Manufactured housing makes up the largest stock of housing affordable to low- and moderate-income homebuyers in the United States. There are more manufactured housing units than the total number of public housing units and Section 8 vouchers combined.
Residents of manufactured housing are among the nation's poorest, with a median income of $30,000. They also tend to be older and have fewer assets than the general population, says Ishbel Dickens, executive director of the National Manufactured Home Owners Association (NMHOA).
Of the close to 7 million manufactured units in the country, 2.9 million of them are located in about 55,000 land-lease communities, where homeowners own the structure, but pay rent to a landlord who owns the land. Therein lies the first challenge for the owner of many manufactured homes: at any moment the landlord could sell the property or even evict all of the tenants to make way for commercial or industrial development.
While some states have laws that require that tenants be notified about the sale of the land, and a few even offer incentives to landowners to offer the property to the residents first, most states do not. "The homeowner has far fewer rights than the property owner in these communities," says Dickens. "The homeowners in land-lease communities are particularly vulnerable because they may have tens of thousands of dollars invested in their homes, but they could be told at any time that they have 30 days to get out. They're enjoying the independence that comes with homeownership, but are still looking over their shoulders and wondering when they're going to get a rent increase or be evicted." That may have been less of a problem when manufactured homes were trailers on wheels, she says, but today most of these houses are anchored to foundations and utilities, and moving them is impossible or cost-prohibitive.
Fully two-thirds of the manufactured housing stock is titled as personal property rather than real estate—more like a car than a house—and this represents the second major challenge for homeowners. Since their homes don't qualify as real estate, they're not eligible for traditional mortgages, and their only way to access their home equity is through personal property or "chattel" loans, with higher rates and shorter payoff times. At the same time they are ineligible for benefits of homeownership like the mortgage interest deduction.
Rather than fighting to change these policies, until recently, the affordable housing field has largely ignored manufactured housing, says Paul Bradley, president of Resident Owned Communities USA (ROC USA). Those who had an opinion about it wanted to "wipe it off the face of the earth," he says, because they associated it with trailers and mobile homes, substandard construction, and wealth stripping. It was a visceral reaction, he says, to the trailer parks of the '60s and '70s.
But while the problems of land-lease communities and chattel loans are real, the field's dismissal of manufactured housing demonstrated a lack of understanding of how far the manufactured housing sector had come toward being able to provide quality affordable housing, argues Bradley. Manufactured houses evolved over time to the high-quality structures they are today, he says, but policies, financing opportunities, and attitudes about them have not kept pace with the changes.
Other factors may have played into the inattention on the part of affordable housing developers and advocates. Manufactured housing, particular those units in land-lease communities, doesn't fall neatly into a single category that advocates are familiar with — it's not a simple "owner" or "tenant" situation, and many organizations focus on one type of tenure or other. National organizations may have avoided taking on the issue of manufactured housing because so many of the laws and regulations that govern this housing stock are at the state level and so are not uniform nationwide. Finally, the affordable housing that the manufactured housing industry generates is unsubsidized, and much of the affordable housing advocacy world focuses on models that depend on subsidies.
In the early 2000s, David Dangler, director of NeighborWorks America's Rural Initiative, wanted to investigate why manufactured housing wasn't being considered a viable part of the affordable housing industry. When he first heard about the work being done by the New Hampshire Community Loan Fund in helping homeowners establish cooperatives to purchase the land their homes sat on, "I thought what they were doing was incredible," he recalls. "They combined features of affordable housing, both in terms of bricks and mortar work and in terms of community empowerment, that was much more powerful than anything I was seeing anywhere else." Over the course of the past 30 years, the loan fund has financed 90 manufactured housing co-op deals.
With support from the Ford Foundation, NeighborWorks pulled together a symposium in 2002 on manufactured housing that Dangler says made him believe that if a few variables could be addressed, "factory-built housing could become an increasingly important player in the affordable housing world." The primary variables, he says, had to do with the quality of the construction of the homes, the quality and availability of financing, and the siting of the communities. The New Hampshire model wasn't well known elsewhere in the country at this time, he says, but NeighborWorks invested in the model "because we were considering the distinction that if somebody owned their home and the land they were better off than if they rented land."
Unfortunately, the broader community development field was not ready to embrace the model of resident ownership as a solution, says Dangler, "because the problem statement was so firmly entrenched that nobody really believed there could be a solution."
"There's a lot of stereotyping of who lives in these communities and why, and what kind of housing it really is," says Andrea Levere, president of the Corporation for Enterprise Development, and that's due in large part to what has been a lack of research and outreach.
In 2007, a follow-up symposium served as the launch pad for ROC USA, run by Bradley, who had led the New Hampshire efforts that Dangler had found so attractive five years earlier. ROC USA works with residents of manufactured home communities to form cooperatives and purchase the land from community owners. The organization funds technical assistance, provided by local nonprofits that are certified to assist with the purchase process as well as ongoing operations, and also offers specialized financing for these co-ops.
The Resident-Owned Model Spreads
Since its launch, ROC USA and its partner organization ROC USA Capital, a community development financial institution (CDFI), have helped homeowners in 44 communities around the country form co-ops to purchase and take control of the land beneath their homes. ROC USA Capital has provided $107.6 million in financing, which has preserved 2,900 homes.
ROC USA sees three basic hurdles to resident ownership, says Bradley: opportunity to purchase, access to technical assistance, and access to financing.
First, homeowners can't purchase their land unless the owner offers it to them. So ROC USA works with associations of property owners around the country, building relationships with community owners and brokers. "Community owners, generally speaking, are not too aware of resident ownership and can't quite believe that their low-income residents can pull it off," says Bradley. "So they just need to let us explain to them that it can be done." With the help of ROC USA, he says, the residents can pay market-rate prices and get through the transaction quickly and cleanly, and that's all the sellers usually want to know.
CFED's Innovations in Manufactured Homes ("I'm Home") project is promoting policies that would increase this opportunity, such as increasing the notice landowners must give homeowners about intent to sell, and even incentives for owners to sell to residents. "Opportunity to purchase laws are key to leveling the playing field for residents to be able to own their land," says Levere.
ROC USA also provides technical assistance to communities as they establish these cooperatives, helping them form boards, understand the complexities of making such a deal, and learn how to become landlords and handle all of the details of managing a property. Through a network of certified technical assistance providers around the country, communities get this help before, during, and after the transaction, as the community develops bylaws, sets up guidelines for the transfer of units, and deals with basics like infrastructure maintenance.
"We help residents wrap their brains around the fact that they can do this, that what the previous owners did was not rocket science, and that we'll be there to help them," explains John Wiltse, senior operations director of PathStone, one of the certified technical assistance providers for ROC USA communities.
Residents of the Duvall Riverside Village Co-op in Duvall, Washington, had expressed interest in purchasing their land from the owner twice before but hadn't been able to pull it off, says Stewart Davidson, president of the co-op board. With ROC USA's help, the residents finally closed on the property in December 2012. The technical assistance, particularly the templates for bylaws and regulations and guidance in how to structure and run the board, were key to making the deal happen.
That lasting technical assistance relationship is critical to the success of the ROC USA model, says Andy Slettebak, director of the Institute for Commnuity Economics loan fund at the National Housing Trust, in that it represents a level of stewardship that hasn't existed before in manufactured housing communities. Because the co-op model involves resident ownership of their land, it encourages community engagement and responsibility, and fosters pride of ownership, which encourages owners to take better care of their homes and even reinvest in them.
That sentiment is echoed by Seefeld. "People here know each other more now. We have new signs, there's less crime, and people are more invested in keeping up their homes."
As for financing, ROC USA's partner agency ROC USA Capital serves as a first mortgage lender for resident cooperatives looking to purchase their community land. ROC USA Capital is able to provide financing up to 110 percent of loan-to-value when residents are purchasing their land, and has financed land purchases ranging from less than $1 million to as much as $12 million. Having financing in a single package, Bradley explains, is much easier for the community since they don't have to layer loans from multiple lenders. Standard lenders do make loans to cooperatives, but it can be hard to get financing for a limited-equity manufactured housing community (MHC) cooperative — between their lack of familiarity with MHC operations, the democratic way the coops are run, how highly these loans are leveraged, and the lack of personal guarantees (non-recourse), most lenders have been uninterested. However, strong performance over time, says Bradley, "has won more and more who will lend."
ROC USA Capital's participation lending model also pulls in skittish lenders. It delivers up to 110 percent LTV loans to meet the needs of the borrower for timely and appropriate financing. And, then, after the fact, it sells off a 75–80 percent LTV "A" piece to conventional lenders. "That way," says Bradley, by holding and servicing that first-loss "B" piece, they are retaining some involvement, but also "leveraging private and quasi-public capital and able to close on time frames the market (sellers) need and want."
To date neither ROC USA, in operation for nearly five years, nor the New Hampshire Community Loan Fund have had a single forclosure or failure of a loan, and none of the co-ops have sold their properties.
Where the 25 households in Duvall Village had been paying $455 per month rent to the landowner, today they're each making monthly payments of $475 that cover the 30-year mortgage, taxes, and insurance. Each resident purchased a share in the co-op for $200, a share that they must transfer to the new owner if they sell their home. ROC USA granted them $30,000 to cover closing costs. ROC USA Capital's $1.2 million loan for the purchase of the 4.3 acres of land required no downpayment, so residents had virtually no upfront costs.
Once the land is owned by a resident-driven co-op, a critical next step toward economic justice for owners of manufactured homes is to make traditional individual mortgage products available to them. That's no easy feat, says Sarah Carpenter, executive director of the Vermont Housing Finance Agency, particularly since the financial crisis forced most lenders to move away from loans that they control and toward the underwriting criteria of the GSEs, which have traditionally avoided lending for manufactured houses. "The market got soured by poorly built houses and bad lending," she says, specifically older units that were maintained poorly and depreciated, trailer parks that were destroyed by storms, and personal property loans made on trailers that then had high rates of default because the owners couldn't afford the high interest rates.
So now that stigma is unfairly affecting the availability of financing for newer, better-built manufactured homes, says Carpenter.
Laws that title manufactured homes as real estate, not chattel, will help, says CFED's Levere. In what she called a major victory, the Uniform Law Commission agreed in 2012 to draft and recommend laws to all states that would allow owners of manufactured houses to have their homes classified as real estate.
In March, CFED released a report on the performance of mortgage loans on manufactured housing, drawn from a comprehensive database. The data from CDFIs, community credit unions, and housing finance authorities demonstrated that mortgages to manufactured housing owners, coupled with pre- and post-purchase counseling, have performed as well as other mortgages.
"It's not about whether or not you buy a factory-built or site-built home," says Dangler. "It's more about your level of preparedness for your long term relationship to debt."
Building New
While ROC USA tackles land ownership and financing issues for existing manufactured home communities, another organization, Next Step, is working on increasing the role of new manufactured housing in affordable housing development, and improving its quality. Next Step works with the factories to design energy-efficient, high-quality products that can qualify for FHA and other federal lending programs, and then serves as a broker between factories and its nonprofit network members, allowing them to purchase factory built houses at wholesale prices, a 15 to 30 percent savings. Next Step also helps its network members develop the process for finishing the homes on site and getting homebuyers ready to purchase. "Manufactured housing needs to start with a strong foundation, literally and figuratively," says Stacey Epperson, president of Next Step.
Next Step has led the way in increasing the energy efficiency of manufactured homes, working with factories to design and build Energy Star–rated houses that Epperson says can save homeowners 65 percent on their energy bills in comparison with mobile homes built before 1976. The reduction in utility costs, she says, can often make the difference whether a household can afford a modest mortgage. Over the life of the loan the savings can even pay for the initial cost of the home. With 2 million pre-1976 trailers still in use around the country, the market for these products is significant, she says.
Epperson admits that she initially had the same feelings about manufactured housing as many of its detractors. "Coming from Appalachia, I saw them as an eyesore and as adding to the community development problem," she says. "If you looked at how the older manufactured homes were built, placed, financed, and finished, all of the value was stripped out of it before the homeowner even moved in. And then they often couldn't maintain it or make payments on it." As a result, she says, nonprofits wanted to get away from manufactured housing altogether, "but that's ridiculous. We have a whole supply chain that has the capacity to put out a great product, so why not change it a bit so it puts out something of value?" Let's take advantage of the efficiency of scale in the industry, she argues, to build thousands of energy-efficient homes affordable to very low-income households.
They don't even have to all look the same: The factories that make these homes have changed so dramatically, says Dangler, that they can now work with buyers to generate one-off designs.
Looking Toward the Future
ROC USA's co-op model is just one tool in the toolbox for preserving affordable manufactured housing, Dangler says. Other forms of nonprofit ownership, such as community land trusts and community development corporations could prove viable solutions. "Even if residents don't own the land as a co-op," says Dickens, "the security of tenancy provided by ownership by a nonprofit or public agency would be very valuable to them."
And CDCs should be looking at manufactured housing as a viable way of developing affordable housing, whether it be infill in existing communities or developing new communities. "Manufactured housing needs to be part of the solution to the affordable housing crisis," says Dickens. "It's less expensive to produce than site-built housing, is very energy efficient, and can be built to any specifications."
Thanks to the market-transforming work of ROC USA, CFED, and Next Step, the time may be coming when manufactured housing can be freed to fulfill its potential to help solve the need for affordable housing.