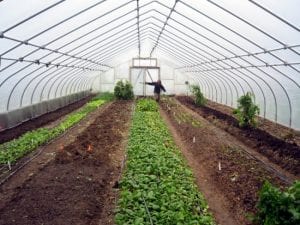 Last fall, I wrote on Rooflines about people in intentional communities who engage with the market economy, even as they live a communal lifestyle that contrasts with the mainstream.
When I moved to Louisa, Va., a couple years ago, there were two such communities in my rural county. Now a third one is developing, with a mission not so much to participate in the market economy, but to show it can be transformed.
Living Energy Farm makes its purpose simple: to live, work and play without reliance on fossil fuels.
The farm goes a step beyond other communities that make ecologically right living part of their mission. As the farm's founders were aware before they started on this project, it's pretty difficult in modern society to do without electricity, which is typically provided though burning oil, gas or coal, or without various products that rely on these fossil fuels. But the farm is determined to show it can be done, with the assumption that more communities will have to find alternative ways to survive as gas prices continue to rise and fuel sources become more limited.
The volunteers who have come together to build this enterprise were out on their property last weekend planting corn with a 1938-era tractor, soon to run purely on wood, and talked of cooking in the near future with a form of gas produced from food scraps and animal manure. They had recently installed a well with a pump that runs on solar energy to provide water to nearby crops and their house.
An interesting question one might ask about living without electricity in this day and age is, what about the internet? Unless the farm can figure out a way to get consistent internet access without fossil fuel-driven electric power, it may be a challenge to be part of the contemporary economy, rather than disengaging from it. The founders do make the point on their website that they see an over-reliance on "electronic escapism," presumably a reference to people surgically attached to their smartphones. But at the same time there are plans for a venue on the farm where people can access the internet. It will be fun to watch this enterprise develop, so stay tuned!