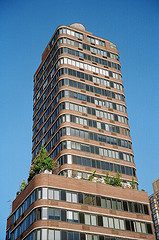 Multifamily building foreclosures in New York City affect more than 44,000 predominately low-income renter households. These distressed multifamily assets—driven to default by unrealistic assumptions about rent increases and property turnover—continue to be hot commodities for speculative investors. In response, Enterprise Community Partners Inc. (Enterprise) is leading an effort to help responsible affordable housing developers access low-cost capital to purchase overleveraged mortgage notes.
A Growing Crisis in the Multifamily Sector
New York City, like many densely populated areas, has seen the foreclosure crisis increasingly affect renters in multifamily properties. According to a 2010 report by the NYU Furman Center for Real Estate and Urban Policy, more than 2,100 multifamily rental properties containing five or more units received a foreclosure notice between 2006 and 2010. The magnitude of this issue has created a sense of urgency within the affordable housing community, now working on multiple fronts to create policy, direct action, and financing solutions to address the crisis.
Multifamily building foreclosures are a concern not just for tenants—they can affect entire communities. In 2011, Enterprise commissioned a study from the Citizens Housing and Planning Council (CHPC) to quantify the effects of overleveraging on multifamily buildings on their immediate neighbors. The study found that serious housing code violations increased significantly among buildings within 250 feet of an overmortgaged building. Liens incurred from city-led emergency repairs also increased significantly in buildings within 500 feet of an overmortgaged building.