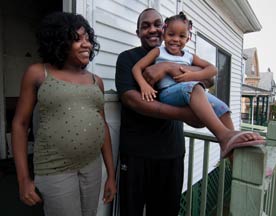 Boston Community Capital's Stabilizing Urban Neighborhoods (SUN) program started with a goal in mind, not a method. That goal was to keep homeowners who are referred to the program actually in their homes, as long as they could afford a mortgage at the house's current market value. The SUN program is open to trying a range of possible ways of doing that — from buying the mortgage and modifying it to acquiring the home through short sale or at an auction as occupied REO and selling it back to the borrower.
But since the program launched in 2009, BCC director Elyse Cherry says servicers have been reluctant to sell individual notes at an appropriate write-down for fear auditors will then make them write down the rest of the portfolio as well, so note purchases haven't worked. Short sales too have been hard to come by; SUN has only pulled off only 11. Given this, and SUN's working relationships with foreclosure counselors, community groups, and organizing groups like City Life/Vida Urbana (see The Sword and the Shield SF, Fall 2011), purchasing occupied post-foreclosure houses has become SUN's signature, if unexpected, method.
The basic strategy is to negotiate a discounted or "distressed" price from the servicer, give it a 25 percent markup to cover a loan loss reserve, and sell the home back to the owner at approximately current market value. A shared-appreciation second mortgage splits appreciation based on the ratio of the new mortgage to the old one (if the new mortgage is 70 percent of the old mortgage, the homeowner gets 70 percent of the appreciation). Cherry says this move is to keep out speculators.
SUN has prevented the eviction of over 175 Massachusetts households in 100 properties — and reduced average monthly housing payments of the owners by more than 40 percent. There has been a lot of media attention on its unique approach, though its scale is small. Shelterforce asked Cherry about some of the concerns the program raises in the field, and about getting to scale.
To many housing advocates, a 25 percent markup with no enhancement to the property would sound like flipping.
I am concerned about the 25 percent markup. You could say we're flipping, but if someone has figured out how to do this without a loan loss reserve, I'd like to know. We need a responsible product. Everyone we are lending to is completely unfinanceable in the current market.
We're not in the business of stripping neighborhood equity. Should there be any value [to us from the shared-appreciation mortgage or otherwise], one way or another it will go back into the neighborhood.
What's the redefault rate?
When we modeled it, we modeled 15 percent. I don't think we're going to be anywhere near that. We have one person we may have to foreclose on. I think in the end we're going to be below 5 percent.
If the economy improves, will distressed prices rise enough to make the program not pencil out?
We order appraisals before we buy anything, and we've already had lenders come back with insane prices sometimes. We of course hope the broader economic crisis improves. If that happens, we're just going to have roll with it. As the reserves are built up, I'm less worried about continuing to build them.
You've done about 100 mortgages, for 175 units. Can this sort of approach go to scale?
We are now lending to homeowners across Massachusetts. We are developing materials that will serve as a "how to" guide for organizations interested in replicating the SUN model nationwide. Right now we're working with a group in Delaware interested in creating the first replication site; we've also met with groups in New York City and California.
A secondary market is key to getting to scale. We have enough money at the moment to make $50 million worth of mortgages. We are in discussions with potential purchasers of SUN mortgage notes and expect to close on our first secondary market transaction later this year. We would sell the least risky 70 percent of the income stream. In Massachusetts we could get to a couple hundred million that way. We'd like to also take it national.
How do you see SUN relating to other foreclosure prevention strategies like loan mods or note purchases?
There are many people who aren't eligible for those programs. We'll work with anyone who has enough income to cover the payments on the current market value. Some people will never own. We're just one of several solutions. Maybe ours works for 15 percent of the market.
What is the potential role for private capital in a foreclosure-prevention strategy like SUN?
SUN gets its funding from a mix of investors. To date, we've raised over $41 million, approximately 25 percent of which comes from foundations, 50 percent from individuals, and 25 percent from Boston Community Capital's own loan fund.