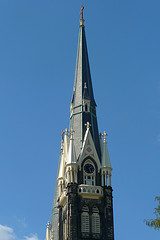 Boston's historic Charles Street AME never missed a mortgage payment, but the church could not refinance and ultimately fell in arrears on its $4 million construction loan to be used to build a community center. Separately, the church, founded in 1818, has also reportedly defaulted on a $1.1 million balloon loan leading to the church's lender to begin the foreclosure process.
But this wasn't any lender. The black church had originally benefited from  the financial support of OneUnited Bank, a CDFI that lends to churches and community institutions. But the church, hit hard by the recession, had trouble paying its construction loan off on time, and OneUnited, also affected by the recession, lost millions of dollars in investments, and ultimately received $12 million in TARP funds, which it has yet to repay. 
All of this has resulted in a public deterioration of the relationship between two prominent community institutions. 
This is just one of countless instances of banks foreclosing on churches. According to a recent report, 270 churches have been sold after defaulting on their loans, with 90 percent of those sales occurring after the lender, showing no appetite for forbearance, sought to simply foreclose.
What's more, as parishioners, particularly in lower-income communities, lose their jobs, church donations decline, placing additional burdens on a church to find cashflow. All this points to continued fallout from the economic crisis that continues to take disproportionate tolls not only on lower-income communities but also their congregations.
While Charles Street AME's story is tied to a community lender, it's notable that several churches are using the Lenten season to urge congregations to move their money to local banks in protest of mass foreclosures. PICO National Network, a coalition of social justice congregations, has taken up the campaign.