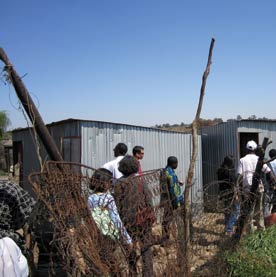 Anyone working on homelessness and affordable housing issues is familiar with the statistics and the human suffering behind them. We know homelessness has been a national crisis for 30 years and we know the recession and dramatic increases in foreclosures have made things much worse.
Just look at the most recent Annual Homelessness Assessment Report from HUD: family homelessness increased by 20 percent between January 2007 and January 2010. In December 2010, the U.S. Conference of Mayors' annual survey of cities across the country reported a 9 percent increase in family homelessness in 2010 alone. And in addition to people who are in shelters or on the streets, over 6 million are doubled up due to economic necessity. In many communities tent cities are going up.
We know we suffer from affordable housing and homelessness crises — but how often do we think of them as human rights crises? As it happens, more and more local advocates are using a human rights framework to address issues of homelessness and housing — and they're gaining ground.
The Human Rights Framework
In the United States, we're more used to talking about civil rights — the right to vote, the right to free speech — than we are about economic, social, and cultural rights. But international human rights law embraces these lesser-discussed rights.
While never ratified by the U.S. Senate, the Universal Declaration of Human Rights, the foundational human rights document adopted (with U.S. leadership) by the United Nations in 1948, includes the "right to an adequate standard of living." This can serve as a powerful tool for advocates.
There are seven elements required for housing to be considered adequate under these standards: it must be habitable, accessible, affordable, and culturally adequate; offer security of tenure; be located near jobs, schools, and other needed services; and have necessary infrastructure such as sanitation.
International standards require governments to realize this right progressively, using the "maximum of their available resources." Governments are not required to ensure the right for all immediately, but they must show constant progress toward that goal.
It's unlikely that the human right to housing will be fully realized in the United States any time soon given the current focus in Congress on cutting spending on social programs. But as advocates, we can work toward that goal. And while we work toward our broad, long-term goal of housing justice for all, we can also use the human right to housing in our advocacy to get shorter-term, concrete results now.
In 2007 the National Law Center on Homelessness & Poverty (NLCHP) held a forum on the human right to housing in Minneapolis keynoted by U.S. Rep. Keith Ellison (D, Minn.). He said he agreed that housing is a human right, which gave us an entrance to begin working with him on the idea of making that right a reality. One of the seven elements of the right to housing is legal security of tenure, which in general terms, means your housing can't be arbitrarily taken away from you. As foreclosures increased, we and our partner organizations worked with Ellison on a bill to protect tenants living in foreclosed properties from being summarily evicted — strengthening their security of tenure, one of the seven elements of the human right to housing. The Protecting Tenants at Foreclosure Act was enacted into law in 2009. It was a big win.
Local Human Rights Advocacy
Human rights commitments apply not only to the federal government, but also to the state and local levels. In each of the following cases, NLCHP worked with the local groups to support their efforts.
In Chicago, the Coalition to Protect Public Housing (CPPH) lobbied the Cook County Board of Supervisors to pass a resolution endorsing the human right to housing, one of the first of its kind in the country. CPPH and others then used the resolution in their state budget advocacy, winning $14 million in rental subsidies to create 1,600 new affordable housing units for the residents of Cook County. By linking their lobbying to the county's resolution on the right to housing, advocates created a framework that supported their request for an increase in state funding for subsidized housing and laid the groundwork for future advocacy efforts.
In Minneapolis, as in many cities, people without housing are subject to arrest for living in public places. In Minneapolis, between 2003 and 2007, over 100 homeless people living in public places were arrested under an "anti-lurking" ordinance; all of them were black. A local criminal justice advocate joked, "I'd like to talk about the racial disparity, but that requires at least two races being involved."
In 2007, local advocates mounted a campaign to repeal the anti-lurking ordinance. They distributed flyers saying "You Have Fundamental Human Rights Under International Law: You are a human being. Your human rights cannot be taken away from you by the government." This helped empower the homeless community to organize, and galvanized an education campaign to humanize homeless people with the general public. The advocates also gave testimony to the UN Special Rapporteur on Racism — an international expert on racial discrimination — during his official visit to the United States and let the city council know about this international interest.
The repeal effort ultimately lost by one vote. But following the human rights campaign, enforcement decreased to only four arrests in the months after the vote and arrests directed at homeless people remain down; instead, the police now work collaboratively with St. Stephen's Human Services to dispatch housing outreach teams when they receive complaints regarding homeless persons. Over 300 persons have been placed into housing rather than receiving tickets since this program began.
In May 2010, Bill Tibbits from the Crossroads Urban Center and a small group of advocates in Salt Lake City mounted a human rights campaign to fight the city's anti-camping ordinance. They got great press coverage, focusing attention on the human rights of people being penalized for sleeping in public even though they had no private place to do so. The following day, the police chief publicly thanked Tibbits for drawing attention to the issue and announced that the police would stop enforcing the city's anti-camping ordinance. The police chief also mentioned he would ask city council to make some revisions to the ordinances. "I was not expecting that," Tibbets said. Today, enforcement of the ordinance remains suspended, and the city has initiated a new program where police on bicycles actively engage people living on the street and provide available resources. Meanwhile, advocates are pressing the city to develop a more comprehensive, positive response to homelessness.
Human rights law treats housing rights and related human rights as interdependent, as demonstrated by this example from Sacramento, Calif. According to the Sacramento County "Street Count," an annual homeless count report, 955 people slept outside on Jan. 27, 2011, due to lack of available shelter beds and affordable housing units. Safe Ground Sacramento, an informal organization of people living in temporary encampments, formed in 2009 in response to the government's dismantling of tent cities and the continual harassment of homeless people. Safe Ground and Legal Services of Northern California participated in an official mission to the United States earlier this year by the UN Special Rapporteur on the Human Right to Water and Sanitation.
The expert's report describes the conditions in the encampment, without access to clean water or sanitation, as "unacceptable, an affront to human dignity and a violation of human rights that may amount to cruel, inhuman or degrading treatment." She concluded that, while more permanent housing solutions are sought, an immediate, interim solution is needed to ensure that the homeless have "access to restrooms facilities in public places, including during the night." This visit both energized the Safe Ground members and received significant local media coverage, giving the advocates there another resource in their arsenal.
International Models
Advocates can also look to international models such as Scotland and South Africa.
Scotland passed its Housing and Homelessness Acts in 2001 and 2003, and they include the right to be immediately housed for all homeless persons and the right to long-term housing as long as is needed for priority groups — a category that will be progressively abolished by 2012 at which point the right will extend to all. This includes an individual right to sue to enforce the law. Homeless people are placed in public housing or offered accommodations with subsidized landlords (similar to project-based Section 8 or Section 8 vouchers in the United States). Other legal provisions complement this law, including the right to purchase public housing units and the ability for homeowners to sell their house to the government and rent it back to maintain their residence through financial difficulty, perhaps ultimately repurchasing the home.
Communities are also required to plan for their affordable housing needs. According to Shelter Scotland, a major Scottish service and advocacy group, as the 2012 date approaches, implementation of the law has varied, but some localities have already achieved 100 percent housing for all homeless applicants.
South Africa explicitly guarantees a right to adequate housing, to be read in accordance with international human rights standards, as well as a ban on unjustified evictions, in its 1996 Constitution. While battling ongoing resource distribution problems, South Africa has developed some of the most progressive case law in protecting the right to housing. This has included orders to municipalities to find housing for squatters before they can be evicted, and orders to the police to rebuild the shacks of those living in slums that they had destroyed, despite the tenants not having formal title to the land.
A Paradigm Shift Is Possible
Focusing on the human right to housing can help advance solutions to the U.S. homelessness and housing crisis. Ultimately, it can help us shift from a paradigm that treats housing as a discretionary privilege to one that treats it as a priority and a right.
Making this shift won't be easy. But in the early 1980s, when homelessness was first becoming a national crisis, it was considered an issue for the private sector, faith communities, and charities. It was not viewed as an issue for national policy. We lobbied, we organized, we persisted — and eventually we succeeded, when what is now known as the McKinney-Vento act was passed. Just last year the administration released a federal plan to end homelessness.
To end homelessness, and the affordable housing crisis that drives it, we still have a long way to go. Understanding and publicizing the human right to housing can help us get there.