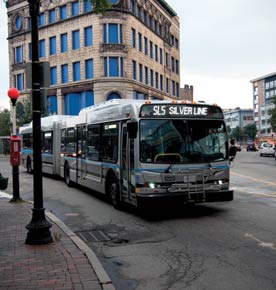 What makes a "great" neighborhood? This is a question we heard often as we toured the Massachusetts communities of Roxbury, Dorchester, Somerville, Lawrence, and Winchester on behalf of the Great Neighborhoods initiative. Great Neighborhoods is an initiative of the Massachusetts Smart Growth Alliance) to help local groups in those five communities improve their neighborhoods through smart growth strategies, connecting them with resources and multi-year implementation support.
We started with a desire to promote smart growth ideas that cut across socioeconomic boundaries. As it turns out, there's no one-size-fits-all answer.
What does smart growth mean in Roxbury? On one hand, this Boston neighborhood is home to persistent challenges like high unemployment, substandard housing, poor health indicators, and concentrated poverty. Yet it is also a historic African-American community that offers cultural opportunities, affordable housing, and retail space within the expensive Boston market.
What does smart growth mean in Winchester? On one hand, this Boston suburb is rich in assets like a solid tax base, affluent and engaged residents, and some of the best-performing schools in the state. Yet rising property values have left the town with little workforce housing, a homogenous population, town center businesses with little foot traffic, and few opportunities for older residents to downsize.
We found that everyone wants a high quality of life and access to all of the opportunities of the region. People are linked by their desires for transportation choices, quality housing, and cleaner air. Although the context for integrating smart growth may differ — in Roxbury one goal is to create areas where people feel safe taking a bus — the end goal is the same: active, welcoming, prosperous neighborhoods where families can spend more time living and less time commuting.
These places also share a desire for local stewardship of their communities, with residents in the lead of creating neighborhood change. Our state policy victories were not translating into more smart growth on the ground. We realized that many local groups understood smart growth, had access to tools and best practices, but struggled with implementation. Accomplishing successful smart growth projects required connecting the dots across issues and agencies that spanned various sectors — transportation, housing, economic development, and environment. This was the critical gap that most local groups could not overcome.
MSGA has a platform and network of relationships that can help local groups address these systemic challenges. Through Great Neighborhoods, we provide strategic planning, organizing support, and fundraising; our partners identify local barriers, conduct campaigns, build model projects of their own design, and form a regional constituency for policy change.
Great Neighborhoods Roxbury is working with Nuestra Comunidad CDC, Quincy Geneva CDC, and Project RIGHT on a 10-year agenda to develop nearly 1,000 new homes, create or retain hundreds of local businesses, and reduce commuting time along Warren Street, the most congested bus route in the MBTA system, by at least 25 percent. Nuestra's flagship mixed-use project, Bartlett Place, will create over 300 new homes and a wide variety of small businesses on an 8-acre parcel just a short walk away from the Dudley Square transit hub. Community residents are weighing in on MassDOT's Transit Needs Study.
Nuestra's executive director David Price says Roxbury residents' idea of a great neighborhood is quintessential smart growth: "Local jobs, improved air quality, and housing where families can live affordably, walk or bike to parks, get to work easily by mass transit, and enjoy a variety of shopping and dining options right in their neighborhood."
Winchester is pursuing a Town Center Revitalization plan to leverage a planned $15 million investment in its commuter rail station to create a range of housing choices and prices to draw people into the town center and create the density required to support local businesses and public transit. Planning board member and local architect Mary McKenna says they want housing that allows people who work the town to live there, such as "fire and police personnel, teachers." Great Neighborhoods will enable Winchester to conduct a housing feasibility study and provide guidance about deploying the town's affordable housing trust fund.
We anticipate that as more community members engage in local smart growth campaigns like these, more local policy leaders will support changes needed to realize them, and a larger, better informed constituency will be activated at the state level to advocate for systemic changes that will support and enable smart growth neighborhoods for everyone.