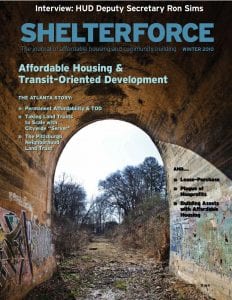 How often have you heard the phrase "affordable transportation" as a companion to "affordable housing"? My first time was at the National Inclusionary Housing Conference in Washington, D.C., in early November. And, impressively, it was coming from U.S. DOT Deputy Assistant Secretary Beth Osborne.
"Something's wrong when 'affordable' areas by total [housing plus transportation] costs cost more than more expensive housing areas," Osborne said on a panel about funding and policy for inclusionary housing. "If you put together a LEED-platinum certified building way out of town, is that really environmentally sound? You can't fix a bad location with transportation. You have to put housing in the right place."
But of course, the flip side of that is that housing in "the right place" can become pricey, and super expensive housing next to affordable transportation doesn't add up to affordable or inclusive or accessible. In fact, many places that added transit in the 1990s experienced not only a rise in house prices and resident incomes, but also a rise in vehicle ownership! Let's remember that transit systems rely on those who rely on them. The experience of places like Atlanta, which saw massive speculative rises in land and housing prices as soon as their new Atlanta BeltLine light rail/trail loop was merely proposed, shows us that if we want lower income folks to have access to both the transportation and other amenities that come with investments in transit, we're going to have to act fast — at the planning stages — to build affordability in.
Our cover package of articles this issue starts with an overview of transit-oriented development projects and the ways equity advocates are shaping station-area plans, and it ends with a piece on policies that can help move that along. In between, we take an in-depth, three-article look at what's happening in Atlanta, where the BeltLine has spurred a creative idea on how to bring community land trusts to scale.
Residents of Atlanta agreed early on that some housing near the BeltLine should be affordable. But as Ryan Sherriff points out in his piece, the duration of affordability required by common housing subsidies is often shorter than the transit project's estimated 25-year construction period. So Atlanta chose to make much of the affordable housing along the BeltLine permanently affordable using the CLT model.
Among its many assets, the BeltLine route is dense with existing neighborhood-based organizations. Rather than each one creating a new CLT in isolation, a "central server" model, as Andy Schneggenburger describes in his article, was developed. It's a citywide organization that will support back office functions, policy, and public education work and provide technical assistance for locally controlled CLTs.
Bringing our lens right down to the ground, Mtamanika Youngblood and Harold Barnette describe how all of this is playing out in one Atlanta neighborhood.
It's exciting to know that both DOT and HUD get this and are working through the Sustainable Communities Initiative to figure out how to tweak the policies and funding streams that so often thwart collaborative, comprehensive solutions like linking TOD and affordable housing. We hear from HUD Deputy Secretary Ron Sims, who in an exclusive Shelterforce interview lays out his vision for a HUD that not only sees but also prioritizes the connections between equity and sustainability.
None of this "big picture" thinking, of course, reduces the importance of the traditional concerns of affordable housing, community development, and community organizing — if anything, it makes them more important. In this issue we include three articles exploring some age-old, but still important issues: Mike Miller discusses the danger of the drift away from grassroots power-based organizing when activist groups morph into program-oriented nonprofits.
I look into the recently reignited interest in lease-purchase models, and how organizations are using them to try to achieve the twin goals of expanding access to homeownership and quickly stabilizing neighborhoods full of foreclosures.
And Rick Jacobus walks us through some new research that shows that the apparent dichotomy between permanent affordability and meaningful levels of asset-building is actually a false one: shared equity homeownership programs deliver both (along with reduced risk, as we explored in our last issue in Stewardship Works, Shelterforce #163).
As DOT's Beth Osborne told the inclusionary housing conference, "If you get one fabulous benefit from a dollar spent, you've failed." Especially in an economic climate like this one, working on multiple levels at once — people and place, current and future generations, social and environmental and economic goals — has to become de rigueur. We're pleased to offer up an issue that showcases how people are diving into that work, and how it's succeeding.