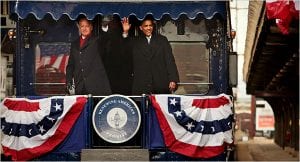 The weekend before Barack Obama and Joe Biden take the oath of office, I can't help but remark on the seeming missed opportunity for these two change agents as they make their symbolic whistle stop tour on Amtrak's Northeast Corridor line, from Philadelphia to Washington, D.C.
The gasbags who are all camped out at Washington's Union Station for Obama's arrival leading up to Tuesday's The Moment (as CNN has so pretentiously been marketing this historic swearing-in), are talking about how this rail excursion is both representative of Joe Biden's now-famous (and overblown) commuting route, and points way back to the olden days when Lincoln made his famous rail trip from Illinois to the nation's capital.
But, history aside, why are we looking, almost quaintly, at rail travel? Why aren't we using this as an opportunity to talk about policy implementation that better supports rail travel, and the community, economic, and developmental benefits that can result?
Why is taking the train "old-fashioned"? Obama and Biden should be using this opportunity to discuss the future of transportation in this country.
Kaid Benfield, Rooflines [Shelterforce] blogger, and director of NRDC's Smart Growth Program in Washington, D.C., wrote last week that "smart growth and transit are a big part of the solution" as soon-to-be-President Obama vows to "fight climate change, tackle oil dependency and revive the U.S. economy." Nothing could be more true than this.
Put aside the fact that no one is under any illusions that gas prices will continue to stay low, at least in the long term, and that transit-oriented development and the benefits that type of development can provide for towns and states alike provides one of the many keys to unlocking the doors to a better economy.
Amtrak did get a much-needed boost last year when the Senate overwhelmingly passed an Amtrak funding bill that authorizes $2.5 billion a year for Amtrak, almost double its current federal funding level for operating and capital expenses, as well as equipment purchases and railroad repairs. According to The Wall Street Journal, About $1.4 billion would help pay down Amtrak's more than $3 billion in debt.
This is really not that much, of course, but Congress acted quickly when gas was over $4 a gallon. I wonder how things will work out now that gas prices are a little easier on the wallet? My guess is that transportation initiatives will be less of a priority, or fought by soul-searching Republicans, desperately hoping to rediscover the roots of fiscal conservatism (in the House vote on The Passenger Rail Investment and Improvement Act of 2007, all 104 nay votes were cast by Republicans) or scared Democrats, cowering at the prospect of living up to the "wild spender" stereotype. But what we have to remember is that sound transportation policy is also fiscally sound.
The 70-22 passage of the Senate version of the bill, sponsored by Trent Lott (R-Miss.) and Frank Lautenberg (D-NJ), was more bi-partisan in nature, though all 22 nay votes were cast by Republicans.
Barack Obama was a co-sponsor of the The Passenger Rail Investment and Improvement Act of 2007 and the Obama-Biden policy papers indicate that their administration will support federal funding as part of a "long-term investment" in Amtrak. Further, they support the development of high-speed freight and passenger rail systems, stating that "providing passengers with safe high-speed rail will have significant environmental and metropolitan planning advantages and help diversify our nation's transportation infrastructure."
This is welcome news if they can work with Congress in achieving comprehensive transportation policy, but perhaps changing the rhetoric is a good way to start: when you're taking the train to Washington, why not talk about your mode of transportation?