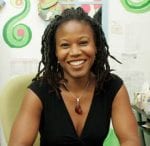 The term "sustainability" now ranks with "organic" on the buzzword index. In recent years, cities, small towns, local communities, and social organizations with finite economic resources have begun to explore the benefits of energy- and cost-saving policies that support the environment. As these initiatives coalesce, the sustainable-development movement could have profound, long-term effects. And if the world is a greener place in a generation or two, we'll have people like Majora Carter to thank for it.
Carter's star continues to rise in her field since she founded Sustainable South Bronx, a nonprofit environmental justice solutions corporation. She founded the group in 2001 following a community-based effort to defeat a Giuliani proposal to install a municipal waste-handling facility in her native Hunts Point neighborhood in the South Bronx. As then-project director for Community Restoration at the Point CDC, Carter wrote the $1.25-million federal transportation planning grant for planning funds to design the South Bronx Greenway, replete with 11 miles of bike and pedestrian paths, low-impact storm-water management, and recreational space — all providing local economic development.
Once work was underway on the waterfront, Carter, having then founded Sustainable South Bronx, identified a market niche for work in what is now known as the green-collar industry, and created the Bronx Environmental Stewardship Training program (BEST), a 10-week course and one of the nation's first urban green-collar job-training and placement systems.
A winner of a 2005 MacArthur Fellowship — commonly referred to as the "genius" award — and named one of Newsweek's "Who's Next in 2007," Carter says that a holistic vision of neighborhood improvement could be taken to global scale if both societies and political leaders had the will to persist.
What is the driving philosophy behind Sustainable South Bronx?
First, what we tried to do was look at our environment as a holistic place. I'll point to Dr. Martin Luther King, Jr. because this is the 40th anniversary of his death. Dr. King was always preaching in favor of racial justice, but if you look at the evolution of his thinking as he got older, his preaching was also as much about economic justice. You can make a man as free as you want, but if his community is struggling, what does that freedom really mean if he can't put food on the table for his family or keep his head above water?
The freedom to actually have a livelihood that is not degenerative in any way is an excruciatingly important thing — to actually be able to provide for people everywhere. And so, like Dr. King, we worked really hard on our end to build the kind of capacity in our community to help folks understand how important the environment was, because it was affecting our public health.
And that ties into the work Sustainable South Bronx did with the South Bronx Greenway project.
Yes. Take the work we did for our waterfront, and then to circle back a little bit on that, we got started in this work because we were fighting against a huge waste facility that former Mayor Guiliani and [former New York Gov. George Pataki] wanted to bring to our waterfront.
We discovered that there was an enormous amount of waste that was already handled in the community, and then, later on, we were slated for more power plants. We already had 60,000 truck trips coming through the neighborhood and a huge sewage treatment plant that processed an enormous amount of the city sewage sludge. It just seemed like it would be adding insult to injury if the planned waste facility was ever built.
So, Sustainable South Bronx allowed residents to understand that there were alternatives for the waterfront?
In fighting against that waste facility, we did have to do some work to help the community understand that there were other things they could be hoping for in their own community. Giving people an opportunity to think about what our future could be, especially when they never really thought about it before, was incredibly difficult.
You know, it's easy to get demoralized when we don't really think that there are any options. It's hard to have a vision when all you see is destruction around you. So in developing waterfront parks in the community and realizing that we had a waterfront worth revitalizing, it helped support our community desire, and allowed folks to see themselves differently — and also to force people on the outside to see us as not just communities filled with garbage. That was really incredible.
But the beautiful part was really what happened after that. We were able to apply for a little bit of seed grant money and turn that little dump into the first waterfront park my neighborhood's had in more than 60 years.