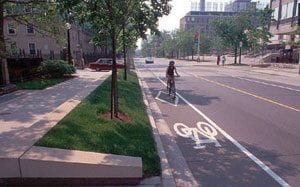 An exciting new resource is available to community developers who want to make the streets in their neighborhoods more inviting to people on foot, on bikes or traveling by some other non-vehicular form of transit.
Livable Streets, a Web portal named for the 1981 book by Donald Appleyard, launched last week. It features Streetsblog, with daily commentary about transit improvements in New York City and elsewhere; StreetFilms, which uses video as a means to educate about progressive street design; and StreetsWiki, where anyone can post information about important streets-related concepts such as transit-oriented development. I myself have made three contributions so far to StreetsWiki. It's a fun thing to be a part of.
There are other groups and alliances out there that are excited about making our streets and avenues more pleasurable places by forcing motorists to share space. The Complete Streets alliance is made up of an array of fairly middle-of-the-road policy and planning groups, and has some strong support in Congress.
Since street life is so vital to overall neighborhood quality, the livable or complete streets movement is one to pay close attention to.