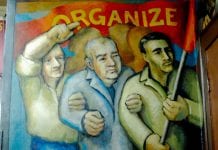 Overcoming the ideology of individualism and corporate power is achieved not through framing or advocacy but through the experience of collective struggle. A review of No Shortcuts: Organizing for Power in the New Gilded Age by Jane McAlevey.
Unmaking Goliath: Community Control in the Face of Global Capital, by James DeFilippis. Routledge, 2004. 188 pp. $24.95 (paperback). Contours of Descent, by Robert Pollin....
A Place for Us: How To Make Society Civil and Democracy Strong by Benjamin Barber. Hill and Wang, 1998. 172 pp. Between the two great...