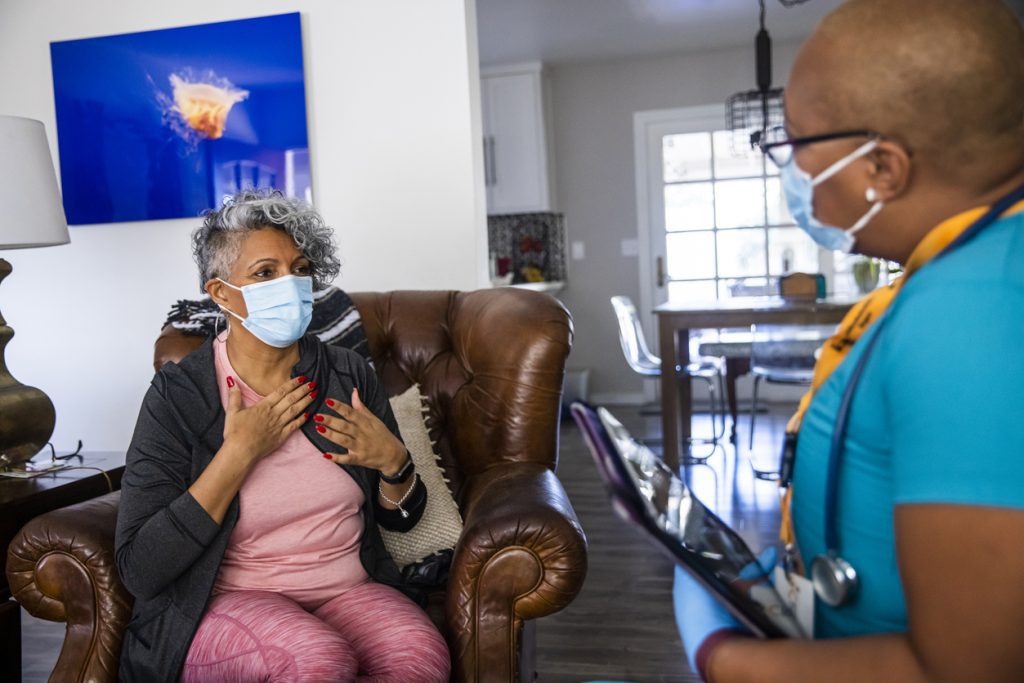 Amid a growing body of evidence demonstrating housing's impact on health outcomes, the Biden administration has been creating new opportunities for state Medicaid agencies to partner with organizations and providers that address housing insecurity and homelessness. The Centers for Medicare & Medicaid Services (CMS) has issued new guidance on Medicaid waivers and use of the "in lieu of services" (ILOS) authority, giving states increased flexibility to use Medicaid dollars to directly support housing expenses, including rent and temporary housing, and invest in community capacity building (for example, in providers and partnerships) to support housing services at a scale that is unprecedented in the program's history.
Housing people is beneficial to the Medicaid program because it improves health outcomes and reduces the use of high-cost, high-intensity services such as hospitalizations and emergency department visits. For example, a program providing rental subsidies and case management supports to homeless individuals in Los Angeles was found to improve patient-reported mental health and to reduce inpatient days by 76.7 percent, emergency department visits by 67.5 percent, and the use of crisis stabilization services by 59.5 percent. A similar program in New York State reduced inpatient days by 40 percent, emergency department visits by 26 percent, and inpatient psychiatric admissions by 27 percent.
This intersection of health care and housing, and the administration's recent guidance that expands Medicaid's potential to address housing insecurity, create a new opportunity for alignment at the federal, state, and local levels across health and housing service organizations to improve the lives of those experiencing housing instability. For housing organizations—including public housing agencies, providers, Continuum of Care programs, and advocates—this can involve partnering with state Medicaid agencies, health plans, and/or health care providers to deliver housing subsidies and services to those in need, with the support of new and significant federal funding.
1115 Waivers for Medicaid Coverage of Room and Board Expenses
To understand the trajectory of Medicaid policy as it relates to housing, it's important to know that regulations generally prohibit the use of federal Medicaid dollars to pay for room and board for enrollees outside of nursing homes or certain medical facilities, like hospitals. States that wish to directly cover rent and other housing expenses for Medicaid enrollees have often done so using state-only or local dollars or via grant funding. 
However, the Social Security Act allows the Secretary of Health and Human Services (HHS) to approve state-specific demonstration projects that waive certain Medicaid rules, commonly known as section 1115 waivers. These waivers can enable states to spend federal Medicaid dollars on costs that would otherwise not be matchable by the program. Recently, the administration has approved section 1115 waivers in multiple states to allow temporary Medicaid payment for room and board. Newly approved waivers in Oregon and Arizona will cover up to six months of rent for certain Medicaid populations and a waiver in California allows the state to pay for room and board on a short-term basis in select facilities where unhoused Medicaid enrollees can continue their recovery after being discharged from a hospital or other inpatient setting. In 2018, the Trump administration approved a waiver in North Carolina that includes short-term post-hospitalization housing, among other housing supports. California is also planning to request authority to cover rent for up to six months for certain homeless enrollees.
Medicaid Authorities to Cover Other Housing Supports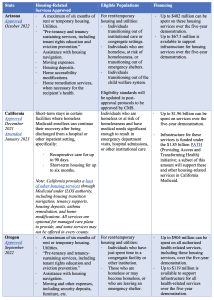 Multiple other legal pathways, however, have long enabled Medicaid to cover short-term housing-related supports other than room and board (including navigation support to find housing, rental deposits, initial utility payments, home modifications for accessibility, and other one-time expenses to set up a household, as well as tenancy-sustaining services). Often, these housing support services have been approved when provided as alternatives to nursing home care, which is covered by Medicaid. The Biden administration has recently clarified a new approval pathway for states who wish to expand the populations who can receive such housing-related services beyond those who qualify for nursing home care. Specifically, CMS released a State Medicaid Director letter and proposed rule offering guidance on use of the ILOS authority, which allows states and managed care plans to opt to provide nontraditional services in lieu of standard Medicaid services. Per CMS's guidance, ILOS can be used to provide preventive services—including housing supports. Rent cannot be provided, but ILOS housing services vary; in California, they have included housing navigation, tenancy support, housing deposits, and home modifications.
Opportunities for New Federal Financing for Housing Services in Medicaid
This legal authority to offer rent and other housing services through Medicaid brings with it federal funding, and the opportunity for investment in housing is significant. Up to 3 percent of total Medicaid spending in a given state can be directed toward "health-related social needs" services, including housing services. While this may seem like a small amount, the size of the Medicaid program means that this limit allows for substantial investments in housing services. For example, 3 percent of California's Medicaid program budget is approximately $4 billion per year.
In addition, these approvals allow states to receive federal funds not just for the cost of housing services themselves, but also for the costs of investments needed to ensure the services are available and successful. While such investments cannot include the cost of building actual housing units, they can include other key investments in housing providers and organizations, including workforce training; technical assistance; development of data sharing, screening, referral, and other IT infrastructure; funds to cover collaborative planning; and investments to support providers as they set up systems to bill Medicaid for these services, along with other upfront costs. Certain limitations do apply, including that services authorized in Medicaid must supplement, not supplant or substitute for, existing housing investments in a state. And because Medicaid is a joint state-federal program, the state must contribute its share of any service costs. The section 1115 waiver authority can, however, provide opportunities to help states finance their share of these services and investments.
Bringing Together Health and Housing Services
These new approvals may be the early stages of a more substantial shift, across many states, toward bringing together Medicaid and housing policy. They also offer a significant opportunity for states and their partners to provide, with federal support, truly comprehensive health services to some of their highest-need populations, especially those who are homeless or at risk of homelessness.
State governors propose these waivers for federal approval, with the state Medicaid agencies submitting the formal requests. CMS is also directing states with such waivers to ensure that Medicaid partners with other state and local social services agencies, including the U.S. Department of Housing and Urban Development (HUD) housing agencies, state housing finance agencies, and public housing authorities, to coordinate and align across related housing programs. Medicaid agencies are specifically required to work with these other entities to 1) assist enrollees in obtaining non-Medicaid-funded housing at the end of the temporary period during which Medicaid will pay for housing and 2) align eligibility for Medicaid-funded housing services with eligibility for other, similar housing services where feasible. HHS is encouraging Medicaid agencies to allow state and local housing agencies to support coordination and to serve as providers and/or administrators of these services. Medicaid agencies must also establish data sharing partnerships with other agencies so that the Medicaid agency can track and monitor use of HUD and other housing benefits received by Medicaid enrollees. These partnerships and coordination will largely be new for states and will require significant investments in IT interfaces, data sharing, and convening, all of which can be supported with Medicaid funding.
Collaborating to Expand Medicaid Housing Supports
Realizing the full potential of this new funding opportunity will require stakeholders in both health and housing to come together. Housing organizations, including providers, housing agencies, and Continuum of Care programs, can educate themselves about these new Medicaid flexibilities by reviewing the table above of approved initiatives in several states. These demonstrations can also serve as a blueprint for approvable investments in other states. Engaging housing and Medicaid policy leaders in state governments—including through governors' offices—can help spark a dialogue on how best to deploy both Medicaid funding and housing resources to advance shared goals. Housing organizations may also consider collaborating with Medicaid health plans and/or health care providers to advocate for more crossover and explore opportunities to leverage these new capabilities in their states. These partnerships can be influential in building momentum toward broader Medicaid coverage of housing services and, ultimately, better and more equitable health outcomes for individuals experiencing housing instability.