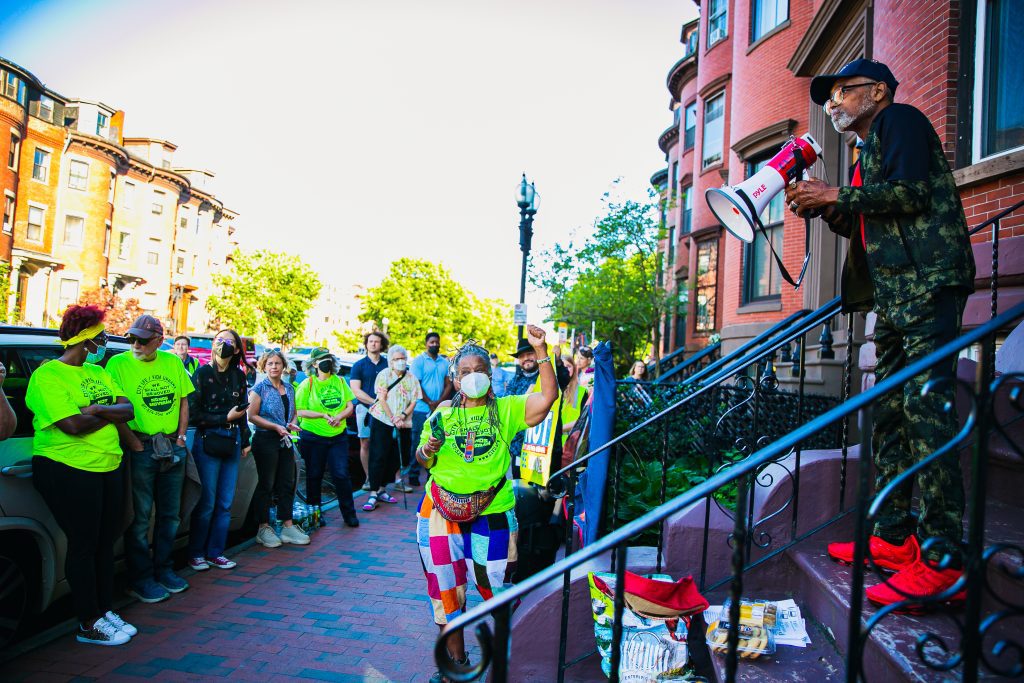 On a crisp September evening at Doyle Playground in Boston, about 50 tenants and housing justice advocates gather to share stories of steep rent increases and to raise a loud collective call to lift Massachusetts' decades-long ban on rent control.
"This is a kickoff to our new vision of rent control in Massachusetts. We are asking every tenant to get together and change the status quo," says Ronel Remy, statewide organizing director for City Life/Vida Urbana, a housing justice nonprofit that's been helping to organize tenants in Boston and nearby cities for nearly 50 years. "We are tired of seeing our communities be hurt. When we put our voices together, we can do the impossible."
Many of the people gathered at this ice-cream social/call to action are residents of the surrounding neighborhoods of Hyde Park and Mattapan, where City Life is assisting tenants who face large rent increases and evictions.
City Life has been known throughout the years for its direct anti-eviction actions, including vigils and spirited rallies—at buildings and houses where tenants face eviction, outside housing court, and even at places frequented by real estate company executives—and marshaling legal aid support. And it's racked up an impressive tally of successes.
In addition to dozens of victories in its 50-year history, recent successful actions include a four-year fight to help tenants of a six-family building in Boston's Dorchester neighborhood ward off evictions and win a collective bargaining agreement. Earlier this year—as a final triumph in that fight—the building was purchased by the Boston Neighborhood Community Land Trust, which took the property off the market to ensure permanent affordability.
In Malden, an increasingly diverse and immigrant-rich city of 66,000 about 7 miles north of Boston, City Life helped secure a deal earlier this year between tenants in three buildings and a new corporate owner, a sort of mini-rent-control that replaced sudden large rent hikes with predictable, smaller increases over five years.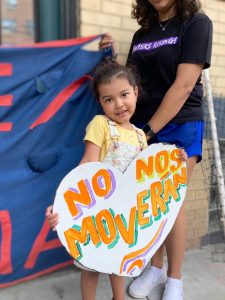 And the organization played an integral role in a monumental deal in October in which a newly established local neighborhood trust acquired 36 apartment buildings in rapidly gentrifying East Boston. The trust will own and manage the 114 units, most sized for families and all designated affordable for lower incomes.
Underlying all these successes is City Life's primary organizing strategy, "the sword, the shield, and the offer," where the sword is the power of community organizing; the shield represents the work of legal services partners to assist tenants; and the offer, while varying case to case, might be sale of the property to a nonprofit organization or land trust that retains existing tenants and guarantees affordability. 
But intertwined with every direct action to protect a single tenant or tenant group is a call for larger, broader change. "We win, but we have to be forward-looking," says Steve Meacham, City Life's longtime lead organizer. "We can't stop displacement one building at a time. We have to shine a spotlight on how these actions relate to policy."
The larger fixes City Life would like to see are both systemic—like removing the profit motive from property ownership—and legislative. They support changes to state law to allow rent control in Boston and beyond; a bill that would make it easier for tenants (or a nonprofit they designate) to purchase the buildings they live in; and a set of bills allowing cities to impose local transfer fees on high-end real estate purchases to help fund affordable housing.
"If you really want to do something about displacement, which is clearly off the charts, you have to look at those three things," says Meacham of the legislative goals.
'I Was Very Scared'
At the September gathering, during a moment of silence to recognize COVID-19's toll on local communities, a Fairmount Line commuter rail train rumbles past, just down the hill from Doyle Playground.
Not long ago, this rail line passed through several predominantly low-income neighborhoods of color with no stops there as it shuttled people from outlying areas to and from downtown Boston. Local community development corporations and activists toiled for years to change this. In time, they won—three new stations opened over the past decade in Dorchester and Mattapan—but real estate investors quickly saw dollar signs in the previously neglected neighborhoods.
"Residents in neighborhoods of color fought long and hard to get new stops on the Fairmount Line," says Meacham. "We called it transit racism. And they won that fight. Now that it's near a new stop, someone buys [a building along the rail line] and says, 'We can raise the rents.'"
Fairlawn Apartments in Mattapan was purchased by a new owner in 2018, who rebranded it "SoMa at the T," marketing its transit-adjacent location in South Mattapan to new residents. Soon after, existing residents were notified of rent increases of nearly 20 percent.
"I was paying $1,800 per month. They asked for $2,100," says Betty Lewis, 71, who has lived at Fairlawn for 40 years. Speaking at the Doyle Playground event, she says, "I was very scared. I didn't know what to do. I went to City Life and they told me to stay in my home, to be strong, to tell my story. If I hadn't found City Life, I'd be gone."
City Life has joined the Fairlawn tenants' fight, organizing rallies and marches and seeking negotiations with the owner, who so far has not been responsive.
While Lewis and her neighbors are still fighting their protracted battle, Mattapan's Morton Village Apartments—also near a new Fairmount Line stop—is a success story. With City Life's help, during the height of the pandemic, Morton Village tenants negotiated a deal with new owners that limits rent increases to 3 to 3.25 percent for at least five years. The city of Boston stepped in as well, contributing funds to keep the rents low even after the five-year period.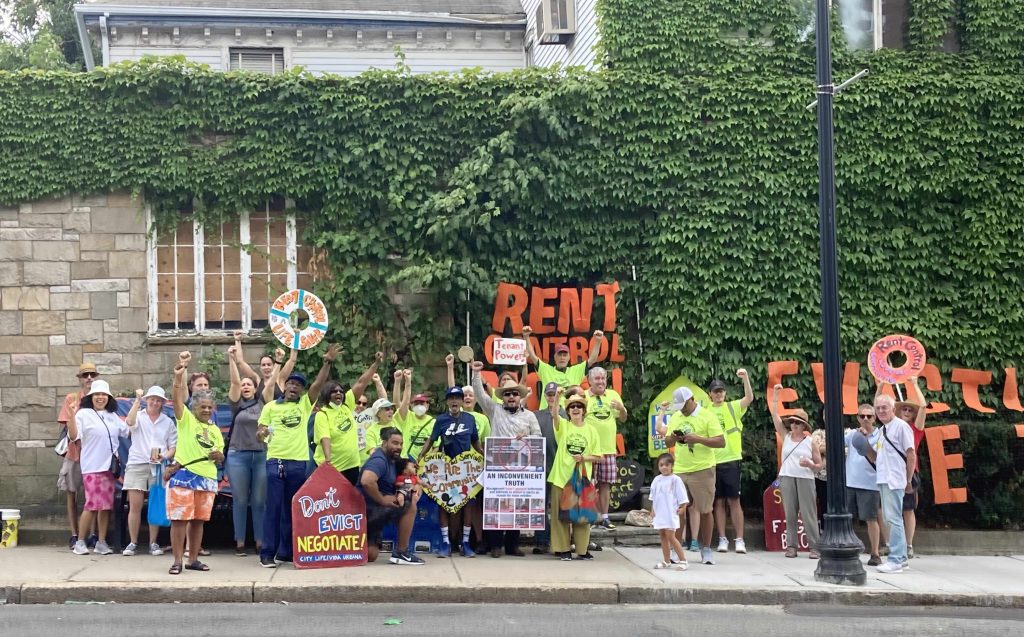 Expanding CLVU's Reach Statewide, Building Leaders
Rent control was abolished in Massachusetts in 1995 after a landlord-initiated ballot question narrowly passed. Now, with high rents showing no signs of abating, advocacy to bring back some form of rent control is heating up. Boston Mayor Michelle Wu, who took office in November 2021, campaigned on bringing back rent control in some form. She has formed a rent stabilization advisory committee charged with crafting a home rule petition by January 2023, which if approved by state legislators could free Boston from the state ban.
But City Life wants to see rent control spread beyond Boston.
"We need legislators to hear every community in Massachusetts saying they believe in rent control," City Life's Remy tells the Doyle Park attendees.
In the city of Malden, for instance, City Life isn't only expanding anti-eviction protections, it's also pressing the city's mayor on rent control. "We want to know that if the ban is lifted, Malden would impose [rent control]," says City Life's Katie McCann, who coordinates organizing work in Malden. "It's important to show that city officials are in support of it."
Statewide policy advocacy is not a separate strand of the organization's work, says Denise Matthews-Turner, co-executive director of City Life. The organization supports advocacy work through its membership in the statewide Homes for All Massachusetts coalition and the local Right to the City (RTTC) Boston alliance. Matthews-Turner also is serving on Mayor Wu's rent stabilization advisory committee, bringing a tenant advocacy voice there.
"While we may not lead on a policy fight," she says, "we support housing and other policy fights as part of a broader racial/social/economic justice movement."
More importantly, City Life calls out at every opportunity the link between individual suffering and the larger forces that cause it. Organizers tie each direct action to the larger policy environment, and each policy fight is grounded in the stories they hear from residents.
"The conditions facing our people inform our strategy. We are fighting for communities where the protections are just not there, and we seek in our actions to make the connection," Matthews-Turner says. "Were there rent control, we would not be fighting $600, $700, $800 rent increases on senior citizens on a fixed income."
The organization's grassroots model includes fostering leaders out of any and all tenants who come to the organization for assistance. People come in feeling powerless and uneasy about speaking up at the organization's weekly member meetings—but after receiving information and legal aid and being steeped in the collective support of organizers and other tenants, many have become confident spokespeople, active volunteers in the cause, and even City Life leaders.
Meacham's mantra for working toward broad change is to start at the bottom, constantly organizing and empowering those who are directly affected. "All public policy possibilities flow from the evidence of direct resistance," he says. "When people resist, that creates pressure."