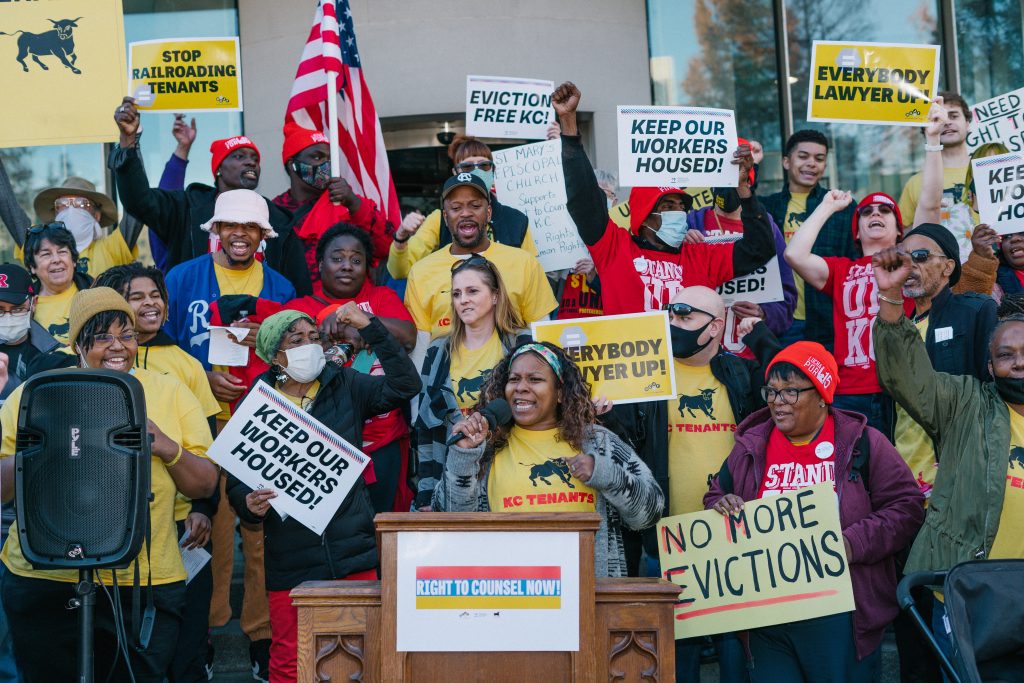 Kansas City, Missouri, now guarantees access to legal representation for tenants facing eviction, and it's one of a small but growing number of cities making that right available to all tenants, regardless of income. Effective as of June 1, the city ordinance passed in late 2021, capping off a brief but intensive campaign by a large coalition of tenant and worker rights organizations and legal aid groups.
The Kansas City campaign rolled forward rapidly, with advocates—led by KC Tenants, Stand Up KC, Missouri Workers Center, and the Heartland Center for Jobs and Freedom—coming together in September 2021 and legislation passing three months later. But organizers say the seeds were planted back in 2019, the year Kansas City passed a tenant bill of rights.
"We got the bill of rights, but we knew that we were going to come back for things like right to counsel," says Tiana Caldwell, an organizer with KC Tenants, a grassroots citywide tenants union formed in 2019. "So it was on our radar. Then the eviction crisis that was enhanced in the pandemic really put it on other people's radar. They saw the issue and how big it was. That made it a perfect environment to go back for right to counsel and win."
Why Right to Counsel Is Important
Kansas City already had an eviction problem before the pandemic. While KC Tenants came together only recently, in 2019, its founder and executive director, Tara Raghuveer, had spearheaded eviction research for years prior to that through the Kansas City Eviction Project. Data from that research helped advocates build a strong case for bolstering tenant rights. The sheer number and consistency of eviction filing rates—some 9,000 per year from 1999 to 2016—suggested to researchers that some Kansas City landlords may even have eviction built into their business model. In addition, racial justice was at play, with the city's Black tenants impacted disproportionately by eviction.
The ordinance lists some compelling statistics: In a 10-year period up to 2016, eviction was the outcome in 99.8 percent of the 76,667 eviction cases adjudicated in Jackson County, the largest of the four counties Kansas City comprises. Moreover, there was severe disparity in legal representation: Tenants were represented only 3 percent of the time, while landlords had counsel in more than 85 percent of cases, a power mismatch closely mirroring national data.
'When you walk into a courtroom now, it's just a different day, a balancing of justice that's a lovely thing to see.'
Counsel alone doesn't stop evictions, but data from across the U.S. shows that tenants with representation in eviction cases are far more likely to stay in their units, be granted more time when moving is necessary, and leave court with a clean eviction record.
"There is no case—not one—where you don't need an attorney," says John Pollock, coordinator of the National Coalition for a Civil Right to Counsel (NCCRC). "Even when the tenant simply didn't pay and the court decides to evict, it still has to decide three things: Is the eviction going to be on the tenant's record? How much of a rent judgment will be given? And how much time does the tenant have before vacating? Those are really key to whether the person can get housing again later."
Attorney Gina Chiala is executive director of the Heartland Center for Jobs and Freedom. Her organization was integral in crafting the Kansas City ordinance and now coordinates training and staffing of the lawyers who will represent tenants.
Before the law took effect, she says, Kansas City tenants would "walk in, lose their case, get evicted," with most tenants—and even many judges—not well-versed in tenant rights. Landlords, aware that tenants almost never had counsel, could flout existing rules, failing to give proper notice before eviction or neglecting essential repairs.
"Now, we're seeing counter-claims on uninhabitable conditions," Chiala says. "Now, cases are being dismissed or delayed because landlords are being required to follow the rules. When you walk into a courtroom now, it's just a different day, a balancing of justice that's a lovely thing to see."
How Kansas City Tenants Did It
KC Tenants organizer Mason Andrew "MAK" Kilpatrick says that when the coalition gathered last fall, they began examining right to counsel ordinances around the country, working to envision their "mega-dream."
"We asked, what would be best form of right-to-counsel that puts tenants first? We put sticky-notes on a board [to hash out] the key elements. Some things became our hard lines that we weren't willing to negotiate on—we wanted it to be accessible to all tenants, not means-tested, and we wanted the funding to be fully guaranteed," says Kilpatrick.
They crafted an ordinance that covers all tenants, without restrictions on income or family structure. That inclusivity is not the case with all right to counsel laws, though it's becoming a more common demand, NCCRC's Pollock says, as it addresses a broader need and helps vanquish stigma that guaranteed counsel is a benefit only for the poor. Of the 15 cities that now have passed tenant right to counsel, five others have no income restrictions: San Francisco, Boulder, Baltimore, Minneapolis, and New Orleans. "In the jurisdictions without an income limit, there's one less barrier to obtaining an attorney for an eviction case than in a criminal case," says Pollock.
In October 2021, the coalition drafted the ordinance, revising it with feedback from legal organization partners, and reached out to councilmembers and the mayor, analyzing who would be allies. By November, they had found a strong supporter in Councilor Andrea Bough, who sponsored the ordinance.
"We had to find a champion, someone who was aligned with our goals," says Caldwell. "We had been doing local actions throughout the pandemic, and it was becoming clear across the nation that eviction was a growing issue. So that opened conversations. We were searching for champions, and they were looking for solutions as well. It created an environment where we could connect with those people."
The campaign went public with a rally on Dec. 1, 2021. A week later, the council passed the ordinance unanimously.
Tenants' Right to Counsel is now the law of the land in Kansas City! Thank you @QuintonLucasKC and @AndreaBough. Lemme hear you say yeeeehaw! pic.twitter.com/I1mdypfiUG

— KC Tenants (@KCTenants) December 20, 2021
Funding and Cost Savings
Working with the Heartland Center, the tenant advocates calculated that the city needed to commit $2.5 million annually to provide attorneys and administer the program. Federal pandemic relief dollars will cover the first year, and for the future, the program has a line in the city budget. "That was a big deal," Kilpatrick says, "because it gives it more of a guarantee that it will stay around."
They amassed data and narratives to show that providing tenants counsel saves money by warding off homelessness rather than reacting to it.
Evidence is growing that providing counsel is cost-effective policy. One analysis for Baltimore predicted that every $1 spent on counsel for low-income tenants can save the city and state $3 to $6 on eviction-related social services such as emergency shelter and school transportation services. The Kansas City advocates presented similar research for Los Angeles that estimated every $1 invested could reap $3.48 in cost savings.
In the ordinance, they included an estimate that "for every dollar spent on legal representation to prevent homelessness, the City will save $3 on emergency assistance."
"Building the narrative that this is something we need to prevent homelessness really changed the minds of councilmembers," says Kilpatrick. "We made the case that it saves money in so many ways: It saves funds for the city, and sometimes for landlords as well, because when tenants have representation, they can work out agreements to delay evictions and get some of the rent paid. It ended up being kind of a no-brainer."
Real Stories Make a Difference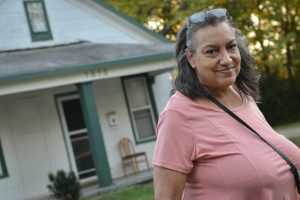 Another key strategy was having residents who have faced eviction share their stories.
"One way we were so effective is that we organized with tenants with deep experience with evictions and resulting homelessness, rather than organizing only with advocates or with lawyers," Kilpatrick says. "It's very hard to tell folks their lived experiences were wrong."
One of those was Sabrina Davis, 63 and disabled, who has experienced eviction twice. The first time, she went to court without counsel and lost her case. She had endured flooded carpeting and mold for months but didn't know to file a counterclaim; she ended up owing the rent she had withheld and having just 10 days to move out. In the second case, Davis found a lawyer who was willing to represent her pro bono against a landlord who filed to evict her after months of refusing to repair egregious electrical problems that created a fire hazard and caused her utility bills to skyrocket.
Having a lawyer on her side, Davis recalls, "was like an elephant had decided to stand up off my chest and let me breathe a bit." And this time she won, gaining the rent she had paid and her security deposit back.
"I think it will save lives," Davis says of the right to counsel ordinance. "Before, you were going into a court system that doesn't care about your outcome. You're in and out so quickly you don't know what hit you, and if you do get information, it's too late. Now, being provided an attorney, you have a chance of winning."
Right to Counsel—Going Forward
New York City was the first city to enact a tenant right to counsel law, in 2017. Kansas City in 2021 became the 13th. New Orleans and Detroit passed resolutions in 2022, bringing the total to 15 cities and three states as of September.
As tenant right to counsel gains momentum across the U.S., advocates can learn from prior efforts. The Right to Counsel NYC Coalition has created a comprehensive toolkit to assist others. This fall, NCCRC, in partnership with Results for America, the Heartland Center and other organizations, is leading a series of webinars on advancing right to counsel in cities, counties, and states.
Even while savoring their victory, Kansas City advocates remain vigilant to ensure agreements are kept. They are still waiting for the city to ramp up promised tenant outreach efforts; in the meantime, lawyers and law students show up at housing court to notify and advise tenants as they arrive. While they have no particular reason to think the funding is threatened, advocates will keep a close eye to see that it stays in the budget.
"Anytime you have to fight for something," says Caldwell, "you have to make sure that once you win it, you protect it."

This article is part of Tenant Power Returns, an Under the Lens series produced by Shelterforce. If you're enjoying the series, consider making a donation to our newsroom. Donate Today.