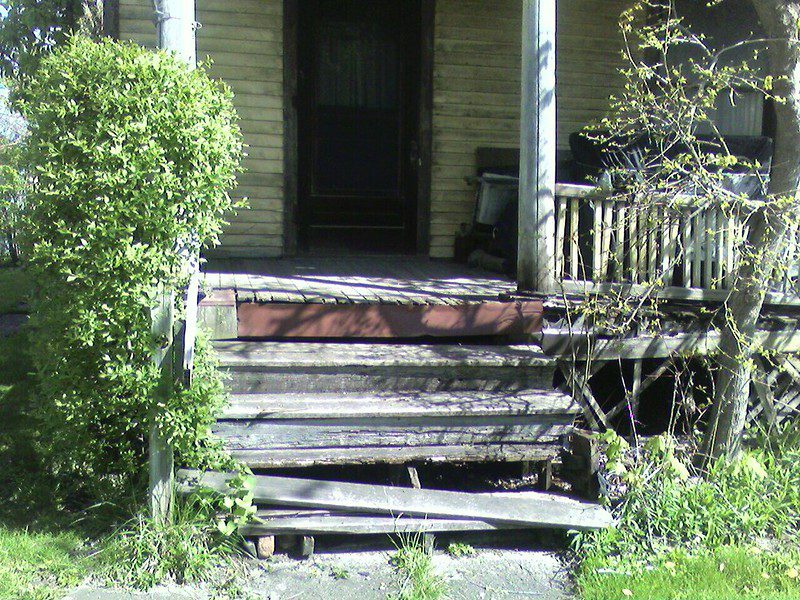 High utility bills and years of deferred maintenance have forced many low-income homeowners and renters in Pennsylvania to live with lead paint, drafty windows, leaky roofs, exposed wiring, mold, and other health hazards. Many residents endure these conditions because they can't afford to make repairs. Others are forced to abandon their homes, allowing pests and crime to fester, or sell to an investor.
It's a story heard in both urban and rural communities across Pennsylvania, with many weatherization and home repair programs failing to address the root problem and more homes falling further into disrepair.
The Whole-Home Repairs Program aims to address this issue by providing grants to low-income homeowners and forgivable loans to small landlords for critical habitability repairs and energy efficiency and accessibility upgrades. The program also dedicates resources to coordinate home repair and weatherization programs and provides funding for workforce development to train people to do the work.
After a spring push to introduce the Whole-Home Repairs legislation, known as Senate Bill 1135, by Sen. Nikil Saval, the Pennsylvania legislature approved $125 million for fiscal year 2022-23 for the Whole-Home Repairs Program. It's a one-time influx of dollars from the American Rescue Plan Act, but Saval is confident the program will prove its value and receive ongoing funding. The program includes money for income-eligible homeowners to apply for grants of up to $50,000 for home repairs. For a household to qualify, income cannot exceed 80 percent of the area median income.
"We're glad that the Legislature acted to enact something that is popular and will be popular," says Saval, a Democrat representing Philadelphia, who gathered a coalition of community organizations, housing and energy advocates, and residents to support the Whole-Home Repairs Act. "We know from our survey data there is immense need for this across the commonwealth."
Need for Home Repair Reform
Pennsylvania, and particularly Philadelphia, has some of the oldest housing stock in the nation. Roughly one in four Pennsylvania voters need critical repairs to their homes and almost one in three say their utility bills are unaffordable. Almost half of Pennsylvania voters who are homeowners, including many in Philadelphia, would struggle if they had to pay for a critical repair to their homes, according to a poll by Data for Progress.
"Philadelphia has a very old housing stock and a very large low-income population," says Stephen J. Luxton, the executive director and CEO of Energy Coordinating Agency (ECA). He notes that the city has one of the highest poverty rates of all the big cities in the nation: "The problem is a pretty big problem because of all of those homes that are in need of more than weatherization. They need home repairs."
In addition, according to Saval's data, an estimated 280,000 occupied units in Pennsylvania have moderate to severe physical deficiencies. Issues range from old, drafty windows or a collapsed roof to exposed or inadequate wiring. Some units have unreliable or unsafe heating, no working toilet, or failing plumbing, Saval noted in his memorandum on the legislation.
Extensive repair needs are more prevalent among low-income households. Of the $126.9 billion needed to address substandard housing nationally in 2018, $50.8 billion is the estimated amount needed for low-income households, although issues were present at every income level. The average repair cost is around $3,000, an amount that is "pretty burdensome" for low-income homeowners to cover, says Eileen Divringi, a community development research specialist at Federal Reserve Bank of Philadelphia. For instance, in Philadelphia, low-income households spend an average of 23 percent of their household income on utilities alone, according to a letter of support written by Robin Wiessman, the executive director and CEO of the Pennsylvania Housing Finance Agency.
People who live on a fixed or low income typically live on tight budgets. They do not have extra money they can save for emergencies or extensive home repairs, and they often don't have the means to do the repairs themselves.
"You don't have to scratch your head, of course," Luxton says. "They have no discretionary income, and no pride of ownership as well as being down on their luck. If you're struggling to survive, it's tough to paint your fence white when you have so many other issues going on."
"Measuring and Understanding Home Repair Costs," a 2019 report published jointly by the Federal Reserve Bank of Philadelphia and PolicyMap and co-authored by Divringi, found that a third of households, both renters and homeowners, have at least one repair need.
Black, Latinx, Native Americans, and single women with children have disproportionately more home repair needs and typically pay more in utilities than white Pennsylvanians. Divringi says there is a "really big segment of older adults" who own their home but now live on a fixed income at or near the poverty line who have substantial home repair needs.
Many new or first-time homeowners have not established equity, or they exhausted their savings to buy the home and can't afford costly repairs. "It's a variety of issues," Divringi says. "Some of it is that a lot of lower-income homebuyers are only able to buy older homes prone to more serious repair needs."
The process of accessing home repair assistance is ineffective and inefficient, according to housing advocates and practitioners. It's an excessively bureaucratic and broken system that leaves homeowners and renters—especially low-income, elderly, and disabled residents—frustrated and fearful, with mounting utility and repair bills, health concerns, and safety issues.
For instance, income-eligible homeowners who qualify for the federally funded Weatherization Assistance Program (WAP), or others like it, are often put on a waitlist due to a lack of funding or on a deferral list after more serious issues are discovered. WAP has guidelines on what falls under weatherization and defers applicants if a home has a leaky roof or other critical infrastructure issues.
"We have so many different programs that fundamentally fail to address things that are at stake in an entire home," Saval says. 
Coordinating services and expanding income eligibility for home repair programs will help fill gaps in the existing program landscape. "It is sort of a lot for an individual homeowner with other challenges to sort through all the different programs that exist," Divringi says.
Holistic Approach to Home Repair
The Whole-Home Repairs Program is designed to fill three main gaps: (1) funding for home repairs, (2) coordination and technical assistance for programs, and (3) workforce development.
The intent of the Whole-Home Repairs Act—and most of the language—was preserved in the budget bills, Saval says.
Saval, who serves as Democratic chair of the state senate's Urban Affairs and Housing Committee, sought input from housing and energy efficiency advocates and practitioners about current gaps and problems with existing home repair programs. The goal is to improve coordination and sequencing of home repair assistance and streamline the application process for multiple weatherization programs.
"This is the kind of model that we believe has wide applicability for impacted people as well as people doing the work on the ground," Saval says. "It led to this set of solutions designed to make a lot of things work better together."
For instance, across Pennsylvania, the need for home repairs and weatherization far exceeds the available funding through WAP.
"The existing [WAP] home repair program has a 10,000-person waitlist and a lot of that is people being denied eligibility because they have critical repairs they need to make," Saval says.
The Whole-Home Repairs Program addresses deferred home maintenance, excessive energy use (and accompanying high utility burdens), aging-in-place issues, and the need for a trained workforce.
"This ensures people can address all the issues that are preventing them from making sure their homes are safe to live in and adaptive to their needs," Saval says. "It will make certain programs that don't function as well as they could function at a much higher level."
Saval is working with state entities on the rollout of the program over the next several months. The state's Department of Community and Economic Development will administer the funding to county-level agencies to coordinate Whole-Home and existing home repair programs, such as those from the state or federal government.
Gaps in Programs, Services
In the yearlong process of research and outreach ahead of introducing the Whole-Home Repairs Program, Saval heard over and over again the need to coordinate weatherization and home repair programs, from client intake through sequencing repairs, and to create a one-stop shop for homeowners and landlords to apply for home repair and weatherization assistance.
For instance, an estimated 30 percent of households who apply for WAP and found eligible are then put on a deferral list because their homes have more serious repair needs, like a hole in the roof or mold from water damage. A homeowner often thinks they are in line to get weatherization or heating assistance to reduce their utility bills only to find out they need a new roof first.
"A lot of these energy efficiency programs, they do have certain limitations to them," says John M. Kolesnik, policy counsel for the Keystone Energy Efficiency Alliance (KEEA). KEEA is a trade association and advocacy organization focused on energy efficiency products, services, education, and policy initiatives, and some of its members offered input on the legislation as it was being drafted. Many KEEA members are subcontractors who provide energy efficiency upgrades. When they go into a home to do an assessment, they often discover structural or safety issues that need to be remediated first.
The Whole-Home Repairs Program dedicates resources for support staff to help people apply and qualify for programs, coordinate the applications and waitlists for existing home repair programs, and oversee case management and referrals to other services.
It creates an entry point for homeowners to access other resources, Kolesnik says. Most current home repair programs don't have the capacity or funding to replace a roof, so homeowners have to seek out a loan, a community-based program, or other financial assistance, or let the problem go unaddressed.
"People have gone years on these deferral lists," Kolesnik says. "To fix a roof, it might be $10,000. That's just kind of an insurmountable price."
In Philadelphia, it's not uncommon for energy auditors to walk into a home and see a pan or bucket sitting on the floor—a sure sign of a roof leak, says Luxton of Energy Coordinating Agency.
If an active roof leak, signs of water damage, or environmental hazards like mold are discovered, the agency's hands are often tied and the story ends for that client because they can't afford the repairs, Luxton says.
"Our whole goal is to reduce the draftiness," Luxton says. "When you have a festering problem like mold, that is exactly what it wants, less moving air so it can grow." So the mold must be addressed before the drafts can be stopped.
Contractors, Trained Workforce in Demand
The Whole-Home Repairs Program also includes funding for workforce development and training programs for home repair and weatherization programs, and even cash stipends for trainees to help with recruitment. Right now, these programs lack qualified workers to meet the demand.
"It's really important to build capacity at the local level with organizations that do this work at the local level, as well as contractors who can go in and get the work done at a high quality and reasonable price," says Larry Swanson, executive director of the Pittsburgh-based ACTION-Housing, a nonprofit that develops affordable housing and administers programs that help people stay in their homes, including WAP.
Swanson emphasized the importance of building capacity and relationships at the local level, both for organizations already delivering programs as well as contractors and workers who go into people's homes to do the work. Large contractors are so busy with new construction projects that it's hard to find companies willing to tackle smaller home repair projects on a timely basis and for a reasonable price.
"Working in people's occupied homes is different," Swanson says. "It's a different type of challenge. Contractors have different demands on them, so it's important to find contractors who can do this well and do this successfully."
Health and Safety Concerns Related to Home Disrepair
Deferred home maintenance leads to more serious structural, safety, and health issues. Once a roof or foundation starts to leak, water can infiltrate the ceiling and walls and cause drywall damage, wood rot, and air pollutants. Minor roof patches may qualify under the WAP program, but those typically only last a year or two before the roof will need to be replaced, Swanson says.
"There's nothing that causes more damage in a home than a faulty roof," Swanson says. "We have a shortage of housing in the Pittsburgh market and most markets. We can't afford to start losing properties, which is what happens when they sufficiently deteriorate."
For a relatively small investment of $10,000 to $25,000, homes can be saved from falling into further disrepair, which maintains the integrity of neighborhoods and keeps people safely living in their homes.
"It's the single best investment we can make in both preserving the homes and making them safe for people," Swanson says. "These are small investments instead of creating a new unit of housing. If you fund these programs and build capacity over time, you can have a lot of impact."
The Whole-Home Repairs Program also addresses disability and aging in place issues by including repairs and renovations designed to make a home safer and more accessible. That might include adding a wheelchair ramp, installing handrails, or making sure steps and doors meet code requirements.
It's not just the collapse of homes and neighborhoods that housing advocates and practitioners are worried about. As repairs get deferred, health and safety issues mount. Besides high utility bills, occupants often encounter issues with mold, rodents, lead paint, asbestos, unsafe wiring, and poor air quality.
According to a 2017 report by Green & Healthy Homes Initiative, the health effects most commonly linked to poor housing conditions are respiratory symptoms, asthma, lung cancer, depression and anxiety, injury or death from fires or accidents, hypothermia, and skin and eye irritation. GHHI issued another report that explores the impact of poor quality housing on health and communities and the socioeconomic outcomes of weatherization and healthy home upgrades.
Since the COVID pandemic began, people have spent more time in their homes. That makes it even more important for them to have good air quality, ventilation, and energy-efficient mechanical systems.
"We're paying for people's health care when what we need to be paying for are home repairs," says Cindy Daley, director of community development initiatives for Regional Housing Legal Services in Harrisburg. "COVID has really highlighted the idea of 'stay at home for your health,' but it doesn't necessarily make their health better. It doesn't necessarily put them in better shape."
Comprehensive Home Repair Program Needed
Those who work in the field say various, smaller-scale programs exist through public-private-philanthropic partnerships, but they're scattered and piecemeal. Most states lack a comprehensive home repair program designed to address their aging housing stock, aging populations, and low-income homeowners or small landlords.
For instance, the U.S. Department of Agriculture's Section 504 home repair loan and grant program is one option for very low-income rural homeowners; it covers leaky roof repairs and ADA improvements.
Philadelphia's Built to Last program, offered through the Philadelphia Energy Authority, is a local initiative to restore safe, healthy, and energy-efficient homes in the city. The Basic Systems Repair Program, offered through Philadelphia Housing Development Corp., covers repairs for electrical, plumbing, heating, limited structural work and carpentry, and roofing emergencies in eligible owner-occupied homes in Philadelphia.
And the nonprofit Rebuilding Together Philadelphia provides no-cost critical home repairs to seniors and low-income residents in an effort to revitalize communities. It's part of a larger home repair initiative through the national nonprofit Rebuilding Together and the Wells Fargo Builds program.
In early June, the Wells Fargo Foundation announced $1.3 million in grants to Rebuilding Together to provide critical home repairs to about 100 homes in 45 neighborhoods throughout the nation. In Detroit, a similar partnership between Gilbert Family Foundation, ProMedica, and DTE Energy has established the $20 million Detroit Home Repair Fund.
The ECA's pilot program EnergyFIT Philly was born out of a need for home repair to be braided with weatherization, Luxton says. The grant-funded program paid for carpentry, roof, and structural repairs that were not covered under the weatherization program—an attempt to holistically upgrade houses a block at a time.
Luxton sat in on roundtable discussions about housing and home repair problems as Sen. Saval's office conducted research on the issues. "Home repair has to be built into these low-income weatherization programs because many of them need some level of repair," Luxton says.
Preserving Homes and Neighborhoods
Investments in energy-efficient, safe, and affordable housing for low-income homeowners and renters also have a direct impact on social equity, health outcomes, and neighborhood stabilization. When energy burdens are reduced for these populations, they have more money to save for needed home repairs. The investment also reduces overall energy consumption while improving health and well-being.
"We know the need is there and this will help people who have that need," Saval says. "In doing so, it will preserve homes and keep people in their homes, and that preserves communities across the commonwealth."
Finding a more holistic solution to home repairs also strengthens communities and neighborhoods by preventing the displacement of longtime residents. Some people think it's easier to abandon the property, which may lead to the home getting condemned, demolished, or sold at auction.
"[Home repairs keep] homes within families and allows people to stay in their homes and provides a lifeline to fix things that desperately need fixed," Kolesnik says.
Vacant homes also lower property values and create blight and other issues. Abandoned row houses attract criminal activity, rodents and other pests, pose structural concerns, and increase energy consumption for neighboring dwellings. In some cases, real estate investors are quick to move in, but they frequently raise rent or housing prices and displace low-income residents or people living in an inherited family home.      
Luxton has worked throughout Pennsylvania and says the Whole-Home Repairs Program is a step in the right direction for low-income homeowners across the state. Pennsylvania has many rural and impoverished communities with mobile homes, manufactured homes, and older single-family homes in need of repair.
"Overall, in Philadelphia, the goal is to not only improve the housing conditions for low-income folks, but hopefully these homes that are in better shape are less likely of abandonment," Luxton says. "Preserving home ownership is part of the goal here."