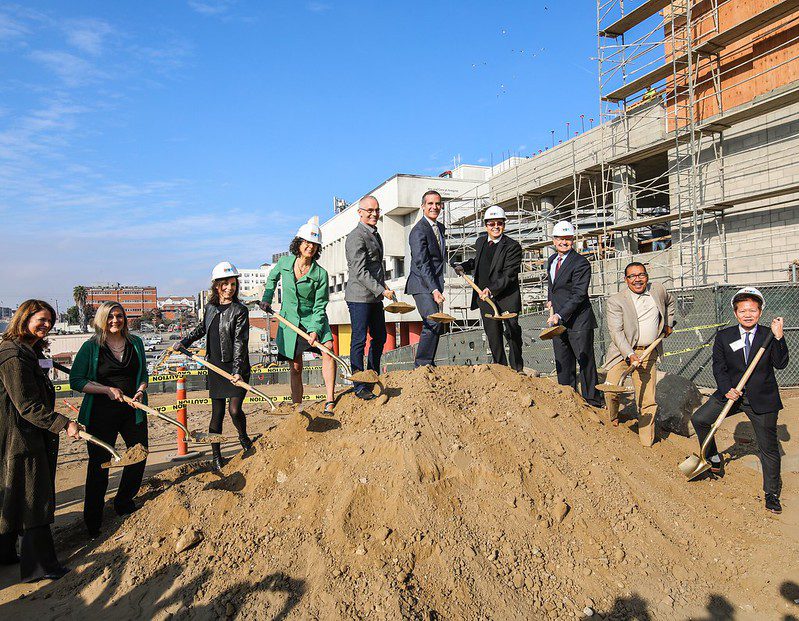 Proposition HHH was drafted by the Los Angeles City Council and put to voters in November 2016. The $1.2 billion housing bond promised to fund up to 10,000 units of new permanent supportive housing and affordable housing over 10 years to help get people from the streets and shelters into stable homes.
Three Takeaways
Prop HHH is, in fact, on track to meet its construction targets.
Most of the new supportive housing it financed is in the works, but not yet online, often delayed by rising costs.
Meanwhile, homelessness is still rising, making voters feel like the measure has failed.
The money was to come from a new tax on property owners. It was a big ask: Since it involved taxation, the ballot measure needed a two-thirds majority to pass. And voters approved it, with 77 percent of the vote, a sign that Angelenos wanted to see solutions to rising homelessness in the city.
Now, six years later, even though the HHH fund appears to be delivering on its housing construction goals in the 10-year timeline, the measure is being routinely criticized by elected officials, candidates in the 2022 mayoral race, and the city controller for delays, rising costs, and being an inadequate fix to the homelessness crisis in Los Angeles. In the Los Angeles mayoral primary this spring, when homelessness was one of the top issues, some candidates even suggested HHH money be clawed back or diverted to more immediate emergency shelters. What happened?
On Target
According to an HHH tracker through the city's housing department (a similar tracker on Mayor Eric Garcetti's website has been broken for months), there are 125 projects in the "HHH pipeline," for a total of 7,913 units. This includes those in pre-development or development, as well as those completed and opened. Although all 125 projects are expected to be done by the end of the 10-year plan, only roughly 27 are open now; 67 are in construction, 30 in pre-development, and the loan recently closed on one project.
HHH's benefits can extend beyond the direct funding it provides. It can make getting other financing easier as well—the bond did a lot to boost confidence in affordable and supportive housing development in Los Angeles, says Jet Doye, chief advancement officer with the developer Skid Row Housing Trust. The city's commitment not only filled gaps to make some projects viable, it helped developers secure other sources of financing.
Proposition HHH was a city measure, but it has a supplemental county element. In March 2017, Los Angeles County voters approved the related Measure H, a sales tax that would raise $355 million over 10 years to fund necessary services for the supportive housing HHH units.
Of the units funded through HHH, 80 percent are meant to be supportive housing (with part of that designated permanent supportive housing), with services and caseworkers wrapped into the project to help residents with ongoing needs. The remaining 20 percent of units are meant to be housing affordable to people who qualify as low income, making less than 80 percent of the area median income. Currently 1,381 of the units in the pipeline, or 17.45 percent, are not supportive affordable housing. 
Ann Sewill, general manager of the city of Los Angeles's Housing Department, says that through the city's existing resources and efforts it had been constructing 300 affordable and supportive units per year prior to 2016. Over a 10-year period, that would be 3,000. The plan when HHH was passed—and still the plan now—was that those 3,000 would be part of the 10,000-unit goal. Sewill says that HHH is expected to create a total of roughly 8,000 units above the previous construction levels. The state's Project Homekey program (which purchases hotels and existing apartment buildings to convert to supportive housing) would add another 1,000 units. Together that would be approximately 12,000 new units over 10 years, going beyond what was proposed in 2016 when HHH was put to the voters.
Despite exceeding its own goal, Sewill says, the city has a challenge in telling the public what is working. Part of the problem is that homelessness has continued to rise.
Rising Costs
Proposition HHH money funds only a portion of total development costs, which has stayed steady at about $132,000 per unit across the overall HHH pipeline and over time, according to the Los Angeles City Controller's audit.
But a February audit by City Controller Ron Galperin (the third of three annual reports) found that the average total development cost per unit getting HHH funding keeps increasing. Those that closed their loans in 2020 and 2021, after the pandemic started, saw an average cost per unit at $596,486, up from the city's initial estimate of $350,000. For the projects currently in pre-development, with contracts not yet finalized, the average is $579,634 (the report anticipates costs increasing once agreements are reached).
Alan Greenlee, executive director of the Southern California Association of Nonprofit Housing, in a response to Galperin's audit, takes issue with the implication that these are uniquely high costs. "The Controller's report seems to suggest that only HHH-funded developments are costly," Greenlee writes. "In reality, it is all development in California and the costs of market-rate and affordable housing are entirely comparable; in fact, a recent UCR report notes that a market-rate unit averages $579,000 in Los Angeles, which doesn't include key components that define HHH-developments: robust building materials, prevailing wages, significant operating and rental support reserves, and leading sustainability techniques."
The increase in costs, both the audit and city officials said, is due to surging construction and administrative costs. Just months after voters approved Proposition HHH, the then-new Trump administration levied new tariffs on construction goods such as steel, driving up construction costs for affordable and market-rate housing. And a new set of tax laws developed by the administration and Congress reduced the needs of corporate investors for tax write-offs, so the value of low income housing tax credits fell.
Since 2017, construction costs have only increased, exacerbated by the global COVID-19 pandemic and the supply chain shortages stemming from it. Although the amount of HHH money per unit isn't increasing, rising total costs means more time securing funding and administrative work. The lag results in slower development, which Galperin noted can mean even more additional costs the longer it takes to build.
Overall, the cost of affordable and supportive housing is increasing statewide. A recent investigation by the Los Angeles Times found multiple projects—all in Northern California—where the unit cost exceeds $1 million.
Subsidized affordable housing often requires more rigorous environmental and construction labor requirements, which can add to costs. Administrative hurdles created by the use of public funds and the reduced chance of quickly earning back an investment that would exist in market-rate housing can also add to costs.
Some advocates and officials in Los Angeles have suggested that it could have been cheaper and quicker to try alternative construction methods, such as modular construction or container units. Mike Steffen, director of innovation with Walsh Construction Co., which has consulted for some developers working in Los Angeles, isn't so sure. He notes that even if some of those alternative systems are on paper quicker to build, they've also been hit hard by the inflation and supply chain crises, making them harder to come by and more expensive. Severe storms, freezes, war, and other issues have only added to the struggles. Many modular homes, for instance, are made abroad. Cities and developers factor in inflationary costs, Steffen says, but the wave of multiple factors in the last few years is beyond what developers expected.
In the end, although HHH only contributes a tiny, fixed amount to a project's budget, rising cost-per-unit headlines have framed the fund's public image as wasteful.
Slow Start
More visible to the voters who supported HHH than costs has been its slow rollout. Contracts with the city for HHH funds had to be ironed out, projects had to be approved, and additional construction funds acquired before any developer could break ground. And then there was the actual construction time. The first HHH-funded project did not open until December 2019, three years after HHH was approved. Several projects have had delayed openings; a January 2020 claim from Garcetti that a HHH-funded project would open every three weeks that year (which would have been 13 that year) failed to pan out; only 7 projects were completed.
Some of this is just the normal time frame for large developments. Los Angeles' housing department said a project can take three to six years from conception to opening.
However, the way the bond was designed did little to nothing to speed along these urgent projects. HHH funds only cover a small portion of the overall budget for each project, with developers having to find other financing partners; that can be as many as 11 total, according to Doye. Sticking with the existing system, with all of its administrative hurdles and the need to seek out multiple sources of financing, left developers going through the same paths and patterns as before, even with the city-backed funding.
In addition, HHH is strictly a capital investment fund—the money can be used only for purchases and construction, not soft costs. But those administrative costs were also rising, in part due to inflation, and there was no related funding budgeted by the city for administrative work, which put a burden on developers and slowed the process, according to Paul Turner, director of loan origination for the Nonprofit Finance Fund.
Another issue has been the slow approval of federal rent subsidies. Having these subsidies helps developers secure financing for affordable and supportive housing units because they show guaranteed operating income. But there are only a limited number of vouchers available at any given time, and thanks to staffing shortages (due in part to COVID-19), the approval process has been slowed down. These delays repeatedly added to costs, Doye says. As a result of being unable to secure those subsidies, Skid Row Housing Trust is trying to sell off two of its six HHH-funded projects to be developed by another party. (The other four were successfully completed.)
Quick Fix vs. Worsening Crisis
At the time of HHH's approval, there were 21,338 unsheltered people (28,464 total homeless) in the city of Los Angeles, according to the Los Angeles Homeless Services Authority. Officials campaigning in favor of the ballot measure at the time acknowledged that 10,000 units would not be enough; the city's own Comprehensive Homeless Strategy, adopted in February 2016, called for 13,000 new units, 10,000 of which should be supportive housing. But officials say that the financial boost and guarantee of funds by the city through HHH would at least see new needed housing built quickly.
Since then, though, the homelessness crisis has gotten worse. The last official homeless count in 2020 (the annual counts were interrupted by the pandemic) found 28,852 people unsheltered (41,290 total homeless) in the city. Results of the pending 2022 count are expected to be higher.
It seems HHH is succeeding as intended on the construction front, but in terms of visible impact, not at all. Even though homelessness in the city would be far worse without it, the public isn't seeing improvement.
Heidi Marston, who served as executive director of the Los Angeles Homeless Services Authority from 2019 to April 2022, says that while an investment the size of HHH is a needed and good policy, the measure was "definitely oversold to voters" as a quick solution. In the 2016 run-up to the vote on HHH, supporters admitted these projects wouldn't entirely solve the issue, but said the program would be a significant tool in reducing the number of people who were unhoused and on the streets. Garcetti told radio station KPCC in November 2016 that HHH "[speeds] up" the construction of affordable and supportive housing.
Galperin agrees that there were some unrealistic expectations in 2016. The overwhelming support for the measure showed that the public was empathetic toward ending homelessness, he says, but people wanted to see quicker results than what is happening.
Sewill says disillusionment with the effort came quickly. "It took fewer than six months for people to say, 'There's increased homelessness and yet we just voted for this,'" she says.
Galperin also thinks there needs to be more immediate, cheaper interim measures to get people into shelter.
"To say to someone maybe we'll have a unit in three years from now, that's just inadequate while so many are dying on the streets," he says. "In an ideal world everyone would be provided with [permanent supportive housing], but we're not there."
Some other emergency measures have been taken to address homelessness during the pandemic, such as Project Roomkey, which rented hotel rooms to allow unhoused people to isolate; and Project Homekey, which is purchasing buildings and hotels to convert to housing. A wave of federal and state COVID relief money is also going to various efforts to prevent homelessness. Los Angeles is also expanding shelters in the form of tiny home villages in several neighborhoods around the city.
However, the city has also been taking punitive measures toward the homeless, clearing encampments and destroying property. Sweeps at locations such as Echo Park Lake in 2021 saw hundreds of people displaced and despite claims early on by officials that people were housed in Project Roomkey and other places, of the nearly 200 people removed from the park, a report from UCLA's Luskin School of Inequality and Democracy on the removal found that today only 17 people remained in some form of temporary or permanent housing (the Los Angeles Homeless Services Authority itself said that nine were in permanent housing).
Both encampments and sweeps may be contributing to a public perception that HHH isn't working.
Doye says that due to the slow rollout and the conditions on the ground, public anger grew and some elected officials have capitalized on that public desire for faster, cheaper options.
Using HHH funds to add more interim shelters is allowed, but Sewill argues that that doesn't mean it would be a good idea. Shelter beds currently in use across the city run millions of dollars per month in operating costs. The city is already pursuing adding more shelters, through federal COVID relief and Department of Housing and Urban Development money, which can be used for operating costs as well. Sewill says HHH funds should at this point best be spent on building supportive housing.
More fundamentally, Marston says, interim shelters are just that, interim. "The answer for homelessness is houses, not emergency shelters. If we built thousands of shelter beds tomorrow, streets would fill back up. They'd go into shelters and have nowhere to exit to." 
The Lessons of HHH

While cities and advocates can't control inflationary costs, there are still some lessons other cities can take from HHH's rollout. HHH was meant to be a turbo-charge to the system. But it was a turbo-charge to a broken system that was moving at a glacial pace. Using HHH to change more about the existing system might have garnered it more success and more support. For example, HHH's designers could have structured it to cover pre-development costs, or made moves to streamline the development process. It could also have incentivized efficient, cost-reducing designs.
The other major lesson is to improve the messaging. Local elected officials, including Garcetti, put a lot of political capital into supporting both ballot measures. But their messaging did not convey the staggered, phased rollout of the program, nor, later, how outside forces such as global supply chain failures and inflation were affecting the plan. As Marston notes, comprehensive intervention takes time, and it is hard to convey how those processes work when there will be no visible immediate improvements to the homelessness crisis.
Even though development can be progressing through the construction pipeline, the general public might not grasp how long or complex the process can be, Sewill says. That can fuel disillusionment. Perhaps an effort both beforehand and during construction to communicate both the timeline and the investment in the future that the proposal represented would have helped with public perception.
And, of course, Los Angeles must prevent increasing homelessness in order for current building projects to have an effect. To do this, the city needs more than just supportive housing units for those currently homeless. It needs broader affordable housing to reduce housing instability and prevent homelessness in the first place. By one estimate, it needs 500,000 additional units of housing affordable to residents making less than half the median income. In November 2021, the city council approved a plan to add that housing by 2029; an amended version of that plan was approved in June. It calls for rezoning parts of the city, increasing eviction protections, and upping housing density to add more housing units to the city.
There is also a proposal on the November ballot to tax property sales of $5 million or more to generate funds for both housing and homelessness intervention services. Signatures were raised for that by activists, not the city government, as was the case with HHH. Meanwhile, California has its own state bond fund, the No Place Like Home program, to provide counties with money for supportive housing. In that specific program, the money goes to Los Angeles County, not the city, but can be, and in some cases is being, used as a complement to HHH.­
Hopefully all these measures will lower the number of people being pushed into homelessness—but none will take immediate effect, leaving them vulnerable to the same perception challenges facing HHH.
Galperin, LA's controller, told Shelterforce that despite his criticisms he does not believe that HHH was doomed from the start or that it's doomed now: "Every unit that is completed is turned into a life that is transformed, in some cases a life saved."
Correction: Due to an editing oversight, this article originally listed out-of-date numbers for how many projects had been completed as of publication time.