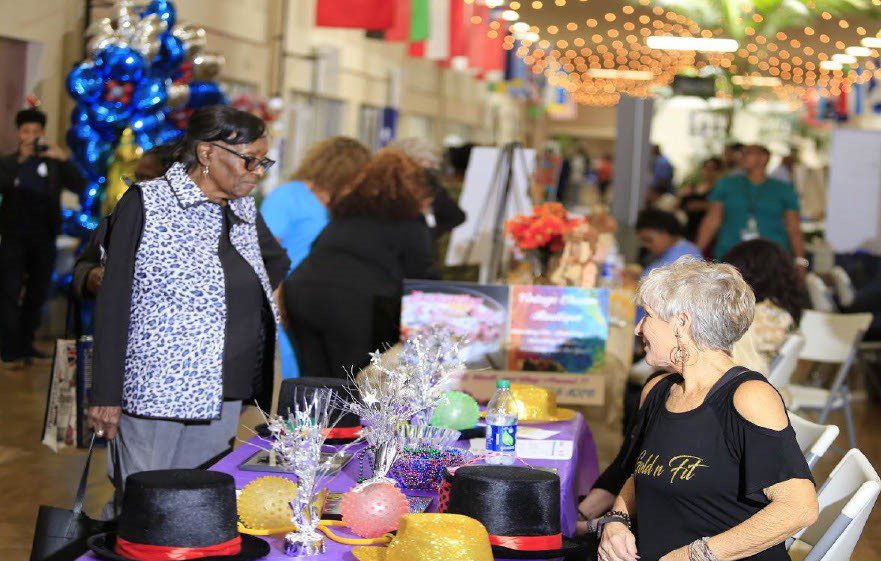 The transformation of an abandoned, 900,000-square-foot complex in Jackson, Mississippi, could be compared to a work of art.
Once holding the distinction as the first and largest shopping mall in the city, the property sat nearly empty for years before it was repurposed into a bustling community health center in the same way that an artist transforms old materials into a new sculpture.
Today, the complex—now called the Jackson Medical Mall Thad Cochran Center—is a community pillar, serving as a health resource for thousands of people each year, but also as a meeting place and major player in community development.
It all began in 1995 when Dr. Aaron Shirley launched the Jackson Medical Mall Foundation (JMMF) as the management arm of the facility, with the dual mission of fostering a holistic approach to health care to underserved populations and promoting community and economic development to surrounding areas, which include the historic Georgetown, Virden Addition, Shady Oaks, and Mid-Town neighborhoods. Since then, the complex has evolved from purely a medical facility to a large complex that leases space to health care, retail, and social service–providing tenants. In 2015, JMMF received a $3 million grant from ArtPlace America's Community Development Investments program to investigate and support place-based community development organizations to sustainably incorporate arts and culture into the organization's core work.
The Riches We Had All Along
In order to know what the community lacked, JMMF inventoried the talent and resources it already had, via a process called cultural asset-mapping, which took place from the fall of 2016 into the spring of 2017. The organization assembled an arts advisory committee, composed of local artists and residents, to spearhead the process using surveys, focus groups, and neighborhood mapping activities.
JMMF hired the Mississippi Urban Research Center (MURC) to provide technical support, design a questionnaire, conduct canvassing activities, and analyze results. Surveys were distributed via mail and electronically to business associations, community groups, homeowners, and neighborhood organizations in the surrounding area.
MURC also facilitated focus groups for local youth, neighborhood associations, and older adults living in the surrounding community. To encourage participation, JMMF provided participants with a $25 gift card. Overall, focus group participants said they valued arts and cultural activities, and identified schools and churches as key places where these activities can be introduced, developed, and nurtured.
However, participants also noted that churches and schools often serve their own membership and not necessarily the wider community for various reasons, such as budgetary restraints and security concerns. Many residents also said there needed to be more ways to find out about arts and cultural events, such as newsletters.
The mapping activities asked residents to name and plot arts and cultural amenities on a map. This process revealed that there were geographic disparities in the distribution of arts and culture opportunities. While there were considerable arts and cultural activities in the city overall, they were mostly concentrated in an area that was generally considered a budding arts district.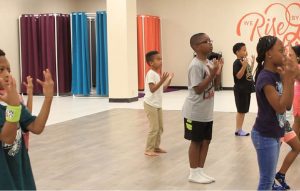 The asset mapping revealed sentiments held by residents that JMMF staff had been unaware of. "We thought that we were doing a very good job with providing health and health care services," says Primus Wheeler, the executive director of JMMF. "But they said that they wanted more health-related practices." Residents expressed that they wanted more wellness-related programs to prevent acute health problems, not just treat them. This led JMMF to seek out a fitness center to lease space to.
[RELATED ARTICLE: Arts for Community Control—Planning an Arts and Innovation District Without Displacement]
Arts and culture have also been integral for the complex's everyday operations, especially as it has become a vibrant community space.
Local artist Carlton Turner, with the help of his organization Sipp Culture, supports grassroots community development through cultural productions that are focused on self-determination. JMMF signed a contract with Turner in 2017 to have him work with the center's facilities manager and architect on a renovation of one of the common areas at the complex. The walls were blank and sterile, and JMMF leadership wanted to display art that would activate the space but also tell the history of both the mall and the surrounding community. Carlton helped create a living history wall, discussing the mall's past as a major commercial center, its transformation into a health center, and its growth as a community gathering space.
"Businesspeople are looking to figure out, 'OK, where's the profit? How does this [help me] make a living?' And I think the artists, at least the ones I work with, are asking the question, 'How does this art help people live?' And those are fundamentally different questions," Turner says. At the same time, participation was dwindling at the arts advisory committee. To address both the decreasing turnout and the balkanized interests of community stakeholders, Turner directed everyone involved to give up formal, town hall-style meetings in favor of Artist Thursdays, a weekly series of social mixers that saw all parties hash out their differences in a relaxed backdrop.
The mixers were organized and facilitated for a limited time by Turner, with each event having a different theme. At some mixers, artists shared insights on starting up businesses, while other mixers simply gave opportunities for artists and other community stakeholders to network. From these mixers came the idea to create a roster of local artists from different backgrounds and disciplines who had a vested interest in the center and the surrounding district. "We had a local organization that was working directly with blues musicians, we had local artists that were in our backyard that we didn't even know about," says Erica Reed, the chief of staff to JMMF's executive director.
The mixers led to an increase in attendance at arts advisory committee meetings and have fostered new working relationships between the members of the arts advisory committee and elected officials and heads of local agencies and commissions.
Producing Culture
Led by artist daniel johnson, whose company—significant developments—does strategic coaching, the art advisory council used arts and culture activities to get feedback from local residents, promote community health, and build an overarching narrative both for the facility and for the larger community. In an article for the Federal Reserve Bank of San Francisco, johnson wrote, "Our work was to help shake up traditional notions of 'art' as something outside of everyday activity and refocus 'art' as something that emerges from the everyday interplay of culture. The addition of art to the Mall's work shifted [us] from imagining art as something new to be brought in to imagining art as a culture we already inhabit."
Significant developments' goal was for JMM to recognize the role of all individuals in their community in creating culture through their everyday activities and perceptions of JMM, and create policies and procedures to facilitate the abilities of staff, mall tenants, and community members to take part in cultural production. This was informed by JMMF's internal grappling with what it meant to become an organization "shift[ing] away from the notion of 'artist as outsider' to 'artist as neighbor'" and committed to having "arts and culture alongside sectors like housing, transportation, and public safety, when coordinating efforts around myriad outcomes, such as resiliency, economic development, open space, public health, and youth opportunities," according to johnson.
[RELATED ARTICLE: More Than a Mural—How Arts and Culture Advance the Mission of the Seattle Housing Authority]
Significant developments as an organization was rooted in the understanding that story is a fundamental building block of personal and group identity, and therefore paid special attention to listening to individuals in JMM and the wider community as they shared their thoughts and opinions. The company began participating in existing JMMF events and shadowing staff members to get a comprehensive understanding of the daily activities that the staff engaged in as well as the importance and nature of their work. For example, they integrated themselves among the JMMF staff at an annual Neighborhood Night Out event to get a better understanding of the foundation's role in the community. The reason for this focus on staff members, especially those on the maintenance, environmental services, and security teams, was many of the employees in these departments lived near the mall and were in the best position to speak on the connections between it and the community.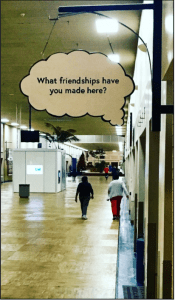 Additionally, the art advisory council organized events such as a free catered lunch for employees of the establishments that rent space at the mall, in order to get their feedback about ways to improve the facility and programming. The council also knew of a group of community members who regularly circled the mall for exercise, and saw this as a great opportunity for engagement. From this, the Coffee Chatter initiative was born. It consisted of six large plywood thought bubbles hanging in the corridor asking, "What friendships have you made here?" and "What brought you here?" As folks left the center, a person stationed at the exit would invite them to a breakfast with JMMF staff to talk about their experiences living in the community and their hopes for the future. Through this, JMMF learned that many mall walkers came to the mall because they felt it was a safer place to walk than other areas of the community, and that it provided warmth during the winter months. JMMF leaders realized they needed to treat their visitors not as passive medical consumers but as active partners in a dynamic community.
One direct result of this process was that JMMF expanded its mission statement from one that simply addressed the needs of the medically underserved to "eliminating health disparities holistically through the promotion of creativity and innovation."
The Scenes of their Lives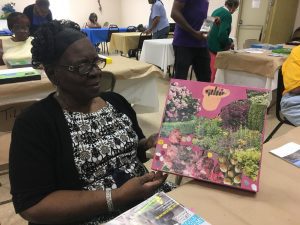 The use of arts and culture-related programs has proven effective in building new communal ties and bolstering existing ones. For example, johnson, with the help of Charles Husband at the Mississippi Department of Transportation, organized three painting and storytelling sessions geared toward older adults. Seniors were bused in from nearby community centers to the mall for three two-hour sessions where they took a stab at painting important scenes in their lives as they were being interviewed by staff. At the end of the interviews, all their paintings were displayed in an exhibition within the center, along with their transcribed interviews describing the scenes.
"It was one of those moments where you wish you could have spent three times as much time [there]," johnson says.
Besides demystifying what goes into making art, the activity served as a relationship builder between people who might've been unaware of one another's histories and backgrounds. "One lady had been through Katrina. She was in a room with, you know, 30 other seniors almost every day and they didn't know that about her. So that was exciting to see them learning about each other because we had created this space to ask them about themselves," johnson says.
The benefits of the center's inclusion of arts-related programs go deeper than an overall improvement in social bonds. Before COVID, each event or program served as a gateway to introduce visitors to the services offered at the center and bring them back for follow-up services. The annual "Trunk or Treat" event invited community members to a family-friendly Halloween gathering where neighbors and businesses handed out sweets from the trunks of their cars. The program attracted dozens of families who could then get dental checkups and toothbrushes on site. (Due to the pandemic, many such events were canceled, and Reed says they are unsure when in-person events will be safe to hold again.)
Additionally, the foundation worked with the organizers of the Tommy Johnson Blues Festival and the Mississippi Diabetes Foundation to move the site of the festival from its usual location in Crystal Springs, Mississippi, to the center, starting in 2016. The festival was dedicated to the memory and musical legacy of the 1920s blues artist of the same name, and organizers were able to tap into a broader audience thanks to the space afforded to them. Fans young and old were coming together each year to see the performances and buy from vendors in a safe and affordable venue.
The security and convenience of the event encouraged many older participants to pick up pamphlets on important health information and take advantage of the free diabetes screenings that were offered. "That's really what we were always trying to do … bring folks to the table. Collaborate and let that become your project. You take it on and move on to do it your way and have it sustained," Wheeler says.
Events like these would attract anywhere from 1,500 to 2,000 people to the center's campus.
One effect of building such goodwill with the community is that residents eventually show up to give back in unexpected ways. "We built the grocery store here and we actually leased it out because we know what we're good at and we're not good at running grocery stores," Wheeler says.
That appreciation for the center would come home to roost when some of the older women from the quilting group hosted by the center began sewing masks for some of the staff. "We just kept asking them to sell them but the ladies just wouldn't sell them," Wheeler says. "They wanted to make them and give them away. They gave them to hospitals and folks in the community and to our security force here at the mall."
Lockdown derailed things by ending in-person events, but all the programs that sprang up from the ArtPlace America CDI grant should resume as pandemic restrictions continue to ease up. Wheeler is hopeful that they can hit the ground running again and maybe shore up support for the COVID vaccine in the process. JMMF has led several vaccination drives in partnership with Walmart, the city of Jackson, and the Mississippi Department of Transportation.
More recently, the organization has been raising funds for a major redevelopment of a nearby 22,616-square-foot upscale furniture gallery into a community-based cultural center complete with an art gallery, art courses, music production studio, creative space, small theater, and an artist residency program. The building also has an 'innovation center' where space can be rented out to local artists.
Additional reporting by Dalvin Aboagye