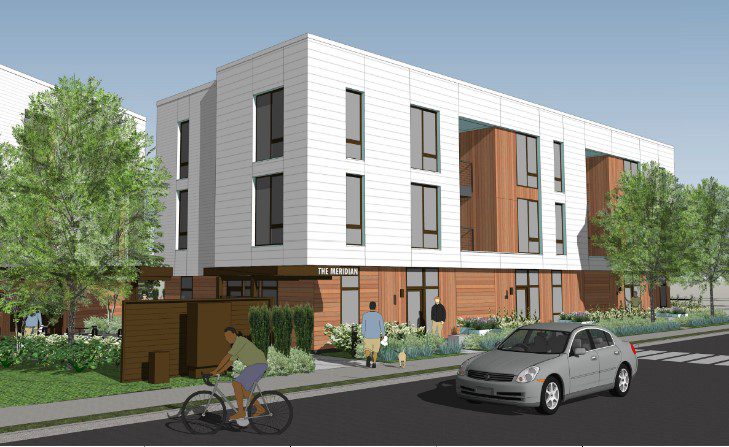 Supporting vulnerable, low-income tenants who struggle to keep their rental housing has long been a guiding principle of public housing authorities across the U.S. More recently, there has been a larger focus on serving those who struggle the most through specifically tailored housing, case management, and services under the umbrella of permanent supportive housing.  
In Washington state, the Vancouver Housing Authority—where I work as communications director—plans to more than double the number of supportive housing units it had just five years ago from 153 to 346. Washington state's increases in homelessness has outpaced the nation's, and this move will keep people stably housed, improve residents' quality of life, and reduce their reliance on emergency services.
Defining Success
In 2016, the housing authority and one of its nonprofit arms, Vancouver Affordable Housing, constructed Lincoln Place, the housing authority's first supportive housing and housing-first project built from the ground up. Lincoln Place serves the most vulnerable of the local homeless population. Each potential tenant is assessed to determine how vulnerable they are to dying on the street in the absence of a program to help them.
The 30-unit facility features a single, monitored entry to enable managers to keep track of visitors, additional sound insulation between walls, floor drains in bathrooms to prevent flooding, and automatic shut-off timers on ovens.
Located on the western edge of downtown Vancouver, Lincoln Place had its ups and downs before finding its footing. It takes three years to know a property, to know its acuity and level of need and the right mix of services it requires, says Leah Halstead, asset and property management director at Vancouver Housing Authority. "You're not going to get it right on opening day," she says.
Similarly, for those exiting homelessness, it may take years to succeed through interventions and recovery programs.
"It's about learning to recognize those smaller successes," Halstead says.
And that requires redefining what success means and what it looks like, says Andy Silver, COO at Vancouver Housing Authority (VHA).
For some, success may mean "graduating" out of site-based supportive housing (though it is not time limited). For others, success means keeping their supportive housing and taking small steps toward addressing challenging behaviors such as learning to use a bathroom appropriately or resolving conflict with neighbors and staff. If someone has lived in a homeless encampment for a while, they may be accustomed to a culture of settling disputes by threatening others or displaying a knife.
Simply learning to sleep inside one's own apartment can be a major achievement for someone facing many challenges to remaining stably housed.
Halstead says there can also be a range of issues where residents are unable to set boundaries with guests and inadvertently violate their lease agreements. In some situations, a guest may take over an apartment resulting in the tenant having to seek help getting their apartment back.
Silver says vulnerable tenants are often taken advantage of and need to learn to, for instance, not lend money or let friends stay in their home.
"Sometimes 'friends' is a loose term," Silver says.
VHA recently partnered with Share, a local homeless service provider that received a grant to do outreach with the unhoused friends and family of people who are in supportive housing. The intent is to get those guests into a place of their own. Share's outreach team will ensure these people connect to the coordinated entry system for emergency shelter and housing programs. They'll help them tackle barriers they may have to housing such as lack of identification or income.
A Patient Progress
Since Lincoln Place opened, VHA has learned that though services are put in place to help tenants stay stably housed, progress occurs at the pace of the tenant.
The housing authority found that it needs to have in-house staff who understand the service model, can monitor performance, and identify service gaps at each property. This led to the creation of VHA's supportive services unit, which Silver oversees.
Silver says that while engagement in services is voluntary at Lincoln Place, those services won't go away if a tenant initially refuses them. There are ways to re-engage people and continue to offer resources when the tenant is ready.
[RELATED ARTICLE: New Approaches to Community-Based Supportive Housing]
Michelle Bittinat, Share's housing stability and enrichment program director, says housing someone who has experienced extreme levels of trauma requires extra layers of wraparound support.
"Some of the things we really focus on are meeting each person where they're at and making it a low-barrier model," Bittinat says. "If someone is not ready to engage in services that's OK."
However, this can create a challenge when it comes to paying for services. Many residents of these developments are referred through a Medicaid program called Foundational Community Supports (FCS), which provides supported employment services and supported housing services to the most vulnerable Medicaid beneficiaries. It is the main service provider at many permanent supportive housing properties. The supportive housing services do not include rental assistance, but simply help individuals get and stay in community housing. When somebody opts out of Medicaid-funded services, they are unenrolled and those resources go away. VHA's fix is to have a service coordinator who's tied to the building but whose position is not funded by Medicaid. The service coordinator is able to work with them whether they are enrolled in FCS or not, and can help re-enroll them as clients express interest or as service needs are presented. That way, if someone disengages from their health insurance programs, the service coordinator can talk with them and get them on board later.
The Center for Outcomes and Research Education (CORE) at healthcare organization Providence is evaluating VHA supportive housing that uses FCS to see whether it reduces other costs related to emergency services—showing the financial viability of permanent supportive housing. CORE, which comprises independent scientists, researchers, and data experts, aims to improve health and health equity through evaluation and research. One of the principal philosophies behind permanent supportive housing is that it takes pressure off emergency response systems such as emergency rooms, paramedics, and police.
Trauma-Informed Community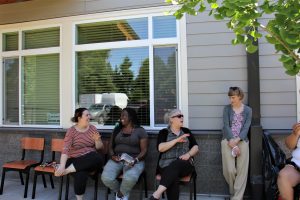 Silver credits the increase in supportive housing to the creation of the Housing Health Innovation Partnership in 2018. Led by the housing authority, the collaboration with county government and service agencies looks for ways to increase housing options for people with behavioral health issues and better integrate supportive services. The Housing Health Innovation Partnership was created largely to implement the recommendations in a county detailing current housing options and gaps to be filled.
[RELATED ARTICLE: Trauma-Informed Practices Help Deliver Better Care to Clients and Staff]
While Lincoln Place was still finding its bearings, the housing authority used the property as a testing ground for ways to improve services and service delivery. It started by making new hires and moving property management in-house; VHA had previously contracted with a property management company to oversee Lincoln Place.
A partnership with CDM Caregiving Services helps tenants with housekeeping and meal prep. The creation of a harm reduction fund covers interventions to stabilize tenants. For example, the harm reduction fund paid for a white noise machine after a case manager determined that a tenant was running their water all night long because they wanted background noise. The fund also paid for a tablet to help a tenant with aphasia communicate.
A local physician's weekly visits to the building help tenants take control of their health. Michelle Inman, a supportive housing property manager for Vancouver Housing Authority, says tenants who never saw a doctor—except when they ended up in the ER—are now making informed health decisions and turning around unhealthy behaviors.
She's pleased to see Lincoln Place running smoothly and knows the additional supports and 24/7 staffing make a difference.
"None of it is super easy," Inman says. "It is expensive to do it, but it's also, I think, saving lives to do it."
Bittinat says it's not just about stabilizing people, it's about reintegrating them into the community. Often those who were homeless and lived in encampments can feel lonely after moving into an apartment on their own. Residents may look forward to walking groups or resident meetings and events like holiday parties and barbecues.
"We're not just focusing on people living dignified lives, we want them to live enriching fulfilling lives as well," Bittinat says. "Yes, it's an apartment building, but it's also a community."
Still in the Works
Vancouver Housing Authority's newer supportive housing facilities have that wobbly feeling Lincoln Place had in its early days.
Meriwether Place, a 30-unit community that opened in August 2018 in central Vancouver, is still steadying itself, says Inman. Some formerly homeless residents fell out of services once they got housing so getting them requalified and reengaged in supports has been a big challenge. Inman is getting to know tenants' myriad needs. Having previously worked in property management for a mental health agency, she's found when a lot of people with similar diagnoses are put together in a community it can exacerbate behaviors, but it can also present an opportunity to offer supports to overcome those challenges. While people may be better able to manage their mental health when placed in housing that's not specified for people with severe mental health diagnoses, she says, many have exhausted all other housing options in the community before coming to live in supportive housing. "Recovery may be slow, but we see progress over time with most tenants," Inman says. Inman also explains that staff members approach the challenges there with harm reduction in mind that's trauma-informed and focuses on tenants' strengths.
And, true to the ethos of permanent supportive housing, "people get a thousand chances to work on their stuff and address things as they come up," Inman says. "It has to be a pretty big reason for us to evict."
That's where collaboration and communication among property management and service staff is so important. Vancouver Housing Authority has found cross training beneficial so property management may, for instance, better understand chemical dependency or hoarding or problems with hygiene that can arise in supportive housing.
Bittinat stresses the importance of the relationship between property management and service staff.
"We have the ability to be really effective when we're a good team," she says.
Brick and Mortar Solutions
With each community, lessons are learned about how to improve the built environment and service delivery for residents. The population served makes a difference, as does the location; a downtown building feels much different from one on a quiet suburban street.
Those trial-and-error experiments and lessons from Meriwether Place, Lincoln Place, and others in VHA's portfolio are shaping its future supportive housing developments. One such development will be the first of its kind in the state.
Tenny Creek Assisted Living is designed as an assisted living facility for people exiting homelessness who have behavioral health challenges. Located in the Hazel Dell area of Clark County, the building comprises 40 studio apartments and will feature a commercial kitchen and dining hall, hair salon, on-site nurse assistance, outdoor courtyard, secure bike parking, on-site laundry, and 24/7 staffing along with activities and programming.
When designing Tenny Creek, VHA staff toured several properties in the Portland, Oregon, area to better understand operations and interactions with residents. Questions asked included "if you could redesign this building what would you do differently?" and "what changes have you made to the operations of the development since opening?" Caesar says he gleaned from those conversations that a combination of meeting spaces–both indoor and outdoor, large and small group–is beneficial. Staff at Macdonald Residence in Portland, an assisted living community serving a population similar to the one proposed for Tenny Creek, with meal services in terms of when and how meals are served. Tenny Creek is slated to open in March of 2022.
Built to Suit
Halstead says there is a whole spectrum of models under the permanent supportive housing umbrella with different levels of staffing, types of services, and methods of case management.
What works in one building and for one population may not work for another.
"Don't assume every building is going to be the same just because it's supportive housing," Inman says.
Rhododendron Place opened in 2019 in Hazel Dell. It features 30 interior-access studio apartments. Residents are referred by outpatient mental health provider Columbia River Mental Health Services. Situated off the beaten path in a more residential setting, Rhododendron Place doesn't have as many issues with unauthorized visitors as other, more centrally located, properties do and doesn't require 24-hour security. Residents still have the same on-site access to services. Part of the success of Rhododendron Place is that VHA planned for the worst-case scenario in terms of staffing.
In contrast, Meriwether Place was originally understaffed due to a level of optimism that having services on-site would reduce property management needs. After the first year, it was clear there are differences between behavioral and mental health case management and housing case management. Now, Meriwether Place has 24/7 staffing and a case manager focused on helping residents maintain their housing. Halstead and Silver say housing authorities shouldn't underestimate staffing needs and costs.
"One of the keys to supportive housing is you want everyone to have opted in, to want to work there," Silver said.
Staff who are compassionate, resilient, and have a sense of humor are critical to supportive housing.
Last summer, rose bushes were planted around the side of Meriwether Place. The next week, two plants had been pulled out. Maintenance may make repairs to an apartment—patching holes in the wall, repairing damaged appliances and unclogging drains—only to discover similar issues at a later inspection. Staff may pressure wash the walkways one day and the next day find spills, trash, and graffiti. One benefit of working in supportive housing is watching residents succeed in big and small ways. A 29-year-old man living at Rhododendron Place says getting into permanent supportive housing saved his life.
After a hospital stay, he went to Columbia River Mental Health Services where a housing coordinator told him about Rhododendron Place. Although he applied to live there, he wasn't too hopeful he would get in.
"When my name was chosen from the lottery, I started to get excited. I started working with an employment specialist and was able to work six hours a week at a pizza parlor," the man says.
That was 18 months ago. He's since moved into housing and was recently promoted to assistant manager at the pizza parlor. Having saved enough money to buy a car, he no longer relies on public transit and can work different shifts; he loves his job and hasn't missed a day of work.
"I feel hopeful for the first time that I'm going to be happy and not feel like a loser," the resident says. "When I visit my family, it is to share good times and not ask for help."