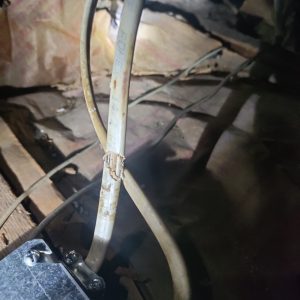 Flickering lights, obsolete electrical outlets, burning smells, and nonfunctional or nonexistent appliances greeted Jazmin Murphy and Curtis West in late June when they moved into their rental—a three-bedroom, single-family home in Kansas City, Missouri. The couple had recently signed a lease with Texas-based property management company Darwin Homes, which billed itself as "full-service property management you can trust."
Murphy and West hadn't heard of the company prior to finding the rental online, but Murphy found a few positive company reviews. On move-in day, company representatives assured the couple that someone would address the home's lingering habitability issues by the next day.
"We were leaving a neglectful property management company. And we were leaving an increasingly dangerous neighborhood," Murphy says. "The house looked good when we walked (through) it. We noticed the two-pronged outlets right away but thought they were just an inconvenience at that point."
Darwin Homes didn't address the issues the next day, or the day after that.
"The water heater was completely gone. Not there. There was no stove in the house. The refrigerator wasn't working," West says. "It took three weeks to get a working stove in the house. It took two weeks to get a refrigerator." Murphy and West say they lived in the home through two improperly connected stove installations, days without functioning utilities, and months with electrical issues.
It's now been more than three months, and the habitability issues continue. Darwin representatives are alternately unreachable and evasive, say the couple. Murphy and West have meticulously documented a winding trail of phone calls, work orders, emails, and multiple ongoing health and safety issues. They say Darwin employees continue to downplay their legitimate safety complaints as "frustrations" and put their maintenance requests through an obstacle course of third-party contractors and company representatives who sometimes blow them off and sometimes show up at odd hours, unannounced. When they do show up, they often fail to fix the issue or leave the problem worse than before, the couple says.
Online Management, Offline Ownership
The company Murphy and West rented from, Darwin Homes, is a startup in the up-and-coming field of "full-service" online property management companies. In simplified terms, companies like Darwin Homes market their platforms as one-stop services that streamline property management for landlords and simplify the rental process for tenants. In Darwin's case, the company is headquartered in Texas and manages properties in several states.
A Darwin representative declined Shelterforce's request for an interview.
According to the company's website, Darwin manages repairs and maintenance, leases, rent collection, and tenant administration, including evictions, making it easy for small investors to own a couple of rentals. Tenants are supposed to be provided with services like "moving assistance," utility connections, and other "hassle-free" conveniences. Because companies like Darwin are digital-only platforms, tenants' options for communication are limited to accessing the company's app or dialing the general number on the company's website.
West and Murphy say their online and phone complaints are often ignored, and without a physical property management office or property owner nearby to escalate their complaints to, they have little recourse. They're not the only tenants finding that web-based, large-scale landlords and property management companies fail to provide the tenant services and conveniences their websites boast about. 
'We're starting to see more and more from companies like Darwin Homes getting into the industry, but [they] do not know the ramifications of how their business model affects the livelihoods of human beings in their homes.'
Darwin Homes is just one of several companies providing property management services via an online platform and tenant portal. Some of those companies are also the owners of the properties they are managing. Darwin provides property management services for other landlords—large and small. Since the housing crash, at least 200,000 single-family homes transferred from individual to corporate ownership and are now rentals. The nation's largest single-family rental company, Invitation Homes, owns and manages 80,000 properties and is said to be negligent with repairs, generous with eviction notices, and greedy with fees. Starwood Waypoint Homes, which merged with Invitation Homes in 2017, was repeatedly accused of forgoing routine between-tenant maintenance to save money. One former employee claimed the company quit changing locks before new tenants moved in.
Corporate investors who can dump billions into scooping up properties should, in theory, have deep pockets for routine upkeep and maintenance. But a 2014 survey of tenants renting from a single corporate landlord in Los Angeles and Riverside counties found that nearly half of the units had plumbing issues, 20 percent of respondents reported their homes contained mold, and 18 percent said their roof leaked.
[RELATED ARTICLE: Keeping an Eye on Landlord Tech]
West and Murphy's address is registered to a limited liability company (LLC) named SFR3, which claims to offer "thousands of affordable homes for rent." According to county property tax records, SFR3 bought the 61-year-old single-family home in November 2020. It's unclear when the home became a rental and how long Darwin has managed the property for the owner.
According to a January news release, the Darwin Homes team had been in operation at the time for about 24 months. Darwin currently manages tenancies in more than 2,200 single-family homes. It also has about 1,600 more institutionally owned properties coming online in late 2021 in hot rental markets such as Atlanta; Cleveland, Ohio; Charlotte, North Carolina; and Tampa, Florida. Public records show Darwin Homes' Silicon Valley–linked founders concentrated their initial rental property management activities in Texas, where the company has been licensed to manage real estate since 2020. Darwin has been licensed to manage Missouri properties since April, and is licensed as a property management company in at least two additional states.
The company earned Better Business Bureau accreditation in March 2020 (and has a current 2.09/5-star rating), has been mentioned on Reddit as a landlord to avoid, and has a lengthy Facebook review page with claims of "horrible customer service" and "this company just finished totally screwing over my roommate and I." Despite its questionable track record with consumers, Darwin Homes raked in $15 million in "Series A" funding (the next step after seed funding, when a startup is looking to move beyond the idea stage) from rich tech moguls with ties to Door Dash, Uber, and Canvas Ventures, to name a few.
Single-Family Rentals, Double-Digit Growth
Why the influx of capital? Single-family rentals' emergence over the last decade as one of the strongest growth sectors and most desirable real estate asset classes for institutional investors is certainly an inviting factor. During and after the housing crisis of 2007–2008, institutional investors began scooping up single-family homes at an astonishing rate. These homes—many of which families lost to foreclosure and big companies bought for pennies on the dollar with help from Uncle Sam—became part of a rapidly growing pool of rentals created out of what had been our stock of older, affordable "starter" homes.
[RELATED ARTICLE: The Dark Side of Single-Family Rental]
The investment niche has become so attractive, in fact, that since 2006 the single-family rental industry has been the fastest-growing segment of the housing market—growing 30 percent since 2007 compared to 15 percent for multifamily rentals in the same period. Institutional investors currently own about 2 percent of the nation's single-family rentals—which amounts to about 300,000 homes. But companies like Invitation Homes; Vision Property Management, which markets rent-to-own properties in 24 states; and American Homes 4 Rent, which saw $46 million in institutional investments in a single quarter of 2019, plan to sink billions more into single-family rentals, which will continue reshaping the overall market.
Darwin Homes adds another wrinkle to this picture—single-family rentals that might have owners of any size, but which are managed at the same remote scale as those owned and managed by large corporate landlords. For the tenants' experience, it's the management that matters.
High-Tech Platform, Low-Quality Management?
Until institutional investors cannonballed into the pool, the single-family rental industry was dominated by mom and pop landlords: small individual property owners who buy one, two, or even several rentals as a way to generate "passive" income. Rental income is considered passive, but being a small landlord isn't often a passive role: Single-family rental homes tend to be older, often in need of updates or custom repairs, and therefore higher maintenance than newer, uniform, multifamily investment units.
Until recently, technology that would enable large corporations to manage sprawling, unwieldy portfolios of single-family homes over multiple markets and regions without significant dedicated local staff didn't exist. The heterogeneity of single-family rental units can make it difficult to track maintenance and repair needs. Because of this, individual landlords have historically dominated the single-family rental market.
Darwin Homes and several other tech-based landlords and property management companies advertise their leasing platforms as one-stop solutions that allow efficient management of large swaths of single-family homes. Corporate property management companies like Darwin tout renters' supposed ability to get in touch with maintenance and repair workers anytime, day or night, as an advantage to property management at scale.
Murphy and West are experiencing the flip side: Darwin's size and digital-only access means it's nearly impossible for tenants to talk to a real human, and the humans they're able to speak with don't provide appropriate or prompt responses to complicated problems. Murphy works from home and relies on the internet to earn a living. Her workflow has been interrupted again and again since moving in, both physically by the home's unstable electricity—which has also interrupted their internet service multiple times when it flickers on and off or shorts out entirely—and mentally by the stress and trauma she continues to experience during the fight against Darwin Homes.
"Darwin has disrupted our work lives, we have been earning less money because of their neglect and because of the unannounced visits from Archie [Sowell]," who's listed as area manager for Darwin Homes' Kansas City properties, Murphy says. "It's severely undercut my income. I've lost well past $1,000 just in the last two weeks alone because of the stress and time it takes to research this company."
Darwin employees "have yet to be actually helpful in any of their correspondence" despite their continued emails and calls, Murphy says. West has spent hours tracking down phone numbers, making calls, and otherwise chasing Darwin employees or contractors for help. They've had an especially hard time getting the electrical issues fixed, and the chain of communication around the flickering lights—which one electrician told them represented a wiring problem that is a serious fire hazard—illustrates the runaround Darwin keeps giving them, West says.
"We found out that Darwin hired a third-party electrician company, who hired a third-party contractor, who then hired someone she'd never worked with before to come out and do the job for her," West says. "So Chris had to report back to Kelly. Kelly had to report back to her company. Kelly's company had to report to Darwin, and Darwin had to report to the property owner, who said, 'We don't like that number.' Then Darwin would hire a new vendor. And they did that multiple times."
Some Darwin processes seem convoluted; others, if true, are downright dangerous and illegal. West described a stove replacement in which a brand-new kitchen stove delivered by Home Depot didn't work after it was installed. Sowell inspected the stove and the installation and told West he thought the new stove must be defective.
"In order for Home Depot to take back the stove, there has to be physical damage. So in front of me he used his knee to bend and break part of the stove, then just told me, 'Just tell Home Depot it came that way," West alleges. After Darwin delivered a second stove that also didn't heat up properly after it was installed, Sowell came back.
"He brought his own power cables and just started taking off the power cable for the stove, which I think voids the warranty, and was trying on new ones to see if it's the power cable." West recalls.
It wasn't until after all that that Sowell tested the power levels coming to the outlet and realized the problem wasn't a faulty stove, it was the faulty electrical system—the outlet wasn't wired for the correct voltage to support the appliances drawing power from it. The couple say Sowell's obvious ignorance about the home shows Darwin didn't complete proper inspections or do its due diligence before listing the home for rent.
Murphy and West have stopped requesting repairs and instead want to be released from the lease agreement. In mid-September, they asked Darwin to terminate their lease and reimburse them for rent and utility payments, wages lost, and relocation costs. That's when Darwin began rushing them to move out, trying to get the couple to sign what Murphy says, "essentially amounted to an NDA."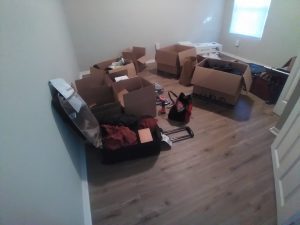 Murphy shared a mutual release and indemnification agreement Darwin sent the couple on Sept. 22 that would have terminated the lease agreement and reimbursed their move-in costs, rent, and an estimated amount for lost wages. The reimbursement would have been paid in two installments—half upon signing and half after Darwin confirmed they'd vacated the rental.
"They're trying to get us out of here so they can ghost us," West says. "We're not going to sign it because we don't believe they'd give us the rest of our money."
The situation has deteriorated since Darwin made the late-September offer. Darwin won't agree to recompensate Murphy and West before they move out, and the couple refuse to leave without their money. They've been packed for several weeks waiting for Darwin to meet their requests. West says their account shows an October rent charge on Darwin's payment portal. They're not paying it.
"The vast majority of Darwin leadership has continued to ignore our correspondence," Murphy says. "At the same time, they are pressing us to move quickly toward a 'smooth transition,' have not yet agreed to pay the relocation costs, and have not acknowledged the utilities payments they owe us."
A Growing Problem
The couple enlisted help from local tenant advocacy organization KC Tenants, which had heard of similar Darwin Homes actions from other local renters before West and Murphy contacted them. Mason Kilpatrick (who goes by MAK), a community organizer with KC Tenants, says their complaints are "pretty standard across the board from a lot of these companies."
"We're starting to see more and more from companies like Darwin Homes getting into the industry, but [they] do not know the ramifications of how their business model affects the livelihoods of human beings in their homes," MAK says. "These companies are going into this thinking of homes as an investment in stocks that have four walls and a roof, and they don't understand that with these older structures there are maintenance issues and relationships that need to be formed with tenants."
Murphy and West are savvy renters—they knew to document communications with Darwin, photograph habitability issues, take to Twitter to get more attention, and reach out to KC Tenants for support. But even with their self-advocacy actions and outside help, Darwin Homes' refusal to fix the home's problems have taken a heavy toll on the couple. Murphy says "it's horrible" even after months of fighting Darwin and advocating for a resolution. At this point, Murphy, who moved to Missouri in early 2020, says she's not sure she even wants to live in the state anymore after the rental experiences they've had.
"Now there's a rotting smell coming from the crawl space. We think whatever chewed on the [electrical] wires up there died," Murphy says. "We're so tired."