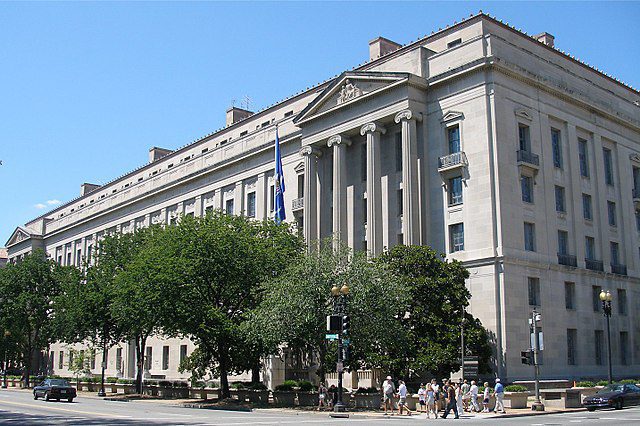 When Congress failed to pass a national eviction moratorium of its own on July 30, tenants' rights advocates were sent scrambling to lobby state and local governments to enact or extend their own eviction moratoriums, at least until renters can access the federal rent relief funds for which they're eligible.
It was a familiar terrain for those tenants' rights advocates. The right to counsel movement—which has fought to give tenants guaranteed access to legal representation in eviction proceedings—has largely taken place in state legislatures and city councils, which have the authority to pass such laws. But now, thanks to the revival of an office within the Department of Justice (DOJ) that is focused on equitable legal representation, tenants' rights advocates are looking to the federal government for help strengthening the right to counsel movement as the impacts of the COVID-19 eviction crisis play out now—despite a two-month extension of the moratorium—and in the years to come. 
The Office for Access to Justice was formed in 2010 as a DOJ pilot initiative under President Barack Obama. In 2015, Obama formalized the program by establishing it as an office within the DOJ and also launched the Legal Aid Interagency Roundtable (LAIR). Access to Justice worked on increasing access to legal aid for low-income Americans in both the criminal and civil justice systems—weighing in with legal briefs on issues such as excessive court fines and fees, language barriers in the courts, and representation for civil legal matters. The Access to Justice office also provided analysis and brought together stakeholders to work on improving existing legal aid policies. LAIR brought together representatives from across the spectrum of federal agencies to develop policy around similar issues. Then President Donald Trump shuttered Access to Justice and LAIR in 2018.
In May, President Joe Biden signed a memorandum restoring both the Office for Access to Justice and LAIR, which tenants' rights advocates see as a key tool for advancing the right to counsel movement. In July, a bipartisan group in Congress introduced a bill to establish the office permanently to prevent future presidents from shutting it down. 
Advocates want to see Access to Justice lawyers write briefs and statements of interest in support for right to counsel in key eviction cases. They say the office can fund in-depth analyses of existing right to counsel programs to establish best practices for legal representation, diversion programs that provide payment plans or other alternatives to tenants facing eviction, and other policies to keep people in their homes.
"When the federal government says, 'This is an important issue' it really does make people stand up and take notice. Cities and states and people in the courts, everyone in the legal ecosystem pays attention," says John Pollock, coordinator at the National Coalition for Civil Right to Counsel.
Addressing Eviction Court's Inequities
Though the Biden memo does not cite any specific issues for the Office for Access to Justice to address, evictions are a logical fit for the office's stated function of "promoting equal access to justice and addressing access limitations throughout the criminal and civil legal systems." The eviction process is deeply inequitable. Whereas landlords nearly always tackle eviction proceedings with a lawyer, low-income renters who fall behind on their rent rarely can afford legal counsel. Some studies have found only 1 in 10 tenants have a lawyer representing them in housing court. Black renters are disproportionately evicted—they account for 35 percent of eviction filings, despite only accounting for 21 percent of all renters. According to Eviction Lab, low-income women—especially women of color and women with children—are the likeliest renters to face eviction.
The right to counsel movement is changing that dynamic in the handful of states and cities where the laws exist. Study after study has found that tenants are far less likely to be evicted when they have legal representation. A 2018 study by the Philadelphia Bar Association, for example, looked at more than 100,000 eviction cases and found that tenants with representation were evicted from their homes in just 5 percent of cases, compared with 78 percent of unrepresented tenants.
Sandra Park, senior staff attorney with ACLU's Women's Rights Project, wants the Office of Access to Justice investigate ways to mitigate the knock-on effects of eviction filings. Eviction records can follow a tenant for years, making it vastly more difficult to find housing. Debt from rental arrears, court fines, and fees can damage credit scores. The combined effects can spiral into homelessness for people being evicted. A 2018 report by the Seattle Women's Commission and the King County Bar Association found that of the evicted renters surveyed, 37.5 percent ended up living on the streets, 25 percent moved into shelter or transitional housing, and 25 percent moved in with family or friends.
"State courts are really varied in their approach to eviction records and access to those records by eviction screening companies," explains Park. "Some of that is governed by state laws, but some of it is governed by court practices so the Access to Justice office as well as LAIR can really play a role looking at how to mitigate some of those harms. It could be as simple as highlighting some of the issues for state courts as well as for attorneys representing tenants and landlords in terms of how to shield some of those records."
Though the eviction crisis spurred by the pandemic needs immediate attention, its impacts will be felt for years as cases play out in court and the Emergency Rental Assistance program (ERAP)—which doesn't expire until 2025—is slowly disbursed. Ten percent of those funds are available for "housing stability" work, which can include counsel for tenants being evicted. Pollock wants to see the Office of Access to Justice encourage local jurisdictions to use their funds for tenant counsel in eviction cases. There's also an open question of what will happen to unspent ERAP funds. Once again, Pollock thinks Access to Justice's support for and evaluation of right to counsel programs could go a long way toward ensuring that emergency rental assistance funds continue to prevent evictions beyond 2025.
"The effects of COVID are going to last well beyond the eviction moratorium and the rental assistance is going to play out for years," says Pollock. "We're going to need counsel to help manage this whole process."
Park points out that the federal government is already a key source of funding for programs that provide access to civil legal aid, primarily through the federal Legal Services Corporation. Therefore, she says, "it makes sense that Access to Justice could play a role in evaluating the success of those efforts and increasing the body of research on how access to counsel plays out with respect to different outcomes including people staying in their homes."
Justice Beyond Evictions
Advocates say Access to Justice and LAIR could have a positive impact on housing justice issues well beyond eviction court.
"The severe imbalance of power between landlords and tenants across the country brings up a whole host of issues," says Shamus Roller, executive director of the National Housing Law Project. "Harassment, constructive eviction, discrimination on the basis of race, gender, and sexual orientation, those all play out in the eviction context, but also outside of it. … The housing system is plagued with inequality."
Pollock wants Access to Justice and LAIR to investigate illegal evictions that take place outside of the court system, such as when landlords change the locks or shut off water, something he says actually increased during the pandemic. Park says that because Access to Justice worked on court fines and fees in its previous iteration, it is well positioned to take on the issue of fines and fees in eviction cases and the negative impacts they can have. During the Obama presidency, the office also filed statements of interest opposing the criminalization of homelessness in federal court cases—an issue that continues to be debated in cities around the country.
[RELATED: Fixing the Harms of Our Eviction System]
The Office for Access to Justice is still in the process of rebuilding. Biden's May memo gave Attorney General Merrick Garland 120 days to craft a plan for Access to Justice's infrastructure and agenda. Tenant advocates are optimistic that right to counsel will be part of that agenda. For one, the pandemic has elevated evictions and their inequitable impact to the level of national conversation.
But beyond that, the White House has already shown an interest in the issue by hosting two national eviction summits where right to counsel was discussed. "That's something that back in the Obama administration would not have been true. And that gives me hope," says Pollock.