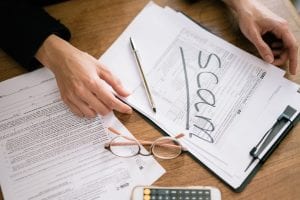 As the community services director at United Neighborhood Centers in Scranton, Pennsylvania, Megan Lee has counseled hundreds of people toward homeownership and out of difficult housing situations. But a recent story stands out as a chilling sign that the COVID-19 pandemic, combined with a competitive real estate market, has spurred an uptick in housing scams.
Lee is currently helping a young family in Pennsylvania after they were conned into paying a security deposit on a home in New Jersey. According to Lee, the couple believed they were entering into a rent-to-own agreement. "They were attempting to move out of state to New Jersey for a new life and job opportunity," Lee says. "They had everything ready, the U-Haul was packed. When they got to New Jersey they found out that someone else was living at the house, and that the people living there had no idea about any agreement. The people they had paid—the ones they thought were the homeowners—were completely unreachable."
As it turns out, Lee's clients had spent most of their savings on the deposit, which, along with other personal information, they sent to the scammers through the mail. Her clients sent the funds for the house without touring it after being pressured to act quickly or risk missing out on the opportunity. Having quit their old jobs and now suddenly strapped for cash, the family was forced to live in a hotel for an extended period. Conditions in the hotel were poor and their infant daughter developed allergies. "They were in a very compromising situation," says Lee.
This story is just one of a slew of situations that housing counselors all over the country say are on the rise. Just as the 2008 housing crash gave rise to a wave of housing scams that impacted nearly 50,000 people, the pandemic and consequent widespread unemployment have created a new large pool of desperate people for scammers to prey upon. With up to 11 million families facing eviction or mortgage default—a figure not seen since the Great Recession—and the shrinking availability of affordable real estate, housing scams are once again on the rise.
Housing scams are most common when economic uncertainty looms, says Jesse Ergott, the president and CEO of NeighborWorks Northeastern Pennsylvania. "Any time there's a major financial crisis happening and affecting many people, you see an increase in scam activity and opportunism to take advantage of that fear and anxiety," Ergott says. "Overall anxiety around health, housing, and financial circumstances opens people up to vulnerability and scammers know that. They find creative ways to work their way into people's lives."
The increase in scams today is mostly attributable to two key issues affecting housing: Widespread unemployment and a slowdown in the global economy is causing renters and homeowners to fall behind on housing payments, and a more permissible remote work culture is driving city dwellers into housing markets offering more sunshine or access to nature.
While federal and state governments have attempted to preempt a housing crisis by placing moratoriums on foreclosures and evictions, such measures only delay payments, meaning that those bills will be due soon. In the meantime, scammers know that homeowners/renters are desperate to avoid foreclosure or eviction, which means some would do anything or believe anyone who could promise relief.
[RELATED: Does the CDC's Extension of the Eviction Moratorium Mean No One Is Being Evicted Now?]
These scams take different forms, but in most instances, scammers contact the owner or renter by postal mail or a phone call.
"One of the main things we've seen in the past and continue to see are scams that involve a company offering to get someone out of foreclosure or eviction if the homeowner or renter provides an up-front fee ranging anywhere between $100 to $500 or personal information regarding the consumer's finances," Ergot says. Much of that activity starts with legitimate information about the resources available to homeowners from the CARES Act or the American Rescue Plan. "They use terminology that comes from the CARES Act or American Rescue Plan, and they also usually have some of your personal information and are trying to gain legitimacy and trust. Once that's established, it usually turns into a pressure tactic. 'You have to do this quickly or you will lose your house.' That's how they get people to hand over info and then take advantage of them."
Ergott cautions his clients to be wary of individuals who call over the phone or send realistic-looking letters through the mail seeking personal information or payment.
A Hot Market
Beyond promising folks rent or mortgage assistance, scammers are also attuned to the fact that a ruthless housing market аlso presents an opportunity to exploit people's desperation. Hanna Tester, the housing network manager for NeighborWorks Montana, says severe competition for housing is driving a good many scams in the area.
In a real estate market that's seeing soaring prices due to a lack of supply and historically low interest rates, it's become increasingly difficult to purchase a home. Many in-state buyers, notes Tester, are being priced out by out-of-state investors with more cash. That's a trend being seen across the country as more and more workers are no longer tethered to a physical office location.
"With many properties locally selling for up to $200,000 over asking price, there is severe competition for homeownership. That's trickling into the rental market and we're seeing predatory practices creeping in," says Tester. "Predators are advertising rentals that are available that they don't have at all, and saying that you have to send a security deposit now [to get it]. And people do, without a lease or any paperwork. All because they're concerned someone else will snag this house."
Tester's experience aligns with what happened to Lee's clients. Samara Presley, a case manager at United Neighborhood Centers in northeastern Pennsylvania, shares a similar story. Her client was persuaded to sign a lease on an apartment, but when it came time to pay the security deposit, Presley was alarmed by the "landlord's" unusual requests.
"Since [the tenant] was facing eviction in her former apartment, she called us and we got involved in her search for a new home," says Presley. "I got in touch with the landlord because we have paperwork they need to fill out and I called him about what would be needed. After being hesitant about the paperwork, when we got to the final stages of processing, he starts asking if we can send the payment any way other than a check. And if not, he wants the check made out to cash. When we said we can't because it must be in the landlord's name, he asked for it to be in another person's name."
Upon finding out that her client had never even seen the apartment, she urged her to reach out to the landlord to set up a viewing. At that point, says Presley, he disappeared altogether.
Organizations like NeighborWorks and United Neighborhood Centers educate people about financial literacy and homeownership. Their programs have fortunately addressed flaws that caused problems during the 2008 housing crisis.
"I think communication is key," Ergott says. "In the first foreclosure crisis, we saw that lenders and servicers didn't have communication or logistics infrastructure to handle all the requests [to renegotiate or get relief on loans]. Communication was really bad and you had to force the issue. This made it easier for scammers to do their work. I think we're seeing better communication this time around, and that there's a lot more information out there than there was in 2008. I feel like that really hit everybody by surprise, and there was a lot learned on all sides through that crisis—primarily, that communication and information is important."
Still, Tester says that far too many folks fall for housing scams, and a vast majority of NeighborWorks' partner organizations spend a good deal of their time getting people out of those predicaments. Though housing scams have always been around, Tester says that they've "made a huge resurgence" and at higher numbers than during the foreclosure crisis over a decade ago.
"I can't say that I think people are savvier this time around," Tester adds.
Both Tester and Ergott believe that federal funding for financial literacy and education programs that include information about homebuying scams is critical. Federally-funded programs like the Stop Home Scams campaign, an effort coordinated by NeighborWorks America and Wells Fargo that features resources to help folks spot and report home scams on stophomescams.org, along with efforts across social media, billboards, and radio interviews deliver the scam prevention message. Beyond that, extra funding in housing counseling programs would allow Ergott and his team to counsel more folks toward homeownership with financial education classes on saving, minimizing tax implications, and so on.
"We are hoping and advocating for and have already seen some funding come out," says Ergott. "The latest legislation for relief added $100 million and we've also seen HUD see an increase that would impact the amount available for housing counseling. The current administration recognizes that there's a need for solid dependable housing counseling agencies, mainly because we provide these services for free."
Because the market has taken such a wild turn—even in the face of economic distress—housing counselors are hard at work trying to figure out how to help people who fear they may never be able to own a home.
"The goal of housing counseling is to catch them early and prepare them for homeownership," Tester says. "We are supporting people who need credit, have credit barriers, have savings barriers or income barriers. We're helping them overcome one or all of those things."
While Ergott does not see any changes in the typical income level of his clients—most of the people he helps earn between 60 to 90 percent of the area median income—Tester says that higher-income earners in the 77 to 100 percent AMI bracket are now seeking out NeighborWorks' services, signaling that the barrier of entry for homeownership is only getting higher.
"Increasingly, we are serving the average wage earners—what is supposed to be middle class America. Which shows that in this housing climate, middle class America is in need," says Tester. "The industry is rightfully increasingly concerned about what then happens to people who are in the 40 to 60 percent AMI bracket. They will give up on homeownership, and that can have severe impacts on a family's lifetime and generational wealth opportunities."
According to Ergott, there has also been an increase in the number of people seeking housing counseling services as eviction and foreclosure moratoriums are being lifted. "Many new clients are seeking credit repair and financial education services as they deal with the effects of the pandemic on their financial stability. Also, people are searching for mortgage and rental assistance programs which often leads them to counseling agencies."
It's hard to say whether this trend will persist, but if the uptick in housing scams is any indication, Tester and Ergott think another housing crisis may be looming on the horizon.
Whether you believe that the housing market will correct itself largely depends on your vantage point, says Tester. "You talk to lenders and counselors and they're all saying the same thing. They're saying it's not sustainable and that we have to be ready when it all comes crashing down. Realtors and economists are saying the opposite, because they have incentive to say there's no end in sight."
"We're assuming there's going to be a market correction but no one knows what it will look like," says Ergott. "Our office in Scranton is seeing the highest sellers' market we've seen in 10 to 20 years. People are moving because of the pandemic and the cost of living, but the unknown is that you have a possible backlog of delinquencies and foreclosures. We won't know what that's like until we come out of the pandemic and moratoriums are completely lifted. And while the government strategy is about getting people employed, the question is how far behind people have gotten."
Just as unethical and unsustainable financing practices led to the Great Recession, so have unsustainably soaring prices positioned the current market for a crash. In either case, it's certain that many people in America felt like they've somehow been conned by a system that is rigged for the wealthy; and housing scams, it seems, are always a good indicator of whether the real estate market might be reaching its boiling point.
"We're in uncharted territory and it's definitely difficult to predict, but in the housing counseling world we are preparing for another crash," Tester says. "We're upping our foreclosure capacity and are prepared for that to happen again."