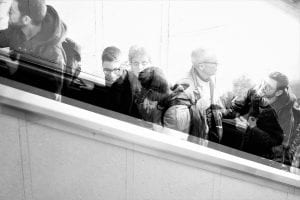 The one-year mark of the COVID-19 pandemic prompted a collective moment of reflection on the many ways our lives have shifted over the past year. The bulk of these shifts—from the rise of social isolation to the loss of employment, economic security, and housing for far too many—range from dismal to devastating, and we will be recovering from their effects for years to come.   
But amid these hardships, a surprising bright spot has emerged in local policy. Cities across the nation have implemented equity-focused reforms that would have once been considered pipe dreams. According to the National League of Cities, 91 of the nation's 100 largest cities repurposed public spaces to benefit residents and small businesses; 78 started or expanded utility assistance programs; 45 enacted eviction moratoriums and rental assistance; and 20 closed their streets to cars to prioritize pedestrians. Numerous local officials also took actions to reduce their jail populations, a belated recognition of long-needed reforms to improve conditions for those touched by the criminal justice system.
As vaccines provide a glimmer of hope for a return to "normalcy," the question for local leaders now is not how to revert to the policy status quo of years prior, but rather how to build on this momentum to reshape our cities and regions for years to come. As Rachel M. Cohen wrote in The New York Times, "But will all this become a blip in history, or will it provide impetus for long-term change?"
To guide local leaders in co-creating equity-focused policies with lasting impact, the Brookings Institution and the Local Initiatives Support Corporation (LISC) codified an approach—community-rooted economic inclusion—that provides actionable policy and practice tools to build wealth and opportunity within underinvested city districts and neighborhoods while driving more equitable city and regional recovery and growth. Community-rooted economic inclusion stresses the importance of hyperlocal, equity-centered strategies to tackle disparities within cities that keep people of color and low-income people isolated from access to health, public and private resources, and opportunity. While cities have led the way in equitable recovery so far, true resilience will rest on their ability to foster equitable landscapes of neighborhood opportunity where all people—regardless of ZIP code, race, or income—can thrive.
The Time Is Now for Equity
Neighborhoods require bold, equity-focused solutions. Here's why the pre-pandemic status quo won't cut it, and how to get it right.
The consequences of neighborhood poverty have never been more dire than amid COVID-19, as people of color and low-income people are literally dying for living in racially and economically segregated neighborhoods. These disparities have been long in the making, and our economic and community development policies have proven ill-equipped to address them for three primary reasons:
Traditional city and regional economic development is often agnostic to neighborhood inequities—or worse, exacerbates them. There is a smarter and more equitable way to think about place.
City and regional economic development policies have not typically been designed to achieve neighborhood-level outcomes, let alone alleviate structural inequities that occur at the neighborhood level. And when city and regional economic development polices do focus on underinvested neighborhoods, they are often triggered by government or philanthropic programs (e.g., Enterprise Zones, Promise Zones, and Opportunity Zones), or by private firms or anchor institutions looking for a development site. Research shows that these policies often fail to benefit existing residents or businesses, and can actually deepen place-based inequities through overpolicing or displacement.
Rather than wait for the next federal program or business deal, economic development stakeholders and policymakers must fully integrate place as an integral component of recovery and development—but do so in a targeted, strategic way, seeking places where undervalued economic assets cluster, but the reach and impact of those assets have been limited by structural challenges such as discrimination and disinvestment. A major reason traditional place-based policies fall short in equitable impact is because they target investments in the wrong places—either encouraging investment in places where assets are already recognized and valued (thus furthering displacement) or very narrowly centering on low-income communities with high, overlapping market obstacles to growth (thus missing the opportunity to leverage undervalued community strengths for broad-based benefit). Community-rooted economic inclusion centers on places with a combination of undervalued assets and structural obstacles to growth. There the need is great, but the potential for broad-based equitable economic benefit is ripe.
In practice, this can be exemplified by areas like the Goodyear Tract in Los Angeles–an industrial district in the predominantly Black and Latino area of South Los Angeles–where local stakeholders told us the district was historically "in the community, but not of the community." They were implementing community-ownership strategies to strategically acquire industrial and commercial property within the industrial district for residents' benefit. This strategic targeting can also be exemplified by the Far Eastside in Indianapolis, which has a much higher concentration of good and accessible jobs than the city as a whole, but 93 percent of the predominantly Black, Haitian, and Latino residents who live there cannot access them due to challenges with discriminatory employer practices, lack of access to transportation, unsafe streets, and childcare needs acting as barriers to employment. Local stakeholders were addressing these multifaceted challenges through employer sensitivity training, coordination with the city for infrastructure improvements, and developing new, equity-focused workforce development collaboratives. These are districts that have been disproportionately impacted by the pandemic, to be sure, but where crises of economic instability, police brutality, and poor health conditions have long been the status quo.
Community-rooted economic inclusion provides local leaders with the tools to use data, local knowledge, and community buy-in to select neighborhoods and districts such as these—with the potential to generate significant economic benefits for underserved residents and small businesses typically excluded from growth—and to prioritize city and regional investments within them. Many economic development efforts are implemented under the assumption that benefits eventually "trickle down" to all neighborhoods (which they never really do). Community-rooted economic inclusion does just the opposite—ensuring that positive community outcomes ultimately "trickle up" to drive more equitable city and regional economic growth.
Place-focused economic and community development often don't target the true drivers of neighborhood poverty. That can change.
Neighborhoods of concentrated poverty are not the product of "natural" market operations, but the result of racist policies that confined Black Americans and other people of color into segregated neighborhoods and starved them of the resources needed to thrive. Market forces then exacerbate these patterns by withdrawing investment, jobs, and amenities further from already disinvested communities—leaving many communities of color without access to places to buy goods and services, opportunities to build wealth through homeownership, or equal chances of success with their small businesses. 
Economic development policies focused on neighborhoods typically target only one slice of this problem—centering around tax and other incentives that encourage an influx of capital into communities (and almost always fall short in benefiting current residents). At the same time, community development often focuses primarily on affordable housing and service delivery, which—while critical—are aimed more at alleviating the symptoms of poverty rather than dismantling structures that enable it.
More effectively targeting the structures that enable, exacerbate, and perpetuate neighborhood poverty requires coordinating economic development, community development, and capacity-building investments within underinvested neighborhoods to not only encourage the movement of capital into underinvested communities, but to ensure that it is firmly in the hands of those who have long been excluded from economic benefit—and that they have the tools to leverage it.  
Community-rooted economic inclusion provides leaders with a framework to do this through multidisciplinary, systems-level strategies such as "buying back the block" (e.g. implementing community-ownership models that enable residents to build wealth through purchasing real estate), establishing new financial institutions to mitigate capital access gaps, supporting the development of cooperative businesses, and funding community-led groups to implement their own place-based investments. It functions by coordinating these strategies in tandem within sub-city geographies to produce large-scale impact: None of these actions alone would make a meaningful dent in neighborhood poverty, but when concentrated and implemented together, can reshape landscapes of opportunity to benefit more people in more places.
Local policymakers are often disconnected from residents, community-based organizations, and small businesses. To ensure neighborhood policy is both equitable and attuned to community priorities, they must share power.  
For generations, residents and community-based organizations have organized to enhance opportunity in underinvested places. While they have garnered tangible successes, they have not had the resources, capacity, or degree of coordination to connect residents to regional economic opportunity through systems-level change. For their part, city and regional economic leaders have often implemented actively harmful policies to communities, have a poor track record of meaningfully engaging communities, and seldom have concrete mechanisms for being accountable to community priorities.
To remedy this disconnect, key holders of institutionalized power at the city and regional level must form long-term partnerships with underinvested communities grounded in shared vision and mutual accountability. By giving communities access to city and regional resources, institutions, and investments they would not have otherwise had, these partnerships can make community-led efforts more impactful. Equally important, such partnerships help city and regional stakeholders learn from neighborhood knowledge and build trust, making economic development efforts more equitable and aligned with community priorities.
Structurally, community-rooted economic inclusion requires community, city, and regional leaders to sign-on to "own" key investment strategies, to collectively agree on equity-focused metrics in partnership with communities, and to report back on outcomes to each other and course-correct as needed. It also requires them to provide capacity-building support and raise funding to ensure key community or place-based entities can oversee investments and act as long-term champions. The success of this approach hinges on reorienting city, regional, and community structures and relationships to identify shared priorities for place-based investments and shared mechanisms for making them a reality.
Making Equitable Change Permanent
As the end of the pandemic draws nearer, it should just be the beginning for neighborhood-focused equitable change.
Equity-focused local policies passed amid the pandemic are yielding positive outcomes—from preventing evictions to increasing food access to enhancing economic stability for families. Now is the time to make them permanent where they've been implemented, scale them in more cities across the nation, and build on this momentum to prioritize the most vulnerable people and neighborhoods, not just during emergencies, but in the months and years to come. Community-rooted economic inclusion provides local leaders with the tools to do the latter—to fundamentally reorient their traditional policy playbook to create permanent conditions for more people to live in healthy, supportive, and opportunity-rich communities.
An economy in which entire communities are systematically excluded is not morally, fiscally, or economically sustainable. If the hardships of the past year have taught us anything, it's that we have the policy tools at our disposal to bring widespread benefits to more people, places, and small businesses—we just need the will to use them.