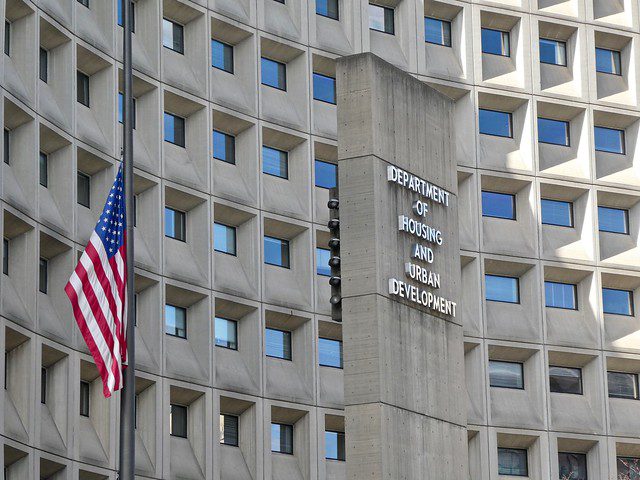 Dina Levy will never forget the miserable conditions she found at a low-rise 200-unit complex in South Dallas. The management company at the for-profit Crest A Apartments barely maintained the property; leaky ceilings, bad plumbing, and peeling paint were all too common. Security was nonexistent and violence and crime were a constant problem.
Perhaps most shocking of all, the building had a snake infestation, with the reptiles slithering in through people's apartment windows and taking up residence.
Levy is now a senior vice president at New York Homes and Community Renewal, the state's affordable housing agency. But in 1995 she was a VISTA national service volunteer assigned to work as an organizer with the Texas Tenants Union—part of the first cohort of VISTAs funded by the U.S. Department of Housing and Urban Development (HUD) to organize tenants in privately owned, HUD-funded affordable housing. Levy was responsible for helping residents at Crest A Apartments form a tenants association to build the sort of "strength in numbers" power they'd need to stand up to the management company and get the safe, clean living conditions one might expect at a building subsidized by the federal government.
"Texas is not a tenant-friendly place," says Levy. "If you organize, you're taking a fair amount of risk that the owner will retaliate, the management company will try to evict. It was awe inspiring that people were willing to step up when they were living in poor conditions. … [Tenant leader] Angela Williams and the rest of the tenant association were badasses and wouldn't give up."
The fight with management lasted for more than a year. The tenants association's strategy was to garner press attention for the squalid living conditions and make it difficult for HUD officials to ignore what was going on. And the efforts paid off. HUD took over management of the building in December 1996, and after two more years of advocacy by the tenants association to ensure the building wouldn't be sold to a market-rate developer, the agency purchased it outright in 1998, eventually transferring ownership to Dallas City Homes, an affordable housing nonprofit.
The conditions at Crest A weren't a one-off example of poor living conditions at HUD-subsidized private housing. Certainly not every building is in bad shape and the agency inspects the housing it subsidizes. But problems can fall through the cracks and unscrupulous building managers can game the system by fixing just enough problems to pass an inspection. Tenant rights advocates say that's exactly why it's so important to have organized tenant associations.
"Tenants can be a partner to HUD to oversee the multibillion-dollar investments HUD is making in housing," says Michael Kane, executive director of the National Alliance of HUD Tenants (NAHT). "If they're organized they can articulate problems and tell HUD and building owners what can be fixed and improved. We call it an eyes and ears program."
For a period in the 1990s and early 2000s, HUD was on board with the idea. The agency disbursed millions of dollars in grants to fund tenant organizing and education campaigns in HUD-subsidized housing that was under threat of going back to the private market.
But despite having Congressional authority to spend up to $10 million each year on tenant organizing via the Multifamily Assisted Housing Reform And Affordability Act of 1997 (see page 12), HUD ceased funding organizing efforts for the bulk of the last two decades, leaving nearly $200 million dollars on the table in the process.   
Now, with a new president in the White House and Marcia Fudge confirmed by Congress to take the reins at HUD, advocates and tenant organizers are pushing the agency to once again spend the money it has available to do this work.
How HUD Preservation Led to Organizing
For decades, federally subsidized affordable housing was the sole domain of public housing agencies. But in 1959, Congress created the first programs to subsidize private construction of below-market rate housing. The programs—including Section 202, Below Market Interest Rate, Section 236, and project-based Section 8—were available to both for profit and nonprofit developers and led to the creation of a few million affordable apartments in the 1960s, 1970s, and 1980s. Today, 1.7 million tenants live in HUD-subsidized private housing, according to the National Alliance of HUD Tenants. For comparison, about 1 million people live in public housing currently.
But those original contracts gave owners the ability to opt out after 20 years, so by the late '80s and early '90s, the Below Market Interest Rate program and Section 236 units were under threat, and by the late '90s the original project-based Section 8 units were as well. In housing markets that had improved over the course of the HUD contract, owners were incentivized to opt out of their arrangement with the agency in order to chase market-rate rents, putting affordable housing at risk of being lost forever in markets where it is most needed.
Congress acknowledged this issue and made several attempts to address it through policy changes and investments in tenant organizing. In an early recognition that tenants could play an important role in preserving their own housing, Congress dedicated $25 million in 1992 that funded technical assistance to help preserve buildings with expiring HUD subsidies and $200,000 grants to nonprofits and existing tenant associations in HUD buildings to outright  purchase properties for preservation.  
But the grants largely went unused because there weren't many tenant organizers working with HUD tenants to create tenant associations and educate people on the opportunity to purchase. "The money just kind of sat there," says Kane of NAHT. "You have to have an organized group [to get a tenant association going]. They don't just spring out of thin air."
NAHT and others lobbied HUD to set aside a percentage of that $25 million to grant out to a handful of existing tenant organizing groups in the country including the Massachusetts Alliance of HUD Tenants, the Texas Tenants Union, Coalition for Economic Survival in Los Angeles, New York Tenants and Neighbors, and others. These were scrappy nonprofits operating on slim budgets with just a few staffers. In 1994, HUD disbursed $3.6 million in three-year grants to 10 tenant-focused nonprofits around the country. Funding from HUD allowed these groups to staff up and do more organizing.
The following year, HUD also funded the national VISTA project focused on tenant organizing in HUD housing. The combination of full-time tenant organizers working alongside VISTA volunteers was effective enough that Congress gave HUD authority to spend up to $10 million a year for nonprofits to conduct tenant organizing as part of the 1997 Multifamily Assisted Housing Reform and Affordability Act (MAHRA). The funding was disbursed through several different grant programs, but the authority came in Section 514 of MAHRA, so advocates often refer to it as 514 money.
In 1998, HUD gave $6 million in three-year 514 grants to 17 nonprofit tenant advocacy groups. In 2000, the agency granted $11.5 million in three-year grants to 30 tenant groups. The agency also funded the VISTA project with $2.4 million between 1998 and 2002, which paid for about 50 VISTA members working in 30 cities each year.
Kane from the National Alliance of HUD Tenants says in that 1998–2002 period more than 500 new tenant associations were formed in HUD buildings and organizers reached about 25,000 tenants per year with direct tenant's rights education. Kane says 90,000 units of HUD-subsidized housing were preserved through the agency's preservation programs in that period, but he doesn't know exactly how many were from 514-funded outreach because of how the grant reporting was structured at the time.
Anecdotes from a 2002 progress report by the National Housing Law Project on 514-funded work gives a sense of what the organizers accomplished. In Manhattan, the owner of the 174-unit French Apartments told his mostly senior tenants he intended to opt out of the Section 8 contract with HUD when it expired. Using 514 funding, New York Tenants and Neighbors was able to organize a tenants association in the building and worked with the owner and HUD. The association ultimately convinced the owner to extend the contract under HUD's Mark Up to Market preservation program.
The 94 units at the Ellison Apartments in the small northern California city of Red Bluff represented 12 percent of all the affordable housing in its county in the late '90s. The property was in bad physical shape and had persistent problems with drug dealing on site. Mismanagement by the owners led them to default on their mortgage. Normally, a HUD-subsidized property in foreclosure would be auctioned off to a new owner who would likely set market-rate rents and displace existing tenants. But, using 514 funding, the California Coalition for Rural Housing organized a tenants association to work with state, county, and local government officials as well as regional HUD officials to come up with a rescue plan that maintained below-market rates and cleaned up the property. In the end, ownership was transferred to a nonprofit affordable housing provider.
There are 20 examples in the report that show how, once organized, tenants were able to help turn around their buildings and lobby HUD to help them.
"Having tenants empowered and organized and informed can help hold these owners accountable," says Sandy Rollins, Texas Tenants Union executive director. "I get calls from tenants and they're just terrified to report anything because they're afraid of retaliation. Obviously, they shouldn't be. That's where having an organized tenant group and having support from an organization that has your back comes in."
Even when tenants have a good relationship with their building manager, tenant associations can bring about change. At the HUD-subsidized Phelps House in Manhattan, the tenants association was able to convince the building manager to install automatic doors to aid the mostly senior residents and has been able to get rents recalculated when tenants were overcharged by mistake.
"I have one of the best landlords in New York City," says Geraldine Collins, who organized the Phelps House tenants association and is the president of NAHT's board of directors. "The tenant association is very important because tenants, especially the elderly, don't want to go against [management] because they're afraid of being put out."
Beyond helping tenants clean up and save their homes on a building-by-building basis, the 514 funding also helped build a national network of tenant associations by plugging the local groups into the National Alliance of HUD Tenants' network. Kane says NAHT's national conference, in which tenant leaders and professional organizers discuss strategies and meet with HUD leadership, grew from 170 participants in 1995 to 540 people from 300 different tenant groups around the country by 2001.
"Organizers are helping elevate voices that don't typically have an opportunity to be at policy-making tables," says Bridgett Simmons, National Housing Law Project staff attorney. "We've been encouraging HUD in its oversight of properties to really engage residents who are closest to the harms and can convey the lessons they've learned from experience."
When the HUD Money Stopped Coming
Though organizers in the national network saw 514 funding as a critical tool, HUD was less sure. Agency officials accused some recipients of misspending grant funds on lobbying and other prohibited uses. This led to a multi-year audit by the HUD Inspector General Office of 514 recipients. In the end, the agency found $573,818 spent on ineligible uses, flagged $1.6 million for "questioned" uses, and accused 9 grantees of spending funds on lobbying. The report concludes that HUD itself did not establish proper management and oversight protocols for the program. Kane calls the audit a "witch hunt."
Ultimately, HUD froze 514 spending for the better part of the 2000s. But that freeze thawed by 2012 when the agency released $4.9 million of Section 514 funding through a new program that had the same fundamental aims as the original 514 grants, but came with many more rules about what recipients could and couldn't do.
"It was restricted only to buildings with expiring project-based Section 8 contracts where the owner had filed an opt-out notice," says Kane. "That's only maybe 1 out of 20 properties with expiring contracts. It very narrowly defined eligibility."
"It was really ridiculous," says Rollins. "HUD was assigning us the properties and telling us where we could go and where we couldn't. I found it difficult to be impactful. We did the work, but it was not meaningful engagement with the tenants at most of the properties because of how they set it up."
HUD used another $5 million from Section 514 for the VISTA project from 2014 to 2019. There were about 35 VISTA volunteers placed around the country, but there wasn't any money for organizations to hire staff to supervise the VISTAs, greatly limiting the understaffed organizations' ability to take advantage of the program.
In 2016, HUD released another $3 million in 514 funds. But the grants went to two groups not specifically dedicated to tenant organizing: the National Association for Latino Community Asset Builders and Abt Associates, a large consultancy, to provide technical assistance around fair housing law and to perform evaluations of the VISTA programs in HUD housing.
In Kane's eyes, HUD has wasted years of opportunity to organize tenants and build power by not using their authority to request and distribute $10 million in 514 funding each year. "They've had $180 million that could've been put out over the years and if they had, tenants all over the country could be organized by this point," he says.  
Will Biden Bring Back 514?
With President Joe Biden in office and HUD Secretary Marcia Fudge confirmed, NAHT, NHLP, and the National Low Income Housing Coalition are hoping it's a new dawn for HUD's support of tenant organizing.
The trio of national advocates is lobbying HUD to bring back 514 grants in their late 1990s form. They want to see the agency spend the $10 million a year it has authority to spend to fund tenant advocacy groups and the VISTA organizing program.
"We know what the programs look like that work, so work with us to restore those kinds of programs and finally get these resources out to local groups around the country so that we can save and improve the HUD housing system," says Kane.
The agency is noncommittal. In response to requests for an interview for this article, HUD's press secretary provided a statement: "We're aware of the interest expressed by some to reinvigorate Section 514 funding, and look forward to working with all the stakeholders involved to understand the challenges and opportunities. We greatly value the work of residents who organize to sustain their communities, highlight specific needs to be addressed, and participate in community revitalization. HUD should be a partner in those efforts, and we will continue to seek opportunities to enhance this engagement."
In Dina Levy's eyes, tenant power building is step one not just for fixing problems within HUD's public-private housing, but America's housing at large.
"If you really acknowledge—which I think everyone does including the Biden administration—that we are actually in a worse housing crisis today than we were 25 years ago when I went to Texas," she says, "and you want to change that, it's not possible without investing in grassroots organizing so that the tenants are educated and advocating on their own behalf."