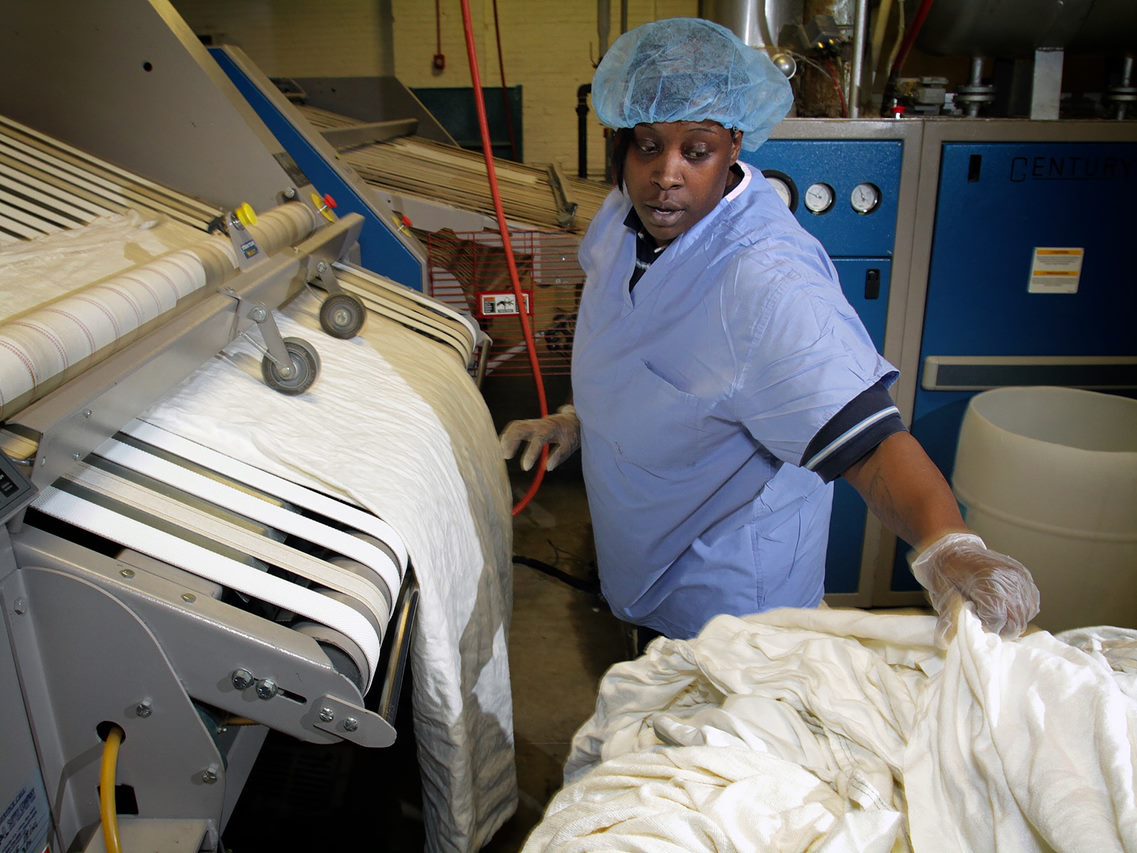 In the year in which COVID-19 shuttered the economy, the member companies of Evergreen Cooperative Initiative are among the few small businesses that saw growth. Not only did they make a profit, but they were also able to distribute that profit to their employees, many of whom happen to be owners as well. Evergreen is an umbrella organization encompassing several independent worker-owned cooperative corporations.
In 2010, Shelterforce wrote about the development of Evergreen Cooperative Initiative. Back then, the idea was relatively new. Only two cooperatives—a commercial laundry business and a solar panel installation company—had opened, and an urban greenhouse was still in the planning stages.
Evergreen had been launched in 2007 by a working group convened by the Cleveland Foundation and included the Cleveland Clinic, University Hospitals, Case Western Reserve University, and the city of Cleveland. Deindustrialization had devastated Cleveland, as it had many other Rust Belt cities. From 1990 to 2016, Ohio lost 396,000 manufacturing jobs, reducing manufacturing jobs from 22.7 percent of all Ohioan jobs to just 12.7 percent. With these memories still fresh in the minds of many stakeholders, worker-owned cooperatives stood out as an attractive economic development strategy: Because the cooperatives are controlled by workers, it was unlikely that they would vote to offshore their own jobs. And with money not being diverted to corporate overhead, cooperatives are in a better position to provide higher wages while maintaining competitiveness.
In the 11 years since then, Evergreen Cooperatives has added three more cooperatives to its ranks, growing from two companies with a total of 18 workers in 2010 to five companies with approximately 320 workers. Those workers are paid 20 to 25 percent higher than employees at the cooperative's competitors. "Our average pay rate is close to $15," says John McMicken, CEO of Evergreen Cooperative Initiative. "But when you take profit sharing into account, which could equate to $4 to $5 an hour, we're hoping that we have a shot at breaking the $20 an hour 'blended rate,' if you will." In 2019, the average compensation at Evergreen Cooperative Laundry was around $18 per hour.
But success did not come immediately, nor smoothly.
How Does Evergreen Work?
Evergreen's members are not quite traditional cooperatives, where all profits go directly into the hands of the employee-owners. The goal of traditional worker co-ops is to benefit the members of the co-op, while Evergreen aims to not only benefit its workers but the broader community as well by creating new jobs that pay a living wage.
Evergreen uses an innovative structure inspired by the Mondragon Corporation in the Basque region of Spain called a holding company structure. Each cooperative is separately incorporated, with profit-sharing, living wages, democratic ownership, and decision-making present and its own board and business line, but the cooperatives are owned by a larger nonprofit umbrella organization known as the holding company. Each cooperative is launched using capital and training provided by the umbrella organization and pays around 10 percent of its profits to the umbrella nonprofit to go toward the creation of new cooperatives. Additionally, the holding company provides back-office services such as human resources, training, and payroll to each of the individual cooperatives. Evergreen holds a 20 percent equity role in each of the cooperatives, while the employee-owners own the remaining 80 percent. Bylaws are structured in a way that prevents employee-owners from ever owning less than 80 percent of their companies.
Ted Howard, co-founder and president of the Democracy Collaborative, helped develop the job creation and wealth building strategy that resulted in the Evergreen Cooperative Initiative. Howard recalls that the process of bringing the holding company structure to the U.S. was difficult. "I had the job of writing up the 501(c)(3) application, and it was a structure that the IRS had never seen before," he says. "It took me a year to get approval for this and a lot of back and forth to get certified, but now we have a precedent with the IRS, so if any city wanted to establish a similar structure, they can."
The Cleveland Model
Forming a private, worker-owned cooperative is no easy task. Like any other small business, it is particularly at risk of failing within the first two years. To improve the odds, Evergreen was built using the Cleveland model, which focuses the business development of a cooperative around the needs of a major anchor institution partner, such as a university or hospital. Institutions like these are unlikely to relocate or close in the near future and can provide the consistent demand necessary for a stable business. Here's what happened to the three cooperatives that were underway at the time of our first article: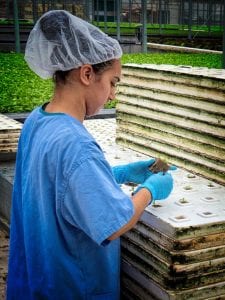 Evergreen Cooperative Laundry, a commercial laundry business, started operations in 2009 with 12 employees, and served University Hospital, slowly building its clientele base with other commercial customers such as hotels, and health care and assisted living facilities. By 2018, the firm had about 50 employees. That year it landed a major contract with the Cleveland Clinic health care system to take over all its laundry and linen management services in Northeast Ohio. This contract allowed Evergreen Cooperative Laundry to quadruple in size, adding 150 new positions and taking over management of Cleveland Clinic's Collinwood laundry facility to handle the increased laundry load. The plant had originally been owned by Cleveland Clinic but was under outsourced management and on the verge of collapse. Cleveland Clinic decided to rehab and upgrade the Collinwood plant and chose Evergreen to manage and operate it.
Green City Growers, an industrial urban greenhouse, opened in 2013 with 15 employees and today has 45 employee-owners. Operations take place on its 10-acre site in the middle of Cleveland's Central neighborhood, with 3.25 acres inside a greenhouse. Green City Growers first started by selling fresh produce to its three institutional partners, University Hospital, Cleveland Clinic, and Case Western Reserve University. Over time, it branched out and began selling its produce to wholesale distributors such as US Foods, Sysco, and Hillcrest, as well as local restaurants and retailers including Kroger, West Side Market, Urban Farmer, and Umami.
Evergreen Energy Cooperative, a solar panel installation company, started with 6 employees in 2010 and peaked at 40 employee-owners, but is in the process of winding down operations and transferring its employees to other co-ops. Its business model relied on commercial solar panel installations, but business was not consistent enough to sustain a cooperative. By February 2020, most employees had transferred to Green City Growers, Evergreen Cooperative Laundry, or a newly acquired company named Berry Insulation.
The Rocky Road to Success
Evergreen initially struggled to get off the ground. Though many of the business concepts were sound, the details of operations were rough. "We weren't selling goods effectively, weren't delivering consistently, had basic accounting issues," says McMicken. He advises newer cooperatives to not disregard these aspects of running a small company. "Quality, customer service, operational expertise matter."
When Evergreen Cooperative Laundry was launched, Evergreen initially did not have experts on staff with operational knowledge of how to specifically run a laundry business. For example, it hired a consultant to provide support in finance and accounting, but while the consultant was experienced in business management, he didn't have experience in running a commercial laundry business. "Evergreen mispriced how much to charge to do laundry because we didn't know how to price linen," says Howard. Evergreen learned from its mistakes and soon after hired a general manager who had run a laundry facility of a similar size.
While Evergreen received ample support from the leadership of its partner institutions, miscommunication inside those institutions due to a failure to involve key parties also proved to be a major impediment. "The CEOs of these institutions would tell us, 'You build us a professional, healthcare bed-linen laundry facility and we'll give you contracts,'" recalls Howard. "But then nobody would come. It turned out that while the CEO thought it was a good idea, the procurement office, they'd say, 'Wait a minute, we've got a 10-year contract, we can't just break it!'" As a result, the laundry's volume of business grew more slowly than expected.
Another important aspect that both Howard and McMicken believe was not given sufficient attention was building a cooperative culture at the companies. Instead of a group of 50 people working collectively to make decisions, Howard describes it as initially functioning more like 50 people thinking they were each the CEO. They often did not understand in which respects their rights and responsibilities resembled that of an owner, and in which a worker. Early on, worker-owners at Evergreen Laundry Cooperative even opposed taking on new worker-owners because it would reduce profit shares for existing employee-owners.
McMicken says that good communication and effective training are essential to establishing a solid foundation for a collaborative work culture, but they had not budgeted for them in the beginning. Starting in 2018, the company culture has shifted, with the addition of new trainings geared toward familiarizing employee-owners with how cooperatives operate. "We run open book management where employee-owners are very involved in financial statements. They have a much better understanding of why you should add employees; it means that the company is growing. There may be more pieces of the pie, but we wouldn't be adding more members if the pie wasn't growing," McMicken says. He adds that the decision to add new employee-owners is determined by vote, and in the last three years, every employee who was eligible for employee-owner status was approved. Although exact numbers weren't given, McMicken says that the proportion of workers who were employee owners rose from 50 percent in 2020 to 55 percent today.
McMicken cites the continued commitment and collaboration from major stakeholders such as the City of Cleveland, the Cleveland Foundation, the mayor's office, the economic development department, and anchor partners, as a major reason Evergreen was able to make it through those initial challenges. "Those individuals committed to this early on and remained committed," he says. "This is not a feel-good story that you put in the paper one day and then walk away from it a year later. It's an ongoing thing." The city also provided a significant amount of capital loans to start the co-ops, and the Cleveland Foundation provided some philanthropic capital. "If you ask, 'Would that work in Detroit or Chicago?' well, the question would be 'How committed are the anchors or local philanthropy to at least get it launched?' In cities where they didn't have quite the depth of commitment, the process tends to drag on."
The Cleveland model has expanded beyond its hometown from which it gets its name to cities like Springfield, Massachusetts, where Wellspring Cooperative has adopted a similar structure and has grown to oversee five cooperative businesses since 2011. Evergreen Cooperative has also served as a consultant for a new laundry cooperative in New Haven, Connecticut, that is still in development.
Reorienting the Expansion Strategy
Despite the success of Evergreen's first cooperatives and the institutional demand strategy, the organization is transitioning away from building new cooperatives from the ground up and toward an acquire-convert-support strategy. That means Evergreen will acquire successful, existing businesses from retiring owners, convert them into worker-owned cooperatives, provide existing employees a stake in the profits, and integrate the businesses into the Evergreen network. For McMicken, "the goal is employee ownership. That's the primary metric. We think the acquire-convert-support route will, in the next few years, become the primary methodology because it's a faster, lower-risk way to reach that goal. You're starting with businesses that have been around. There are longer startup phases and increased risk associated with starting up a business from the ground up."
[RELATED: The Next Boom for Worker Co-ops?]
Howard agrees, adding that it is much more difficult to start a company from scratch than it is to acquire a well-performing company and convert it into a cooperative. There is tremendous risk and cost associated with starting a business and establishing a clientele. Acquiring an existing business is faster because new equipment and facilities often do not need to be purchased and installed, nor does the company need to hire and train as many new workers. These factors are especially important to consider when economic development is a goal. Evergreen's target zone as a population of up to 50,000 people. To have a meaningful effect on employment prospects in the area, Evergreen needs enough companies to employ thousands of people, rather than today's approximately 320.
To carry out this acquire-convert-support strategy and scale up faster, Evergreen launched the Fund for Employee Ownership in November 2018. The investment fund is "designed to create quality jobs through employee ownership, anchor jobs and wealth in the local community, and generate value for investors." The fund, which is overseen by Evergreen, offers an exit option for business owners looking to sell their companies, and it does so without imposing a pandemic penalty. This means that when evaluating what to pay for the business, Evergreen only looks at its performance in 2018 and 2019. "We're not looking to discount the value of your business based on pandemic-related challenges," Howard says.
Evergreen began raising capital and making acquisitions in 2018 when it took over management of Cleveland Clinic's existing commercial laundry facility. In February 2020, Evergreen acquired Berry Insulation, an insulation company of 15 employees, and converted it into a cooperative. Renamed BI Cooperative, the company provides residential and commercial installation services. Soon after, Evergreen also acquired one of Berry's competitors, R-Tek, which was merged into the BI Cooperative. Of the six original R-Tek employees, five chose to continue working for the cooperative after the merger. By the end of 2020, BI Cooperative had 21 employees.
Evergreen also acquired Phoenix Coffee Co. in 2020, a 30-year-old independent coffeehouse operator with a roasting facility, five retail locations, and 45 employees at its peak. Evergreen was attracted to Phoenix for its existing employee-centric culture. When COVID-19 forced Ohio to shut down, Phoenix went through a four-week, company-wide furlough and reduced worker hours, as some employees opted not to work during the pandemic. Employment dropped from 45 to 30. This was when the previous owners finalized their deal with Evergreen. When Ohio allowed restaurants to re-open on a limited, carry-out-only basis, "the Phoenix strategy was to reduce the workforce as little as possible, to survive the pandemic, thereby preserving all original jobs for those who were willing and able to return. Currently back to near full-strength, we now know this strategy worked," McMicken says. Phoenix tried sharing work hours as fairly as possible and shifted employees to the roastery and newly created positions in bicycle delivery.
In 2021, Evergreen is hoping to acquire a mid-sized manufacturing firm of around 45 employees that specializes in producing unique parts for the automobile, motorcycle, and RV industries and a prepared-meal business of around 40 to 45 employees that serves and delivers cooked meals to nursing homes, assisted living facilities, and individual residences.
Howard clarifies that while it is easier to convert existing businesses to a cooperative model than create new ones, in many instances there may not be an existing business to work with. For example, Evergreen Cooperative Laundry identified a niche, unmet demand in partnerships with Cleveland Clinic and University Hospitals. These healthcare institutions needed to wash millions of pounds of linen each year, but there were no laundry businesses in the neighborhoods surrounding them that could be acquired and converted into cooperatives. In cases like that, starting a business from the ground up would still be the preferred choice.
The Future of the Cooperative Sector
There are reasons to be optimistic about the future of the cooperative sector, though challenges remain. In places like New York City and Madison, Wisconsin, cities have made budget allocations to seed and promote worker co-ops. The New York City Department of Consumer Affairs released a report in 2020 covering a number of policies that cities across the world have implemented to support inclusive ownership.
However, not much progress has been made in attaining investments from commercial banks, which are still unwilling to provide much capital to start co-ops. The fact that with co-ops there is not a single guarantor, but instead dozens or even hundreds of owners makes it a challenging business model for them to seed. A new paper by the Democracy Collaborative identifies lack of capital as the largest impediment to the growth of worker ownership.
McMicken thinks that it's at least become slightly easier to finance cooperatives with the rising trend of more socially responsible investing. "You see community foundations now actually managing investment products, so instead of getting a grant you get a low-interest loan from a foundation."
Despite the challenges, Howard sees tremendous opportunities in the future for the cooperative sector. In our 2010 article, we reported that the Democracy Collaborative worked with Sen. Sherrod Brown's office to propose a 10-year, $100 billion National Community Wealth Building Initiative that never passed. However, the group is reviving that piece of legislation, hopeful that the incoming HUD secretary and Cleveland native Marcia Fudge will take on the new program. Additionally, the Democracy Collaborative created a concept called Local Economy Preservation Funds (LEPFs) modeled on the New Deal's National Reconstruction Finance Corporation. "The idea is that a city like Denver, that's seen its small businesses get hammered, they invest in those businesses to keep them alive so people wouldn't lose their jobs, and over time convert them to worker cooperatives," Howard says. While the new Biden administration has not yet commented on worker-owned cooperatives, with Bernie Sanders as chair of the Appropriations Committee in the Senate, Howard believes the Senate will be open to supporting LEPFs. Cooperative businesses fail at a much lower rate than normal businesses, preserve jobs, and pay better wages than traditional businesses, which should be particularly appealing to this administration at this moment in history.
From 2013 to 2019, there was a 35.7 percent net growth in verified worker cooperatives nationwide, employing 6,454 workers in 2018. Evergreen's steady growth, even in the middle of a global pandemic and economic recession, demonstrates to Howard the continued viability of the cooperative model. "With our communities in such pain and such economic dislocation, I think it's time for a new approach through cooperativism, employee ownership, and community ownership."

This article is part of our latest series —Whatever Happened To …
While this piece is free to read, it's not free to produce. Please consider supporting our small and dedicated team on Patreon.