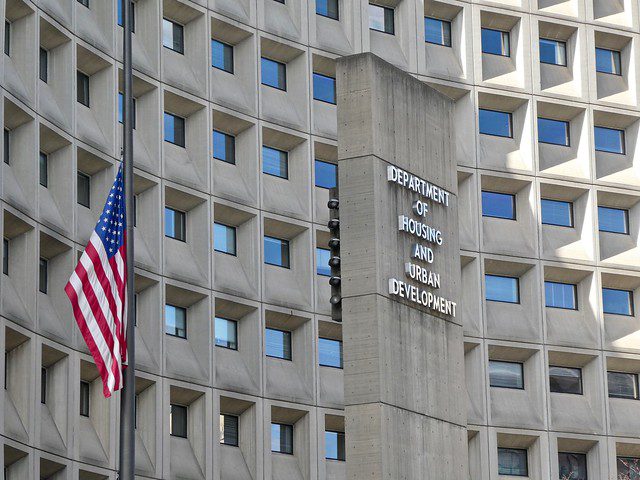 [Update, 12/8/20: The transition team has veered from this list and will be tapping Rep. Marcia Fudge (D-Cleveland) for the position. Fudge had been lobbying for the Dept. of Agriculture secretary and told Politico just a month ago that "We're going to have to stop looking at only certain agencies as those that people like me fit in. You know, it's always 'We want to put the Black person in Labor or HUD.'"]
HUD secretary is not considered to be the most plum of cabinet appointments. And yet the homes and communities of millions of people are affected by how functional the agency is. From public housing and rental assistance to FHA mortgages, the CDBG program, and fair housing enforcement, the agency's responsibilities and decisions loom large in the world of housing.
As President-elect Joe Biden has been rapidly working his way through his cabinet appointments, speculation has of course been swirling around who he will choose when it comes to HUD.
The names that have been discussed so far in the press have primarily been Rep. Karen Bass (D-Los Angeles); Maurice Jones, president of LISC and former HUD deputy secretary; Diane Yentel, president of the National Low Income Housing Coalition (NLIHC); Alvin Brown, former mayor of Jacksonville, Florida; and Keisha Lance Bottoms, the mayor of Atlanta.
Justice Democrats and the Sunrise Movement have also listed Rep. Rashida Tlaib (D-Detroit) as their first choice for HUD secretary, with Jumaane Williams, New York City public advocate, second, and Bass third.
"America needs a secretary of housing and urban development who understands our vision for a Green New Deal for public housing, because ending homelessness and moving our economy to clean energy must go hand in hand," states the endorsement at Climate Mandate, which is collecting signatures on a petition supporting their whole cabinet slate. "Rep. Rashida Tlaib is a progressive powerhouse, and the author of the People's Housing Platform—a groundbreaking, progressive housing framework that declares housing as a fundamental human right."
HUD hasn't had a woman in the top role since the Carter administration, so having several women in the running is good to see.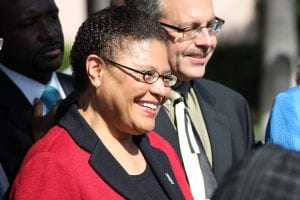 Bass is reputed to have her eyes on Kamala Harris's Senate seat and would likely prefer that to HUD secretary. While she has certainly shown an interest in housing, including co-sponsoring many housing-related bills during her time in Congress (including the Emergency Housing Protections and Relief Act of 2020) and taking the Congressional Black Caucus on a tour of Skid Row to discuss homelessness in 2019, it doesn't seem to be entirely a front and center issue for her at the moment. Despite the COVID-related housing crisis, her official housing issue page doesn't appear to have been updated since summer 2019, and housing didn't even make it onto her recent campaign website as a key issue.
However, Bass started her career as a community organizer in South LA, long before she entered politics, which earns her respect in the sphere of equitable development. Alan Greenlee, executive director of the Southern California Association of Nonprofit Housing (SCANPH), hasn't interacted with Bass much, since the opportunities for affordable housing have been more at the state and local policymaking levels. But he says that he expects her community roots would be a strong asset. "Because of her community experience, she really understands what it means to be a real person in a real neighborhood trying to deal with real issues," Greenlee says. "That kind of compassion and her reputation for being somebody you can work in collaboration with are good assets."
Greenlee noted that HUD can be run in multiple ways and benefit from a secretary with a range of skill sets. People who are subject-matter experts, but somewhat less political figures, like Shaun Donovan (HUD secretary in President Obama's first term, formerly head of New York City's Dept of Housing Preservation and Development), can do well in the role, he argues, but so can savvy politicians like Bass.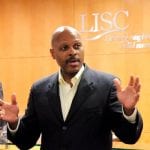 Not a lot has been said about Maurice Jones as a candidate, but advocates generally agree that his two-year stint as HUD deputy secretary under Donovan would make him well suited for the job. The deputy secretary handles day-to-day operations of the agency. And of course his work at LISC, where he has just launched a major racial equity initiative, means he is in touch with the issues and needs of the nonprofit affordable housing world.
Enthusiasm for an Advocate
The idea of Diane Yentel as HUD secretary has generated an almost starry-eyed enthusiasm among many housing justice advocates, who appreciate her forceful advocacy for rent relief, racial equity, and housing for those with the lowest incomes. Yentel's organization follows closely and makes recommendations on HUD policy as a key part of its operations.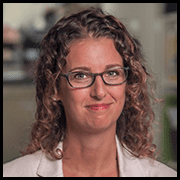 "Diane's particular set of skills in addressing the connection between health and housing during a global pandemic makes her an exceptional choice," says Staci Berger, executive director of the Housing and Community Development Network of New Jersey. "We hope that President-elect Biden will nominate her because of her wealth of experience in the advocacy world, but also because she is a practitioner, a manager, a professional, and someone who can restore compassion and thoughtfulness to the department."
Lisa Hershey, executive director of Housing California, referenced Yentel's work convening the coalition Opportunity Starts at Home as evidence of her ability to bring together partners from other sectors, such as health, education, and child welfare, in support of better housing policy, which could be an asset when advocating for the agency's funding to Congress. Yentel is a connecting force within the housing world as well, says Hershey: "I've been able to work firsthand with Diane over the last four years, and I've really seen her shift the affordable housing industry and the housing justice movement together for transformative change in a way we had not experienced."
Before her current position, Yentel was vice president of public policy and government affairs at Enterprise Community Partners and before that the director of the Public Housing Management and Occupancy Division at HUD. An industry source close to the transition team suggested that this did not constitute enough public leadership experience for Yentel to be seriously considered for the role, though "she's really well qualified for other roles at HUD." But her supporters say that Yentel's experience is in fact exactly what the incoming secretary needs.
"She has an uncanny ability to work across the aisle and to work across local, regional, state, and national levels to bring people together because she's a great listener, good at relationships, respects individual roles, and surrounds herself with smart people who understand what it takes to make the difference," says Hershey. "Under the Biden-Harris administration, there is an opportunity to create the system changes we need to create a United States with homes, health, and prosperity for all. And Diane has the leadership and the relationships and the chutzpah to get it done."
The National Alliance of HUD Tenants, a tenants union representing 1.7 million residents of HUD-assisted, privately owned housing, sent a letter to the Biden-Harris Transition team advocating for Yentel as well. The letter calls Yentel "a perfect choice," and references her "calm, steady, and capable leadership," "brilliant use of social and mainstream media," "unmatchable network of local contacts," "uncanny grasp of what was needed as the [pandemic] unfolded," and "excellent working relationship with many of the key career staff who have held HUD together through the past few years."
The Mayors
While Yentel has generated the most excitement nationally, many observers seem to think that someone with mayoral experience is more likely to get the nod. "The reason why so many successful HUD secretaries have been mayors is you have to understand where the money goes when it leaves HUD," says David Dworkin, president of the National Housing Conference and former senior policy adviser on matters related to housing and community development at the U.S. Department of the Treasury. Four of the 17 HUD secretaries have been mayors—Maurice Landrieu, Henry Cisneros, Mel Martinez, and Julián Castro.
"Running HUD is one of the hardest jobs in the administration," says Dworkin. "And it's harder now than it's ever been. Whoever gets the job is going to inherit a building that is shockingly devoid of employees. There has been a massive exodus of career civil servants." Dworkin says the new secretary will be "in personnel hell for 18 months" and should have "a deep experience in recruiting, not just managing." Of course, Dworkin acknowledged, a strong deputy secretary, who manages staff and implements the secretary's vision, will be at least as important on this front.
There are two people on the list with mayoral experience. Alvin Brown, former mayor of Jacksonville, Florida, was posited as the leading candidate early on. Mention of Brown generates some passionate responses from those who follow affordable housing in Florida, but they are not positive ones.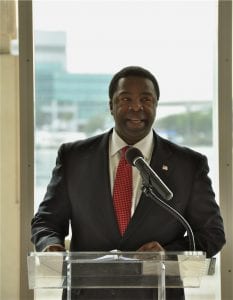 Dominating their association with Brown is the case of the bond financing for a set of affordable housing developments run by an organization called Global Ministries. Protocol at the time was to have such deals vetted by the Jacksonville Housing Finance Agency (JHFA) and approved by the city council, but in this case the mayor did not consult the JHFA and approved the deal himself, a move others in city government called "a dirty deal."
In 2015, News4Jax reported on the details of Brown skirting protocol in approving the deal. They spoke to Mark Hendrickson, a financial adviser who had worked at the JFHA at the time, about the usual process, which included "financial experts and the City Council taking steps like credit underwriting, appraisals, physical needs assessment, proposals and background checks on the proposed owner."
"Why didn't they come to the JHFA if they were legitimate?" Hendrickson told News4Jax. "What is it about our process that someone didn't want to deal with? I think that in and of itself is a red flag."
The Global Ministries buildings got national attention, as well as from Sen. Marco Rubio, when tenants complained to the press and HUD about atrocious conditions in the homes, especially the Eureka Gardens complex. Global Ministries Foundation, which had properties in similar condition in other locations as well, was eventually cut off from federal funding, and their properties in Jacksonville were sold in 2018.
Though the buildings are under different ownership, the problems with the scandal extend past what the tenants experienced. To this day, say housing advocates, attempts to get affordable housing bond funding passed in the area, or any housing support from Rubio's office, are immediately met with cries of "Eureka Gardens."
Besides what the whole incident says about Brown's judgment and understanding of the details of housing finance, they say, Rubio is sure to make it an issue in confirmation hearings.
That leaves as a likely front-runner Mayor Keisha Lance Bottoms of Atlanta. She too generates some strong feelings among housers, but in this case those reactions are mixed. Critics say that her housing plans have been more show than substance. "Mayor Bottoms has not been a strong leader on housing in Atlanta, despite her rhetoric," Dan Immergluck, a professor at the Urban Studies Institute at Georgia State University in Atlanta, told Shelterforce in an emailed comment.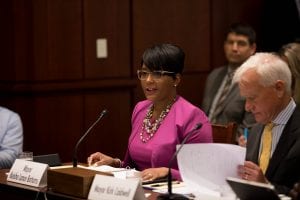 "She pledged to spend $500 million in new, city dollars on affordable housing during her campaign. Instead, she created an 'affordable housing tracker' website that claims all sorts of preexisting, mostly federal dollars towards that pledge. There has been next to no new city funding allocated to affordable housing. She also blocked efforts to create a $200M affordable housing bond."
But John O'Callaghan, long-time director of the nonprofit housing developer Atlanta Neighborhood Development Partnership (ANDP) and a former city council member, has a very different perspective. He says money is flowing in the city for affordable housing in a way it hasn't for years, leading to a significant uptick in affordable housing construction.
"Mayor Bottoms would be a great pick for HUD Secretary," says O'Callaghan. He says the mayor has made "great housing hires" and has an "extraordinarily common sense–based communication style" that will "move the president's agenda to fill racial equity and housing affordability gaps at scale."
Mayor Bottoms' chief housing officer, Terri Lee, is "beloved by our local advocacy community" and "instrumental in better coordinating and unlocking city resources for new projects," added O'Callaghan. The position of chief housing officer was created by Bottoms. O'Callaghan also says the mayor's "focus on affordable housing has helped galvanize broader community support and action. ANDP just announced a five-year plan to develop 2,000 units of housing. Frankly, without the mayor's leadership in connecting Atlanta's historic promise of inclusion to providing more affordable homes, the scale of our response to urgent needs would have been more tepid."
Multiple sources suggest that the failure of the $200 million bond proposal last spring was largely a matter of timing, the kind of hard budget calls that a mayor sometimes needs to make, but that they expect Mayor Bottoms to support at least one, hopefully two, $100 million affordable housing bonds this year.
"Dan [Immergluck] is right, the city did have unspent dollars," notes O'Callaghan. "The systems were a wreck and did not work.  If you are working to build public and philanthropic support for affordable housing yet have large amounts of unspent local and federal funds gathered over eight years, then coordinating the three agencies working on housing to get dollars out to real projects should be job one. Thankfully, it was. Nonprofit capacity as measured by units under production or produced has more than doubled under her three years [in office]. Deals were not happening, now they are. I give the mayor and her team credit for fixing a broken system."
The mayor's response to the issue of corporate subsidies and displacement is also at issue. "She oversaw the granting of almost $2 billion in subsidy to a major redevelopment project downtown that will likely worsen the affordable housing problem, with only modest housing set-asides as a part of that project," says Immergluck, "and the city's development authority has been handing out subsidies to large corporations and developers for commercial and luxury housing projects in some of the hottest parts of the city."
Alison Johnson, executive director of Atlanta's Housing Justice League, who has long been skeptical of the mayor's housing promises, appeared on a local radio station on Nov. 16 with similar concerns, telling the host she wondered if the people vetting potential cabinet members had done their research. "Let the record show. Our city has been gentrified. Our Black folks have been displaced out of our communities," Johnson said, including by city-funded projects like the Beltline. "So I'm just having a real issue; if we can't combat this on a local level, what are we to expect on a federal and national level?"
O'Callaghan, for his part, thinks the provisions negotiated with developer CIM Spring St. for the Gulch redevelopment project in October 2018 were in fact quite strong. The set-aside for affordable units was 200 units or 20 percent, whichever was greater. And the agreement also included a $28 million lump-sum contribution to create the Gulch Housing Trust Fund. The first disbursement from the fund was in October 2020, to create an anti-displacement program that offset $4.6 million in property taxes for longtime Atlanta residents.
Each of these possibilities for HUD has strengths and weaknesses, supporters and detractors. But there is one thing that everyone Shelterforce reached, no matter their preferred pick, seemed to agree upon: Any of these candidates would be far better than Ben Carson.