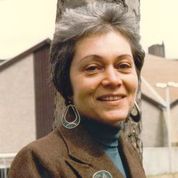 Frances Goldin believed that we could make the revolution and that it was our glorious responsibility to do so. She was badass, beautiful, sometimes glamorous, tough, tender, fearless, and loving.
She committed her life to saving the Lower East Side from the gentrification and displacement that had destroyed neighborhoods throughout New York City, the U.S., and indeed the world. "Capitalism can't work," Goldin told The Indypendent, a progressive New York news outlet, in 2014. "It's a system where you can never have enough.
"The nature of the system is to expand," she added. "It's why we are an empire. In time, all empires disappear. I just want it to happen faster."According to her obituary in The New York Times, Frances Axler was born on June 22, 1924, in Queens, the daughter of Russian Jewish immigrants.
Her mother, Sophie (Saslowsky) Axler, was a seamstress, and her father, Michael, was a mechanic for the IRT. She grew up in Springfield Gardens, where the Axlers were one of a handful of Jewish families. As a girl, she experienced anti-Semitism.
Frances was the valedictorian of her class at Andrew Jackson High School. Though the principal recommended that she apply to college, her mother urged her to become a secretary. She taught herself to type and later did clerical work for, among others, W.E.B. Du Bois, the sociologist and civil rights activist. While working for the government's War Shipping Administration, she met Morris Goldin, whom she married in 1944. Frances supported the family as a secretary when Morris was blacklisted as a Communist. She joined the party, too, in the mid-1940s but left about a decade later.
The Goldins had two daughters, Sally and Reeni.
Francis Goldin as Visionary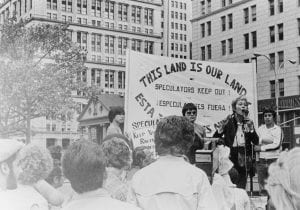 Frances brilliantly combined serve-the-people tactics with visionary, transformative organizing. She believed in the radical notion that oppressed people need immediate services but also are capable of identifying, and must be the architects of, solutions that address the root causes of their problems. She was a founder of both the Cooper Square Committee and the Met Council on Housing.
While it didn't save the Lower East Side from gentrification, the Cooper Square Committee stopped Robert Moses's slum clearance plan for the Lower East Side and Chinatown in the late 1950s. It created a model based on grassroots organizing that  took bold direct action, nurtured deep organizing relationships that built community, and enacted concrete solutions. This visionary work resulted in the formation of the Cooper Square Community Land Trust and Mutual Housing Association, and unusually large and unusually democratic community-controlled housing development. Cooper Square preserved hundreds of units of deeply affordable housing, modeled the possibility of a scattered-site limited-equity housing cooperative, and inspired the emergence of the community land trust movement in New York City and beyond.
In 1950, Frances ran unsuccessfully for the New York State Senate as the candidate of the American Labor Party, on the same ticket as W.E.B. Du Bois, who ran for United States senator.
In 1977, she founded the Frances Goldin Literary Agency, which represented radical authors, including Mumia Abu-Jamal, Adrienne Rice, Robert Meeropol, and Barbara Kingsolver, Susan Brownmiller, Martin Duberman, Juan Gonzalez, Robert Meeropol, and Frances Fox Piven among many others. Frances made sure that these writers, and through their works, these radical ideas, found an audience.
Goldin as Mentor
Organizers nurture relationships that transmit knowledge, ideology, and tactics. When these relationships are nurtured across generations, our movement institutions grow stronger and radical change becomes more possible.
The memories that I have of Frances are among my most precious but are just a tiny, tiny lens through which we can witness some of that intergenerational nurturing.
I wouldn't be who I am if I hadn't met Frances when I was 21 years old. I had recently moved to 73 East 4th St., just down the block from the Cooper Square office. At that time, our buildings were still owned by the city, among the hundreds of thousands of in rem buildings that the city had taken over from landlords for non-payment of taxes. The city was a slumlord. Many of the buildings on our block still had toilets in the hallway, and bathtubs in the kitchen. Heat and hot water were irregular at best and our apartments were literally crumbling around us.
I was in college and pregnant, without any family in New York. Colorful flyers announcing tenant meetings in multiple languages papered the entryway into every building and lamp post. I had gone to some Cooper Square Committee events but mainly just saw people coming in and out of the office and didn't really understand what it was about. My daughter Rocio was born in November 1981, and it was already freezing. It was in fact one of the coldest winters on record.
Like everyone else I was heating the apartment with my stove. Ice would form in the glass of water next to the bed at night. I was afraid. When Rocio was 3 days old Frances knocked at my door, coming to check on me and my new baby. She played with Rocio for a bit, cradling her and talking to her as if they were having a serious conversation. Frances was born in 1924, the same year as my mom. They both wore White Shoulders perfume, so Frances literally smelled like my mom. Around that time, my mom had lost her home to the Reagan-era wave of foreclosures and was living in her car, driving from our Maryland hometown to Florida in search of jobs and an affordable place to live. She'd had her share of hardship but still believed in the system.
I didn't, and so Frances became a movement mom to me. She was one of the first people to invite me to join an organization to fight the system and she wouldn't take no for an answer. Whatever personal issues I was dealing with, she convinced me could be solved through organizing. She got me to go to a tenant meeting that night, or it may have been a day or so later, by demanding, "Do you want to live this way forever?" When I got to the meeting, she told me the facilitator couldn't make it and that I needed to faciliate the meeting. I literally didn't know what that meant. I was breastfeeding my daughter. I didn't know anyone. Frances looked at me, got a clean towel, draped it over me and said, "Is that it? There, I will be right here, you need to do this."
I became a tenant leader at Cooper Square largely because of Frances. She made mailings fun, with plenty of political and personal conversation, homemade cookies, and encouragement rallying the troops, and she was somehow lovely, all at the same time. Her stories of direct action and civil disobedience fed my hunger for change. We opened up vacant apartments in our buildings with crowbars and moved in homeless families because the city refused to rent the apartments. I read the Alternate Plan for Cooper Square and marveled at the example of people creating their own plan, their own solutions, rather than leaving that up to the city—the same people and institutions who had created the problem in the first place. There is a direct link between this organizing history and the work done by Picture the Homeless conducting participatory action research about vacant buildings and lots and proposing our own solutions and plans, some of which were modeled after Cooper Square.
When I met Lewis Haggins and Anthony Williams, the founders of Picture the Homeless (PTH), and began volunteering with them to fight for housing rights and an end to police harassment, many organizers and friends told me that you can't organize homeless people— they have too many problems and are in crisis mode. Frances asked me what we were doing; she was curious, and she wanted to offer support. Years later, I took a PTH delegation of about 16 homeless leaders to her apartment so folks could dialogue with her. One of her first questions was "When are you going to take over a building and force the city to negotiate with you?" In her New York Times obit, Frances is quoted as saying of Seward Park, "They would rather have the vacant lots and rats than have minority people there."
Her vision was of a multiracial, multiethnic community, based on the principles of justice. Her instruction to us was that we had to fight for it. There are no shortcuts.
In her remarks upon receiving the Jews for Racial and Economic Justice Marshall T. Meyers Risk Taker Award in 2007, Frances said that as we organize around global issues such as ending war and freeing Mumia Abu-Jamal, our neighborhoods are being destroyed. She didn't let us off the hook—we have to use our talents as organizers to fight global issues as well as to save our neighborhoods. She also told us not to be afraid of words—harking back to her founding of a literary agency to get books with powerful words out into the world.
Frances was a socialist. She called upon us to say the word revolution, and to fight for it. Finally, she told us, "Your life will be made sweet by comrades and friends. Make them chicken soup with matzo balls when they're sick and when you build friendship with the people with whom you struggle you will get back 20 times what you invest."
In 2010 she invited me to attend an event at El Museo del Barrio to commemorate the 74th anniversary of the Abraham Lincoln Brigade, the Americans who traveled to Spain in the late 1930s to join the fight against fascism there. As we stood to sing "The Internationale," Frances raised her fist, and tears streamed down her cheeks. Many of the elders in the audience were also crying, from commitment, from loss, from hope, and sheer dedication to keep fighting. I will never forget the resolute dedication to revolution in Frances's eyes on that day. She was a true believer and she helped me—and literally hundreds of others—to see how we must not only believe but that we must do, every single day of our lives.
My heart and gratitude go out to her daughter Reeni and daughter-in-law Marge, daughter Sally, and grandson Morris. Thank you for sharing her with the rest of the world.
For readers who want to know more, Ryan Joseph and Dave Powell's documentary It Took 50 Years: Frances Goldin and the Struggle for Cooper Square, chronicles Frances Goldin's early life and her work.