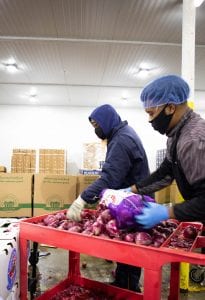 When Americans began sheltering in place this spring, some experienced their first real worries about accessing food. Many workers were laid off and suddenly without an income. Supermarket shelves sat eerily empty. Trips out of the house to purchase the usual variety of groceries felt hazardous. But thanks to unemployment benefits, restocking, and the passage of time, those fears have begun to recede for many people.
Not for all, though. Around the country, community development organizations have reported that during the COVID-19 pandemic, access to food—being able to pay for it, traveling outside of the house to get it—has been a top concern among people they work with. Feeding America estimated that prior to the crisis, over 37 million people lived in food-insecure households; today, that number may be as high as 54 million. And most of those households were already low-income.
In response, organizations around the country have pivoted. Some already worked in food production or distribution but had to change their model after business evaporated due to a lack of demand. Others are simply mission-driven to help low-income people and waded into providing food assistance when they saw how crucial the need was.
Each initiative is unique, but all have leaned heavily on new and existing partnerships with likeminded organizations. That's partially the result of hard-nosed decision-making and letting partner groups do what they do best rather than reinventing the wheel. But there is also a deep, heartening spirit of collaboration that has emerged during this era of COVID-19: a sense that many people are suffering, and an effort to spread the wealth coming in as widely as possible.
Keeping People Fed, Keeping Restaurants in Businesses
That's clearly been the case in Seattle, where four affordable housing organizations joined forces with about 20 restaurants across the city to provide meals to residents.
The partnership originated in March, with informal discussions between Capitol Hill Housing, Mercy Housing Northwest, SCIDpda, and Bellwether Housing about how to secure financial assistance for their residents during the crisis. "But it quickly transformed into 'What are some of these other issues that we're starting to see?'" remembers Marcia Wright-Soika, director of philanthropy and strategic partnerships at Mercy Housing Northwest.
All four groups were hearing about an increase in the number of people struggling to access food. Mercy Housing Northwest had been working with a volunteer caterer to provide a weekly meal to one of the organization's housing communities, and a lightbulb went off, says Wright-Soika: "It started to click that there was a natural alignment here of matching up small restaurants that have been struggling to keep their businesses open with communities that were increasingly food insecure."
In early April, Bank of America published its COVID-19 response plan. Wright-Soika and the others applied for funding, and later that month, they were awarded a $500,000 grant that was apportioned between the four groups.
"[Bank of America] really liked the idea of not just helping one group, but a few—it really points to the success of partnering up with not just housing but meal providers," says Donna Moodie, executive director of the Capitol Hill EcoDistrict, an initiative of Capitol Hill Housing.
The housing groups contracted individually with restaurants of their choice, working out the numbers to make as many meals as possible while still allowing the restaurants to pay their staff and put some money toward rent. Ninety percent of the eateries are women- or minority-owned businesses. Capitol Hill Housing, for example, is partnering with Edouardo Jordan, a James Beard award–winning chef who is Black; SCIDpda, based in Seattle's Chinatown, is channeling funding to Asian restaurants that suffered as a result of coronavirus-related xenophobia.
The restaurants make and box the food, and the housing organizations deliver it to tenants. In their first two weeks, Capitol Hill Housing delivered 130 meals per week; this week, they began distributing 700 meals across the city.
Aside from their nutritional content, the deliveries are a way to connect and check in with residents who may have been experiencing serious isolation. But the food itself is a huge draw. "The meals are amazing," says Moodie. "Not to disparage food-bank food, but a restaurant-quality prepared meal is a treat for many of us, especially people in affordable housing. It feels especially great to be able to offer it to them."
Residents agreed. Among the many "love notes" the groups have received was one from Paul, an elderly resident in one of Bellwether Housing's properties: "My dinner last night was one of the best meals I have ever had, anyplace, anytime. If the intention of this effort to bring a fine restaurant meal to my door is to both provide sustenance and to demonstrate community concern and support . . . mission accomplished. I am so grateful to the chef and crew, and to all those who are part of this lovely, life-affirming program."
Partnerships with a dual mission of supporting restaurants and feeding residents are not uncommon now. In New York City, the organization Rethink Food is funneling local government funding to shuttered restaurants in order to feed residents in need. In Durham, North Carolina, the public school system is working with a coalition of nonprofits and restaurants to provide meals to families.
And in Bakersfield, California, Dignity Health collaborated with Sonder restaurant and CityServe, a national faith-based group headquartered there, to feed local families. Over the course of 11 days in May, the partners cooked and delivered roughly 1,000 meals per day to far-flung parts of Kern County, where Bakersfield lies.
CityServe, which engages with all denominations, worked through churches across the county in order to reach marginalized populations, because, as CityServe's Pastor Robin Robinson pointed out, "There's always a church in every neighborhood."
As a result, the partners were able to help hard-to-find groups like migrant and seasonal workers, for whom food insecurity can be a chronic problem. And Sonder restaurant, whose owners had considered going out of business, was able to survive and eventually reopen.
Farm Fresh Food Straight to Needy Consumers
In Atlanta, The Common Market isn't new to food distribution. That's its bread and butter. A national network with three branches—Southeast, Mid-Atlantic, and Texas—The Common Market is a nonprofit food distributor that connects communities with food from nearby sustainable farms. In the Southeast, the organization had been growing its operations by providing institutions—public and private schools, universities, hospitals, senior centers—with locally grown food.
And then the coronavirus hit, and everything ground to a halt. Schools and universities emptied out, hospitals wound down their elective procedures in preparation for a deluge of COVID-19 patients, senior centers sealed themselves off to the outside.
"Within a two-week time frame, we weren't sure what [our business] would look like," says Bill Green, executive director of The Common Market's Southeast operations.
He and his staff began brainstorming. The organization's buyers weren't open, but its partner farms were still producing. "So we doubled down on our farmshare program," says Green. "We started talking to various local agencies, working with local food access-challenged populations—low-income people, seniors, refugees—and started offering these boxes."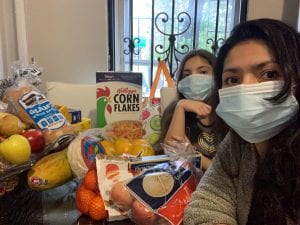 The agencies responded, ordering 20, 50, 300 boxes to feed their clients. Soon, The Common Market bid on and was awarded an eight-week, $180,000 contract with the City of Atlanta Senior Food Assistance Program to deliver 300 boxes of food weekly to older people throughout the metro region; the contract was just renewed for another six weeks.
The boxes are full of locally grown food: squash, green beans, Vidalia onions, sweet potatoes, peaches, and blackberries, as well as eggs, dairy products, and meat. "It's high-quality, non-GMO, raised in an environmentally responsible way," says Green. "The pork looks like beef because it's so red. It's good meat."
"The seniors are telling us that this food came right on time," he adds. "Many seniors have obvious health challenges: diabetes, they're overweight—they're suffering from lack of good food."
Indeed, one resident has been very pleased with the groceries. "I like the items I received," says the resident, who didn't want to share her name. "Pork chops, I was surprised to get that. Broccoli, I love broccoli—I make a broccoli salad, put in raisins, cranberries, a little mayo. It's excellent and easy to make. I thank God for letting me receive this."  
That's not the only new initiative for The Common Market. Together with the Mid-Atlantic branch, the Atlanta group was awarded a $5.7 million contract through the USDA's Farmers to Families Food Box Program to provide produce to communities in need for eight weeks. So Green's Southeast operation is now delivering 15,000 boxes of fruits and vegetables to food banks, YMCAs, and organizations that serve senior and refugee populations.
"It's a large expansion," says Green. "To deliver on that level, we've had to expand our producer network." Normally, The Common Market in Atlanta buys from 40 to 50 farmers; to meet the new demand, the group added 10 more producers, all of them on the larger side. Green says interested farmers weren't hard to find. After all, many growers—especially those lacking secure contracts with big grocery stores—took a big hit with the coronavirus and have been seeking relief.
One of those struggling farmers was Howard Berk, who runs Ellijay Mushrooms, located about 85 miles north of Atlanta. He had already been working with The Common Market and was just ramping up for a big year when sheltering in place began. "It felt like all of a sudden the water was shut off," says Berk. "We were trying to figure out what to do."
So when the Common Market offered Ellijay Mushrooms space in its USDA food boxes for three of the total 6 weeks, it felt like a godsend. "This is a game changer," says Berk, adding that the farm hasn't had to lay anyone off. "Those three weeks will help keep the farm afloat."
Both Berk and Green say the crisis pushed them to change their business models, and both are certain their companies will come out of this pandemic stronger and better. Berk says he and his coworkers were pushed to find a better way to package and sell their mushrooms, and that will continue into the future. For his part, Green believes that selling directly to consumers is where food distribution is going—something he has been forced to prepare for over the past few months.
Doing What It Takes to Help Hungry Residents
In some parts of the country, community development organizations have jumped in to provide food assistance despite having little or no previous experience in that area. They simply saw a need and were determined to help.
"When this first started, that was the first thing we thought about: What are people going to do about food when they're strapped for cash?" says Tejal Shah, director of neighborhood and economic development at East Bay Asian Local Development Corporation (EBALDC). The organization has affordable housing units across the East Bay, including several properties for seniors. "We really prioritized seniors first—how will they get access to their basic needs and food?"
EBALDC had been building partnerships with community organizations for years and began to leverage those relationships in order to help residents. Spectrum Community Services, for example, was providing food for seniors through Meals on Wheels, and EBALDC engaged the group to deliver meals three days a week to its seniors. Other organizations like the Mercy Brown Bag program and the Alameda County Food Bank also provided groceries.
Those efforts are bearing fruit. EBALDC is delivering some kind of food—prepared, groceries, or nonperishables—to 15 of its 32 sites, a total of about 600 households per week.
"We've been getting food like every two weeks from Mercy Brown Bag," says Beverly Smith, 68; she's lived in one of EBALDC's East Oakland properties for nine years. The food is helpful, but not always enough, she adds. "A lot of people are struggling—they're not able to get around, and don't have the money. People are hard hit."
That seems to be universally true. In the Windy City, the staff of Chicago Beyond was also hearing repeatedly that food insecurity was a serious problem for residents. In response, the organization, which normally focuses on impact investing to benefit youth, called on its existing partnerships to reach individuals who might not otherwise obtain assistance.
"We started with partners we already knew"—like the Inner-City Muslim Action Network, Chicago CRED, and the Resident Association of Greater Englewood—"but each of them has other organizations they were working with, too," explains Eva Liu, the chief strategy and operations officer at Chicago Beyond. Gradually, the group has expanded its reach to about 40 nonprofit organizations throughout the city.
With $250,000 in funding every week from Mark and Kimbra Walter, who have invested heavily in Chicago Beyond, the organization has been able to provide 700,000 pounds of food to Chicagoans since early April. Composed largely of nonperishables like pasta, rice, canned goods, and peanut butter, the food boxes are designed to feed a small family for a week.
In New York City, the local government has been laboring to keep its residents fed, often working through community organizations. But Neighborhood Housing Services of Queens (NHS) isn't one of those groups. Though it is providing food assistance, executive director Yoselin Genao-Estrella says her organization is going it alone.
Genao-Estrella emphasizes that her organization isn't trying to take the place of local government in its efforts to feed citizens. "This is to complement it, because the need is so tremendous."
NHS's program is a little different from some of the others. Because it can't feed everyone—as Genao-Estrella puts it, Queens is "the epicenter of the epicenter" of the pandemic—the organization is encouraging potential donors to "adopt" a family that might not otherwise qualify for government assistance. A donation of $180 can feed a family of four for two weeks.
In Genao-Estrella's mind, it's a slightly more respectful way of providing help than, say, asking families to line up and wait for it, something she's seen quite a bit lately. "We said, we may not be able to save all of the families. We may have only a few families that we can adopt," she explains. "[But] to those families, we're going to have a dignified way of providing the food, where they don't need to make a line. It will be delivered to their home, so for the next two weeks, that's one less thing they can worry about." So far, 250 families have been adopted and almost 54,000 meals have been delivered to the community.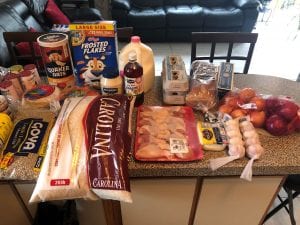 NHS buys the groceries—culturally appropriate food for a largely Latinx population—from local supermarkets that have been suffering from a loss of customers. That was a deliberate decision to boost the local economy, says Genao-Estrella.
Contributions, currently totaling $38,000, have come from range of places, including workers from nearby LaGuardia Airport, East Elmhurst Corona Civic Association, and responses to a solicitation sent out by local Congresswoman Alexandria Ocasio-Cortez.
Recipient families, meanwhile, have been referred by churches, schools, and older neighborhood residents who keep tabs on everyone in their community.
One of those referrals was Martha Elena Ramirez, 68, a longtime Queens resident. She and her husband both were infected with COVID-19, and her husband died of the disease. In the past few weeks, in order to cut costs, she has returned her car to the dealer and downsized from an apartment to a single room. "Money is very tight now. It's a very hard time," says Ramirez through a translator. "I'm grateful," she says of the food assistance. "It's very helpful."