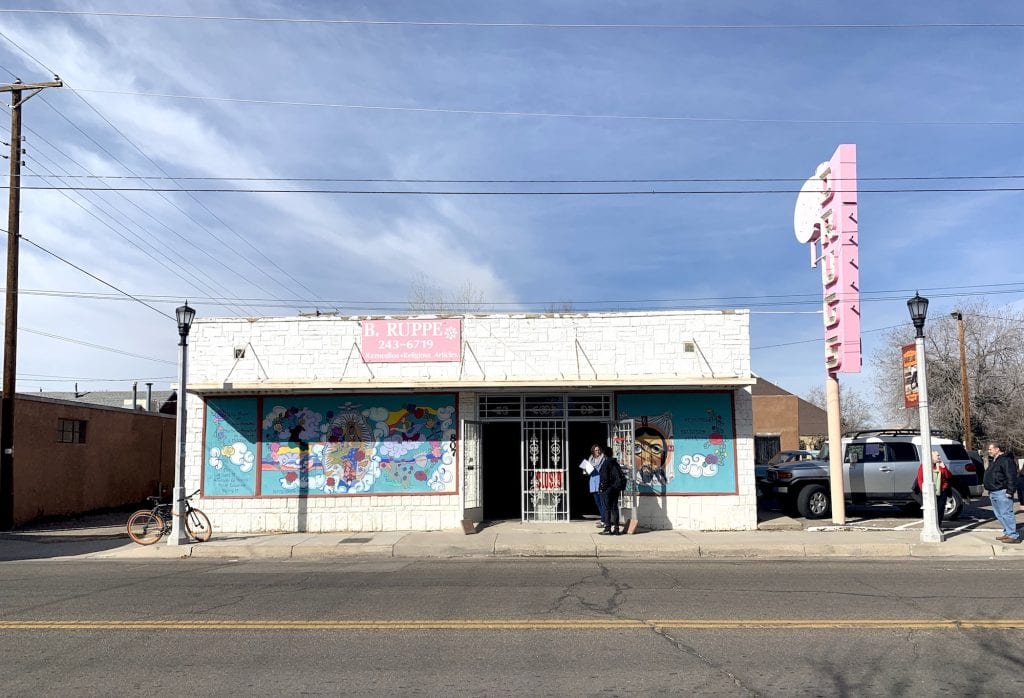 New Mexico is a state with a history much longer than its official statehood, and this long history shapes the challenges and opportunities to support equitable redevelopment strategies today. The neighborhood of Barelas was formally established as a settlement in 1662, making it arguably the oldest neighborhood in Albuquerque. It is located along the Rio Grande at a spot where travelers on the Camino Real, a 1,600-mile-long trade route between modern-day Mexico City and northern New Mexico, would ford the river. Today Barelas is a neighborhood adjacent to Albuquerque's downtown, a very central location amidst the city's sprawling 197-square-mile footprint.
Barelas—The Neighborhood's Past
In 1880 the Atchison, Topeka, and Santa Fe Railway reached Albuquerque, a milestone that would dramatically shape the future of Barelas. The area immediately adjacent to the railyard quickly developed, expanding the neighborhood's size and transforming it from a quiet agricultural village into a thriving blue collar community of 1,200 residents.
At its peak, the railyard was the largest employer in Albuquerque, and with these jobs came new economic activity along Barelas' main thoroughfare, Fourth Street. Fourth Street—designated part of Route 66 in 1926—became an iconic commercial corridor, home to many bilingual businesses that served the needs of the surrounding community. Businesses like the Arrow Market (a local grocer), the Red Ball Café (known for its famous Wimpy hamburgers), and Ives Flower Shop all sprouted up. Throughout the 1950s, it was a bustling commercial corridor, home to dozens of businesses open day and evening. Many residents still think back to this time with great pride and nostalgia, an understandable feeling given the changes that have occurred since then.
Like many other cities and towns around the U.S., Barelas began to suffer economic setbacks beginning in the 1960s, initiated by the railroad shops slowly shutting down their operations. The shops closed completely in 1970, eliminating 1,500 jobs and shocking the neighborhood's economy and the livelihoods of its residents. Shortly thereafter, the City of Albuquerque embarked upon an urban renewal project that cut off vehicle traffic on Fourth Street north of Barelas in order to create Civic Plaza downtown, a large public area originally conceived as an amenity for office workers. Traffic was rerouted to I-25, pulling commercial activity out of the neighborhood. Since then, the community has struggled to reclaim its economic vitality.
One of the iconic businesses on Fourth was the B. Ruppe Drugstore, originally established in Albuquerque's Old Town in 1883 by Charles Bernard Ruppe, a German immigrant to Albuquerque who was also chief of the volunteer fire department. The drugstore burned down in 1892 and Mr. Ruppe moved the location to Fourth Street.
There are still a few remaining old-fashioned pharmacies in Albuquerque where you can sit at the counter and order a float, like Model Pharmacy, or pick up some local crafts along with your prescription, like Duran's Pharmacy. However, over time B. Ruppe became a different kind of pharmacy, where people could buy medicinal herbs instead of prescriptions.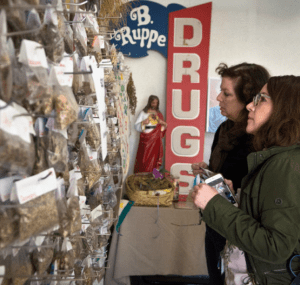 This change came to B. Ruppe in the 1980s, after the business had been purchased by Tom Sanchez. Sanchez was an early graduate of the University of New Mexico's pharmacy program and his sister-in-law, Maclovia Sanchez de Zamora, was an entrepreneur by nature with a keen interest in the traditions of yerberia (medicinal herbalism) and curanderismo (a holistic system of folk medicine practiced in Latin America and the American Southwest). Maclovia's step-grandmother, Antonita Sanchez, was a midwife and curandera who had passed down her knowledge to Maclovia, who then brought it to the Barelas community.
By the time Maclovia began transforming the pharmacy into a place full of traditional herbs, Barelas was a community in great need of healing. The economic downturn of the 1970s had dramatically affected the community, and many longtime residents were moving to other, newer parts of town. The interstate created surrounding suburbs and cheap gasoline accelerated the centrifugal fling of people and businesses from the city core to the suburbs—helping to create the vast, nearly 200-square-mile footprint of Albuquerque today.
Between 2000 and 2010, Barelas lost 5 percent of its population, continuing a trend that had begun a few decades before. Many who remained found themselves struggling economically and mourning the loss of their thriving, tight-knit community.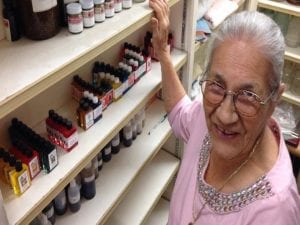 The Ruppe Drugstore became a place of cultural pride and healing during hard times that served the neighborhood but also attracted customers from all over the world. Maclovia continually expanded her knowledge of herbs and other healing traditions as she connected with a network of curanderos throughout Albuquerque and Mexico. She brought healers from Mexico who would share their knowledge and provide treatments like limpias, or spiritual cleansings. She was a matriarch within the community who knew her customers by name and served them regardless of their ability to pay. She was often the person people went to when other approaches hadn't worked or weren't available. She healed infections and burns with tinctures and salves and she made rosaries that brought people solace when they faced challenges that no medicine could cure.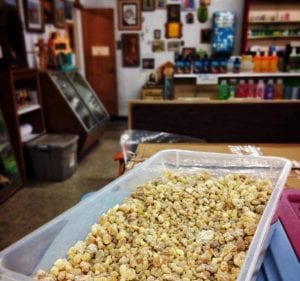 Her resolve to restore the knowledge of traditional healing at a time when chain drugstores were expanding into every town across the country eventually caught the eye of those outside of Barelas. In 1992, Maclovia was featured in the Smithsonian's "El Rio" exhibit and she was later awarded the Dolores Huerta Si Se Puede Award for her decades of meaningful contributions to the community.
Even though it continued to serve a critical role in the community, it was difficult to keep the drugstore open. In September 2017, Ruppe Drugstore closed its doors permanently. Not long after, the Barelas Community Coalition (BCC), a community-based planning and advocacy organization, reached out to Homewise [where I work], a nonprofit that helps individuals become homeowners, to explore the idea of buying the building and bringing it back to life. One of Maclovia's granddaughters, Bernadette Garcia de Rodriguez, was on the board of the BCC and saw an opportunity to support her grandmother's legacy. Homewise, in turn, had recently expanded to Albuquerque and was restoring the Orpheum Theater in the Barelas neighborhood to become its future Homeownership Center.
The idea of investing in such a culturally significant commercial space resonated with Homewise, and it soon after partnered with BCC to bring Ruppe's back, with Maclovia providing ideas and guidance. The plan was to reopen the space as a café with three small treatment rooms for traditional healers and a retail area for locally made products like tinctures, teas, rosaries, and candles. Homewise would fund the renovations and the BCC would be the anchor tenant. Maclovia would have her own space in the newly reopened project where she could continue to educate people about the uses and power of medicinal herbs.
On the eve of a reopening event on Dec. 14, 2017, Maclovia passed away at the age of 86. What was intended to be an event about the future of the space became a tribute to the life's work of a healer and beloved community member. Neighbors, curanderos, family, and loyal customers all packed the Ruppe Drugstore to remember and honor Maclovia.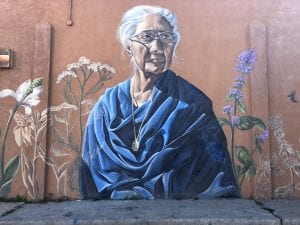 Not long after, the BCC decided it was not in a financial position to become the anchor tenant at Ruppe, but still wanted to see the future redevelopment vision come to life. Homewise continued to work toward the vision of a café with a wellness center and retail area, engaging architects to draft a design suited to the restaurant tenant. Then, 14 months after Maclovia's passing and six months before the target date for reopening, the café tenants decided they were not ready to uproot their increasingly successful business to the new location.
The Neighborhood's Future
Two years after its purchase, the building remains empty, posing both a challenge and an opportunity. Barelas, like many other historically disinvested communities, has been losing population for decades, but that may be changing. The city has made the redevelopment of the railyards one of its top priorities, and residents understandably want to be involved in the process but also fear it could spur displacement. Many of the commercial spaces on Fourth Street remain shuttered, but some—like the Arrow Food Store and the Red Ball Café—are being redeveloped. Residents welcome reinvestment but want to ensure their history and cultural traditions don't get lost as things change, and the Ruppe Drugstore is a particularly beloved commercial space.
Given the heightened fear of development and the fact that their last two anchor tenants bowed out before signing a lease, Homewise is exploring a new interim approach to the redevelopment of Ruppe that would include a period of free use of the space. By connecting with local organizations, like La Cosecha Farm, which provides subsidized local produce and cooking classes, and Abuela's House of Healers, a cooperative of healers that provide wellness treatments and education, the space could begin to be used again by the community as a longer-term plan is created. This could also beta-test which longer-term uses are most viable. Events can provide embodied market research that shows in real time which business ideas and space uses draw the highest number of people through the doors. The work, although not a straight line, continues with the spirit and history of Maclovia in mind.
"I've been here 15 years, and in that time I have acquired a vast amount of knowledge. And I feel that it is a gift God gives and He opens your vision, your wisdom. You acquire all that, and you try to give it back."
We want the redevelopment of the Ruppe Drugstore to become a true community resource that can also turn a profit. So far, we've learned that flexibility and an incremental approach are necessary. We've also discovered the limited economic development assistance available to small business development efforts. So we want to know, what has worked for you when engaging in commercial redevelopment efforts? We would love to hear about specific processes, partnerships and ideas that have produced equitable and successful commercial redevelopment efforts, and hope for some idea sharing.
Written with support from Alejandro Saavedra, board president of the Barelas Community Coalition.