"When we no longer work to sustain our own points of view and work toward community ownership of change as accountable partners, we will discover that what endures is the fire of inspired action." —Jennifer Vanica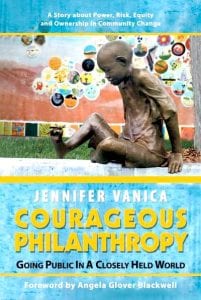 I first learned about the Market Creek Plaza project from a presentation several years ago at an annual conference of the National Community Reinvestment Coalition. It began as an abandoned 20-acre factory in the heart of San Diego's Diamond Neighborhoods and was transformed into a community anchor, incorporating residents' cultural traditions, arts, and entertainment with community retail and services.
Jennifer Vanica wrote about her experience with Market Creek Plaza in an article for Shelterforce several years ago, and while the project's end result is a true success story, it is not what made it distinctive; the process of how the community got it there was the story. The stock market concept of an initial public offering (IPO) was transformed to offer the community a stake in its own development.
Vanica's new book, Courageous Philanthropy—Going Public in a Closely Held Word, recounts the 20-year journey of the project and the community's unique partnership with the Jacobs Center for Neighborhood Innovation and the innovative capital structure required to bring the plaza to life so the community could enable itself to thrive. In sharing this story of a "courageous" funder, Vanica sounds a call for us all, not just philanthropy, to reconsider how community development is best when led by the community.
The book's 35 chapters—each beginning with with a quote—are structured into 11 sections on "change," including Owning, Leading, Financing, and Enduring. One of the most captivating chapters, about what was called "The People's IPO," begins with a quote from a resident on the ownership design team: "We're allowed to buy Lotto tickets and that's got to be a riskier way to make money than land in our own neighborhood."
After six years and three state applications, the community finally prevailed over the bureaucrats who struggled to think outside the box and were allowed to issue an IPO. The People's IPO, branded as "Invest, Participate, and Own," was finally issued on Jan. 6, 2006. It closed less than 10 months later with $500,000 raised at an average investment of $1,176 from 415 investors (78 percent African American and 11 percent Latino, with ages ranging from 8 to 85).
In a chapter titled, "Sailing In High Winds," Vanica reflects on the difficulties encountered on the journey, including the 2008 market crash and locally owned small-business tenants suffering declining sales. Since the sea will never rest, one must learn to sail in high winds. Since you can't change the wind's direction; you must adjust the sails.
She concludes that the need for risk capital to support community change remains largely unmet, and while financing community change requires learning how to blend different types of capital, the area of community change, she proclaims, is "calling out for a reawakening and resurgence." Vanica's mentor, Joe Jacobs, acted as an "angel-entrepreneur-philanthropist" for Market Creek Plaza, and took on the risk and provided the patient, flexible resources needed for the project to take root and grow.
A major takeaway of Courageous Philanthropy is the prerequisite of working at the intersection of social responsibility and market-driven approaches. What some perceive to be liabilities can and should become community assets with courageous investment. But to do this requires us to, as Vanica says, "Lead—not with answers—but questions." "We stopped being program developers and had become process designers and facilitators." This is a challenge to funders, government, and nonprofit organizations to act differently. Community stakeholders need to be recognized and respected not as clients of programs but as citizens to be engaged.
As of the end of 2010, total economic activity generated at Market Creek Plaza was $47.8 million with 215 jobs created, filled by 65 percent community residents and 84 percent people of color. Of its $10 million in construction contracts, $7.8 million went to minority contractors. Once better known for its violent reputation, the community became home instead to 14 major cultural events, attracting nearly 25,000 people annually.
Vanica counted nearly 4,000 visitors from 31 states and 17 countries for learning exchanges with the resident teams while she was part of the Market Creek experience. I'm sure that number continues to grow annually.
In discussing the key element of the project—resident working teams engaging with Jacobs Center staff to plan, design, build, and finally own the Plaza—Vanica notes that Technology of Participation (ToP) group facilitation methods were one of Market Creek's most important, ongoing tools. Created by the Institute of Cultural Affairs, where I work, ToP methods can build real consensus for real action, and are applicable in settings where groups need to make collective decisions or plans.
Despite its name, Courageous Philanthropy not only has lessons for philanthropy, but also government, developers, attorneys, financial institutions, and organizers. Being the community development geek that I am, I enjoyed the "Frame Work" chapter on how to structure the necessary legal entities to fulfill the "theory of thirds" by providing the option for individual ownership, as well as community ownership and future capacity building. The chapter on "Change Finance" details how layers of finance capital were stacked with New Market Tax Credits, Equity investments, and Program-Related Investments from five foundations to assemble $23.7 million for the project.
As communities envision how to restore buildings and land into community anchors for multi-purpose community services (such as health centers and day care facilities for the young and the elderly), this book not only maps out the way but inspires a course of action.
The chapter, "Experience, Knowledge, Wisdom," defies pervasive metric-focused evaluation with the evolution of a citizen-centered learning model that utilizes appreciative inquiry and participatory planning methods to embrace citizen teams in benchmarking and defining success indicators for an authentic learning agenda.
Several lessons Vanica details, including embracing people as citizens, not clients, and creating a culture of ownership are especially relevant to philanthropy and the community development field at this point in our history when we should, as she writes, "Craft new narratives for communities taking charge of change."
The last chapter, "Letter to the Next Generation of 'Unreasonables'" is aimed at a new generation of philanthropic leaders; but the message on the final page is for us all: "You must align the work of community regeneration with the heart of democracy by lifting up the chorus of voices within neighborhoods as worthy, mindful and equal at the table . . . ."
Community development has never been, nor will it ever be, easy. We need to embrace examples like these in order to fortify ourselves for future endeavors. We can and should be "unreasonable" when we strive to contest injustices and attain equitable development.