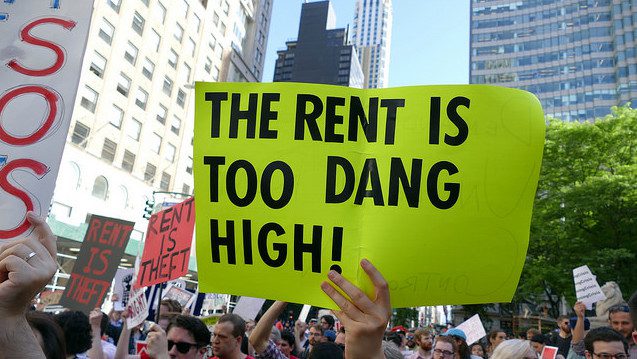 Rent growth has continued to be higher than usual, with the median national rent hitting $1,472 in February. But, reports HousingWire, as millennials begin buying homes, rent growth might finally stop being so breakneck, quoting Zillow Economist Jeff Tucker as saying, "Landlords are now coming to terms with the fact that rent cannot grow faster than income forever." We can hope. Meantime we've got to love that they describe this as him warning that "this sudden spark could soon go dim." You mean that "sudden spark" that's driving up homelessness and eviction and financial insecurity and overcrowding across the country? That spark?
Say it again for the people in the back! In response to the Washington Post article on dropping African-American homeownership, David Dworkin at the National Housing Conference reminds us all—with data—that it was predatory home equity and refinance loans that were the primary culprits of wealth-stripping from Black homeowners during the crisis—not inappropriate home purchase loans. This is a crucial crucial thing to remember as we formulate housing policy.
We've heard a lot of things accused of contributing to gentrification—often with good reason—but Habitat for Humanity was a new one. Given that Habitat is generally trying to enable very low-income families to have some financial stability and stay put in their neighborhoods, and is even starting to embrace permanent affordability, this seemed odd. But something prompted a group of people in Charlotte, North Carolina, to take the stage at a Habitat-sponsored event in protest. Perhaps it was this ProPublica expose about Habitat purchasing buildings from shady actors in Brooklyn right after poor renters had been pushed out of them with a grant was supposed to be for stabilizing vacant properties. That is definitely extremely problematic, but as Habitat affiliates are relatively independent, we're not sure how much it applies to other locations. Worth keeping a skeptical eye on, however.
We knew it was coming, but it's still painful. As we predicted, the latest round of tax cuts has dropped the value of tax credits that community developers rely on, such as Low-Income Housing Tax Credits and New Markets Tax Credits. In a stark example of what that can cause, that dropping value has caused PNC to pull out as an investor in Cincinnati's Apple Street Market, a food co-op that was going to address a food desert. The project was far enough along that if PNC isn't replaced, individual members may not recover what they put in.
Kansas City renters rising. Anyone who thinks that tenants rights organizing and housing affordability are only issues on the coasts should pay a little more attention—to Kansas City, Missouri, for example, where KC Tenants have just launched a People's Housing Platform, which got at least partial support from an editorial in the Kansas City Star, which also specifically asked mayoral candidates their plans to provide affordable housing.
No More DREAMer Homes? Earlier this week, at the Just Economy conference in Washington, D.C., José Antonio Vargas, undocumented activist, journalist, and entrepreneur, spoke about how painful it was for him, in the throes of trying to sort through the complicated notion of "home" for someone who doesn't feel wanted by the country he's grown up in, to receive messages from his bank about applying for a loan to buy a house—one more thing he can't do without legal status. Dreamers—participants in the Deferred Action for Childhood Arrivals (which Vargas is not part of)—are getting mixed messages on this too right now, as HUD claims it hasn't changed its rules about FHA mortgages for Dreamers, but lenders say they have. Keep it classy, HUD.
Careful About Those Headlines. HousingWire titled its report on the president's proposed budget "Proposed 2020 HUD budget sees meager increase from last year's proposal." Well, that's really sweet, except last year's proposal was a disastrous bare bones cut-fest that even the pre-2018-election Congress soundly rejected it, passing a HUD budget that was, while not enough, halfway decent. So the National Low Income Housing Coalition's headline—"President Trump Proposes Drastic Cuts to Affordable Housing Programs"—was much more accurate. To be fair, HousingWire's article also clarified this up front. Just a reminder to always read past the headlines.
Our nation's largest systems—education, healthcare, housing—are structurally unequal along class and race lines, and our criminal justice system is no exception. Issues like stop and frisk, cash bail, and ICE raids are all parts of a multi-tier system in which crimes committed by the poor and disenfranchised are prosecuted differently (and usually more harshly) than crimes committed by people with more means—and ultimately private companies profit. It's an issue that social justice groups like Make the Road have been organizing around for many years, and last week, their pressure resulted in a major win. JPMorgan Chase announced that it would be divesting from the private prison industry after several groups staged a protest outside the home of JPMorgan Chase CEO, Jamie Dimon, and called out the multinational bank's investment in CoreCivic and GEO Group, the country's largest operators of private prisons and immigration detention centers. JPMorgan Chase follows Wells Fargo, whose CEO said in recent congressional testimony that Wells Fargo had decided two years ago to "exit the relationships" it had with two private prison firms. As the processes around immigrant detention, and the centers themselves, come under more scrutiny, it's likely that the remaining U.S. banks—Bank of America, SunTrust, and BNP Paribas—may find themselves under more scrutiny, as well.
Cashless establishments are growing in popularity with business owners, especially those with a wealthier clientele who are carrying less cash. Being cashless also removes certain security concerns and cuts the staff time needed to close registers at the end of the day and take deposits to the bank. But for some customers, "card-or-app-only" means they and their cash, aren't welcome, and advocates for low-income and unbanked people—whose numbers are large—say this is unfair and nears illegality. Philadelphia has decided to do away with that possibility and became the first major city in the country to impose a ban on cashless establishments. New York City and the state of New Jersey are in various stages of similar legislation, and while some herald it as a win for equity, some say it unfairly penalizes businesses for trying to keep up with the times. We all know that cashless is the way the world is headed, so we hope advocates for both groups can come together for a solution that works for everyone.
All over the country, communities most affected by pollution factors like proximity to processing plants, transportation depots and hubs, and toxic waste sites tend to be majority Black and brown. Within the state of California, a recent analysis found that Latinos and African American residents breathe about 40 percent more pollution than white residents.
When Miriam Axel-Lute wrote this piece on the ways CDFIs had helped to keep families and small businesses afloat during the country's recent, and longest-ever government shutdown, it praised them as unseen heroes. This week, a City Lab article told a similar story, about nonprofit organizations contracted with the government to provide homeless services, but instead of being praised for their work, are often made to wait months to be paid or reimbursed for service provision. And this delay affects not only the people served by the nonprofit, but the nonprofit themselves, 20 percent of which announced themselves as insolvent, in part due to late payments.