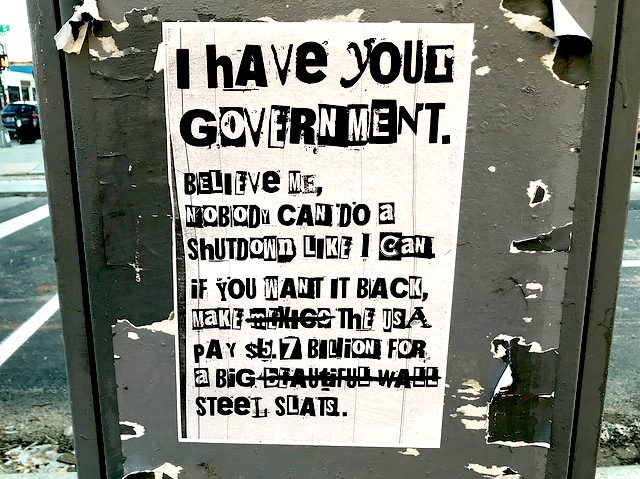 [The federal government is reopened and workers will receive back pay and be able to return to work with pay until Feb. 15] About 80,000 Washington, D.C., residents who work for the federal government will be protected from eviction and foreclosure with the passage of a DC Council emergency bill this week. The Federal Worker Housing Relief Act of 2019 will protect workers who are not able to pay their rent or mortgage during a government shutdown and for 30 days after its end. The passage came as we entered the one-month mark of the federal government shutdown, which affected government employees directly, and started to have ripple effects on public safety, air travel, and the small businesses whose operations depend on workers.
Pam Patenaude, whose move into the role of HUD deputy secretary in 2017 elicited praise from affordable housing advocates, announced her resignation in December, effective this month. Patenaude was considered a welcome, and needed, voice at the agency for her prior experience at HUD and with the Terwilliger Foundation, and knowledge of the housing field and challenges Americans face in finding safe and affordable housing.
In other HUD news, Lynne Patton, the regional HUD official and former Trump Inc. employee who made news (and drew some ire) late last year when she announced that she'd move temporarily from her Trump Tower apartment in January and into New York City Housing public housing to shine a light on residents' plight, has postponed her "stay" until after the shutdown ends. She cited a law as the reason for the postponement.
Pennsylvania is giving Pittsburgh the power to create property tax relief measures to allow longtime homeowners who stuck out the bad times to not be pushed out of rapidly appreciating neighborhoods. We think this is an important idea—but if the goal is anti-displacement, it should be both income-sensitive and consider some recapture of the forgone taxes at sale.
Can gentrification lead to stably racially integrated neighborhoods? The Furman Center looked at neighborhoods that gentrified in the 1980s, '90s, and 2000s and their racial changes over the subsequent decades—and concluded that racial changes in rapidly appreciating neighborhoods might not always look the way we expect. Gentrifiers in communities of color are not as white as often as imagined, and resulting racial integration is more stable than often expected. Of course a change from almost no white population to 50 percent can still involve both physical and cultural displacement, even if it doesn't reach the researchers' benchmark for resegregation (75 percent white); the discussion of race and power is still extremely important. Choosing definitions and benchmarks affects your outcomes. Nonetheless, facing counter-intuitive numbers is also important to crafting meaningful solutions.
Changes at FHFA. Mel Watt's term as director of the Federal Housing Finance Agency, the regulatory agency overseeing Fannie Mae and Freddie Mac, has expired. Mark Calabria, known to many housers as the libertarian who would actually accept invitations to speak/debate on panels at affordable housing conferences and make common cause over wanting to reform the mortgage interest deduction, has been nominated to fill the position. (More importantly, he's currently VP Mike Pence's chief economist.) Until Calabria's confirmation, Comptroller of the Currency Joseph Otting is heading the agency. One of his first moves has been to stop defending the agency's independent structure in court, leaving the director removable at will. HousingWire reports rumors of a quick move to GSE reform once Calabria takes the helm.
Why stop what works? Utah had done an amazing job reducing its homelessness rate by 81 percent—from 2005 to 2015—and experts say that drop was primarily due to the implementation of a "housing first" policy. But funding for that policy has since dried up and the state has seen a spike in the number of people sleeping on city streets. We can't say we're surprised—this always happens when you don't properly fund a program that works.
Challenging aging in place: Although this opinion piece is clearly self-serving, as its author heads an organization that operates senior living campuses, it's still got some important points to make. While aging in place might represent an ability to stay connected to community and independence for many older adults, for quite a few others it might not be the way to go—especially people who have gotten too old to safely drive but are living in car-dependent locations. That's a recipe for isolation and loneliness, Amy Schectman argues, which we know is a major health challenge in our aging population. Can staffed senior complexes (or other places that facilitate relationships and social connection) with services and social activities bridge the gap between independence and nursing home care and improve health and well-being?
When the 2020 Census begins next January, an interesting bit of trivia is that it will get underway in the remote Alaskan village of Tooksok Bay. The count will start there first because about 80 percent of Alaska's towns are not connected by roads or highways, mail delivery is intermittent, and many communities have unreliable internet service at best. Census takers have to perform their door-to-door task in freezing temperatures and surprisingly, before the spring thaw (its easier to travel—by dog sled, snowmobile, or bush plane—when the ground is frozen). Meanwhile, a federal trial began this week in Maryland about the Trump administration's addition of the controversial citizenship question to the census, where a judge will hear several challenges to the addition. This comes after a federal judge in New York barred the administration from adding the question last week, as well as another trial in California for the same issue, which hears closing arguments next month.
As our criminal justice system adopts and utilizes advanced technology—ankle bracelets for house arrest, street-level surveillance systems, gunshot detection—at a greater and greater frequency, the purported benefit is that it helps to remove human error. But an article about the bias in facial emotion recognition technology calls the whole premise into question, as a study found that software read Black faces as "angry" even when they were clearly not. It makes sense that some elements of the technology we create will contain our own biases (or have the same sensitivity blindspots we do), and so the remedy is to ensure that more people of color are designing and reviewing the technology before it is used to impact a life.
Making the connections: Public housing authorities are hoping to make a connection with health insurers so they could address the economic and social conditions that affect their residents' health. And it's perfect timing to do so as larger health insurers like UnitedHealth Group, Aetna, and others are investing millions in projects that relate to the social determinants of health. Half of the nation's public housing authorities are pursuing heath investments in housing, Forbes reports, but only 13 percent have dedicated housing-health staff members. And as we all know, on-site health care makes sense.
Housing security and homelessness. Kaiser Permanente has launched three initiatives to tackle housing insecurity, including anchoring a $100 million load fund to protect affordable housing across its footprint, and launching a plan to end homelessness for more than 500 Oakland area residents. It's an ambitious plan that we'll be keeping our eyes on.
Strengthening rent laws. New York Gov. Andrew Cuomo made his support of strengthening rent regulations clear during his state of the state address, as he promised to protect tenants who live in rent-regulated units by eliminating vacancy decontrol. According to the Community Service Society of New York (CSS), 290,000 apartments in the state have been lost to vacancy deregulation since 1994. CCS has many other recommendations to protect tenants, including closing the vacancy bonus.