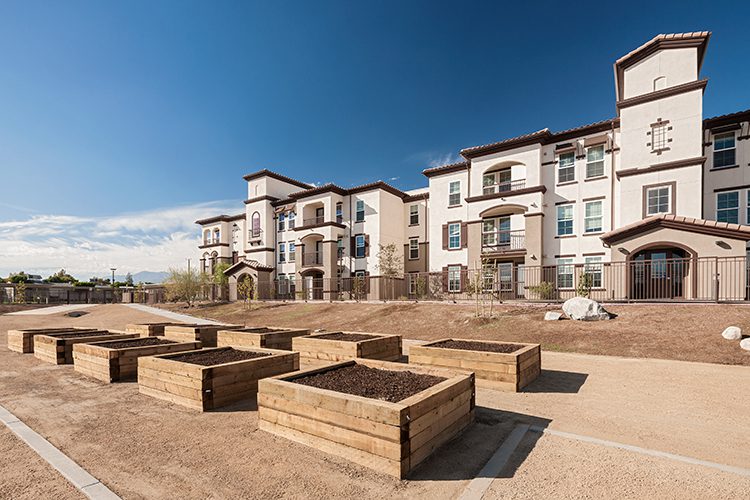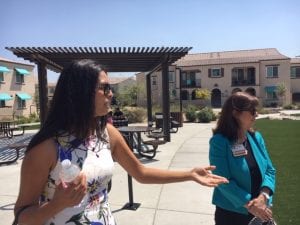 For years, the City of San Bernardino, the county housing authority, a nonprofit affordable housing developer called National CORE, and community residents worked to develop a plan to replace Waterman Gardens—an aging 252-unit public housing complex that's in desperate need of repair—with high-quality affordable housing. They launched the Arrowhead Grove Neighborhood Revitalization plan, a 38-acre, mixed-income housing project that is expected to create approximately 400 units of affordable and market-rate housing over the course of a decade.
Affordable housing is desperately needed in San Bernardino, a city with high housing costs and limited incomes that make it difficult for residents to afford basic necessities. More than 30 percent of San Bernardino residents live below the poverty level and nearly 70 percent of renters are housing burdened, paying more than 30 percent of their income on housing, according to the National Equity Atlas, a resource produced by PolicyLink and the USC Program for Environmental and Regional Equity.
In 2017 the Arrowhead Grove project opened 138 units of affordable housing. However, due to a lack of subsidies to pay for the development of additional affordable units, the next phases of the project were stalled.
What would it take to complete this transformative project in one of San Bernardino's core neighborhoods? Could a health system help overcome barriers to development?
'A Responsibility to Help Our Neighbors'
Dignity Health, one of the largest health systems in the United States, is exploring the roles hospitals and health systems can play in creating local systems that produce jobs, housing, transit, and other resources people need to lead a healthy life. It's also one of eight hospitals and health systems participating in an initiative from the Center for Community Investment (CCI) called Accelerating Investments for Healthy Communities. Over the past year, a cross-disciplinary team from Dignity Health engaged in a series of learning labs where they mapped the community investment system in San Bernardino to clarify local priorities, identify partners, and begin designing interventions to improve the system. The community investment system works to mobilize capital to address community priorities in disinvested places. It includes a broad set of stakeholders—from community development financial institutions (CDFIs), affordable housing developers, mission-driven investors, and banks, to community leaders, policymakers, public officials, anchor institutions, and local residents—who care about the community, the different types of resources that are blended to finance projects that conventional markets ignore, and the policies and practices that govern how this work is accomplished. Dignity Health also made the case for more investment in affordable housing.
Through these exercises, the Arrowhead Grove Neighborhood Revitalization project emerged as an important focus of the team's work. As a major project in a neighborhood burdened by crime and poor health outcomes, Arrowhead Grove had the potential to bring new groups to the table, have a catalytic impact on the local community investment system, and set the stage for future investment from the health system and others in San Bernardino.
"We have a responsibility to help our neighbors when they need us. We recognized the importance of the Arrowhead Grove revitalization effort but needed help understanding the best way to align resources," said Dan Murphy, vice president and chief philanthropy officer for Dignity Health Foundation-Inland Empire. "We needed our partners to help us determine the best path forward."
Dignity Health has a longstanding tradition of lending to affordable housing developers and CDFIs through its Community Investment Program. Seeing the need and potential of the Arrowhead Grove project, the program committed a $1.2 million bridge loan to help fill its funding gap.
Additionally, Dignity Health saw the potential to play a larger role in the local community investment system, recognizing that in the wake of San Bernardino's recent emergence from bankruptcy, it would take more than local resources to overcome disinvestment and improve opportunity for all residents.
"As a large employer and anchor, we understand that investing in projects like Arrowhead Grove can help bring stability to San Bernardino neighborhoods and transform lives," said Pablo Bravo Vial, vice president of community health at Dignity Health.
In June of 2018, Dignity Health invited a diverse group of stakeholders from San Bernardino, the Inland Empire, and the greater Los Angeles region, as well as statewide and national organizations—including municipal leaders, foundations, banks, CDFIs, developers, and community-based organizations—to come together. Nearly 50 individuals and organizations attended the meeting and the site visit that followed, where Dignity Health articulated a compelling narrative about the need for more investment in the city; positioned Arrowhead Grove as a clear and immediate opportunity for public, private, and philanthropic capital; and asked participants to join in making the project a success.
One of the entities in attendance was the California Strategic Growth Council (SGC), a cabinet-level committee responsible for coordinating the activities of state agencies to promote more equitable, sustainable, and resilient communities. SGC had previously been aware of the Arrowhead Grove project and the long-standing need for affordable housing in San Bernardino. Impressed by the collaboration among local partners and a strong application by National CORE, SGC awarded San Bernardino $20 million through California's Affordable Housing and Sustainable Communities (AHSC) program. The funds will support the next two phases of the Arrowhead Grove project, adding more than 180 new units of affordable housing. San Bernardino is the first city in the Inland Empire region to receive AHSC funding.
Across the country, rising income inequality, aging infrastructure, health disparities, and climate change threaten people's ability to lead a healthy and productive life. And, far too often, the community investment system lacks the capacity to produce the level and type of investment needed to improve these conditions.
CCI has observed over and over again that "resources follow coherence." By identifying a clear community priority and stepping forward to bring in new partners, Dignity Health was able to unstick a major catalytic project. SGC's funding for Arrowhead Grove illustrates how clear priorities and collaboration can help attract new resources to a system and deliver investments that are aligned with community priorities and support community health.