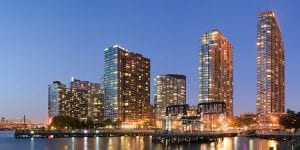 Last month Amazon announced that its second headquarters (HQ2) will be split between Queens in New York City and Crystal City, Virginia—two regions plagued with fair housing challenges. Over 236 cities vied for the spots lured by the promised influx of 50,000 jobs and $5 billion in capital investments. The bidding process has received much critique and the ultimate "winners" have committed billions of dollars in incentives with no assurances to the public that the HQ2 campuses or the development associated with them will happen responsibly.
But if Amazon wants to avoid contributing to patterns of gentrification and displacement, tightening housing markets, job displacement, homelessness, and housing inequality—issues that disproportionately impact communities of color—it must act in partnership with fair housing and community-based organizations with honest concern for how its actions will affect current residents and local communities.
In spite of technological and economic advancements, U.S. cities are becoming more diverse but increasingly segregated, wealthier but more unequal. Mounting pressures on U.S. housing markets have threatened a cornerstone civil rights promise to fair housing that was made 50 years ago. Gentrification and displacement are growing as is the racial wealth gap and loss of affordable housing. Corporations have contributed to furthering the disparities that challenge our society.
Global companies like Amazon have a responsibility to ensure their actions don't destabilize communities, promote residential segregation, or exacerbate barriers to fair housing. We don't have to look far to see what impact Amazon has had on communities. In Seattle, Amazon's corporate practices have marginalized local communities and created a real estate market that fosters mass gentrification of Black and Latino neighborhoods, the demise of small businesses, and growing homelessness. While some may think Amazon's HQ2 will bring a plethora of opportunities for all, cities known for their tech hubs have experienced increased wealth divides, with Seattle among the top five. Amazon's plans to expand into Long Island will reportedly eliminate 1,500 affordable housing units. If Amazon is going to be a good neighbor, it must do the following, at the very least, to mitigate against impediments to fair housing.
Actively engage in and support equitable planning processes. This includes the community's Affirmatively Furthering Fair Housing (AFFH) process which provides strategies and actions for improving fair housing, transportation, credit access, health options and other community resources. Amazon can participate in this important process by funding local fair housing and community-based organizations that have a long track record of addressing fair housing issues, work with local stakeholders to provide the data communities need in order to effectively engage in the AFFH process, support the development of technology that can make fair housing planning more effective, and otherwise lend its expertise to communities working to eliminate barriers to fair housing.
Work in tandem and partnership with community stakeholders. Amazon cannot exist in isolation but must actively engage with, support, and become a part of the communities where it has a presence. It must support local schools, businesses, and housing and community development nonprofit organizations. It must not exert its powerful presence on the community but rather be fused into existing networks — becoming a part of the fabric of the community.
Support anti-displacement and affordable housing policies and initiatives. We are already seeing the effect of Amazon's announcement with investors, landlords, and real estate agents looking to take advantage. Increased evictions and housing and rental price hikes are inevitable. This is why Amazon must support the development of affordable housing units, inclusionary zoning, real estate tax homestead protections, eviction prevention, and other policies and programs that mitigate against displacement. This includes providing financial support for local housing trust funds.
Hire a diverse workforce. This is particularly important at the upper echelon of the company. Amazon's recent embarrassment over its AI system that discriminated against women is an example of what the company must avoid. One could argue it is evidence of a broader corporate culture of executing policies and programs that not only drive discriminatory outcomes but are developed because of an insensitivity for the impacts the company's actions will have on underserved groups. With only a single female sitting among its 18 most powerful executives, Amazon must be more committed to racial, ethnic, and gender diversity at all levels of the corporation.
Pay employees a living wage. Amazon is choosing to move to regions that are among the most gentrifying and plagued by housing unaffordability—a double whammy. Paying all of its employees a wage that will enable them to live in the communities where they work will go a long way.
If Amazon is not prepared to take meaningful actions toward supporting the local communities where it locates, its presence is bound to hurt more than it will help. A firm commitment to fair housing goals is a solid first step.