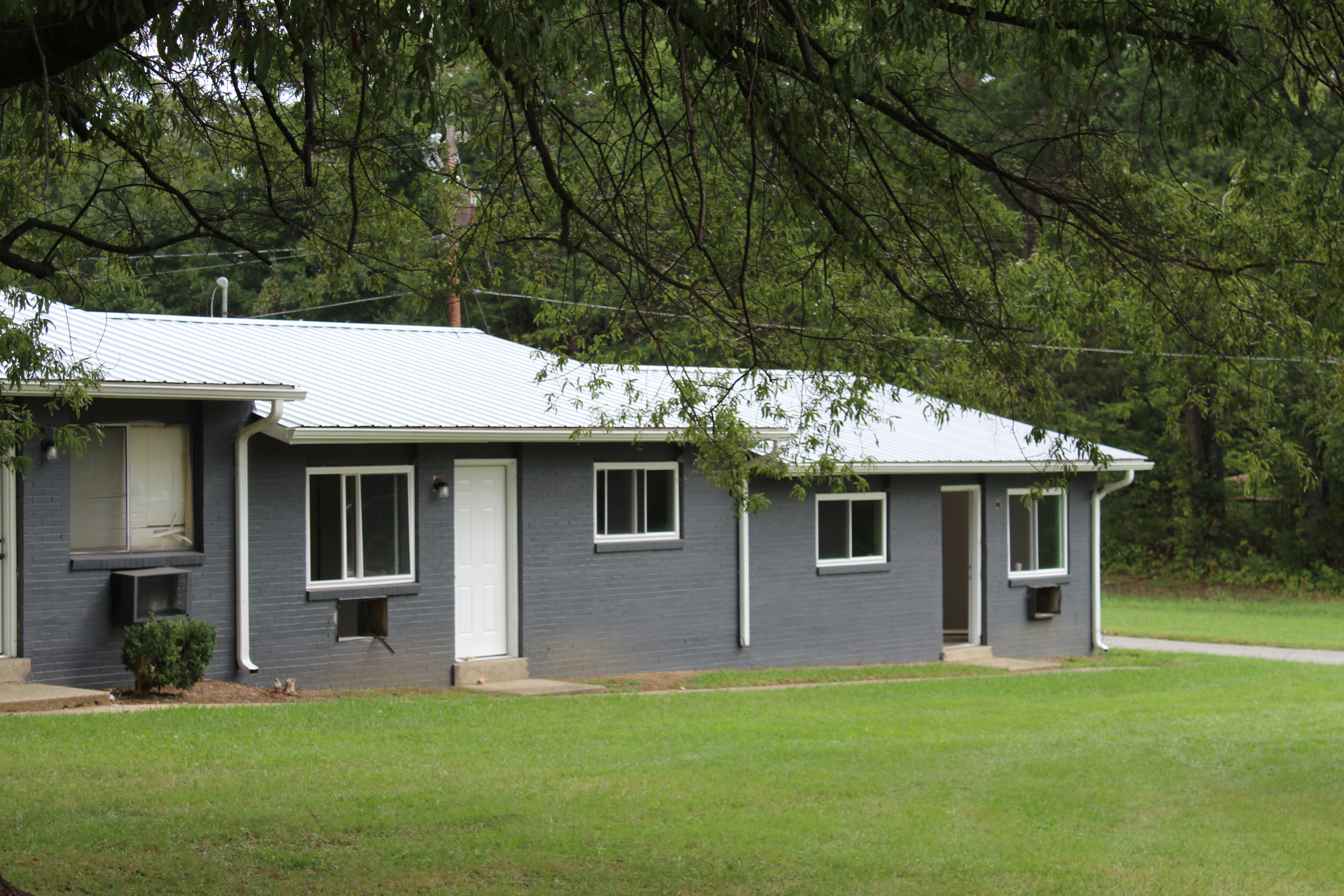 Avalon Trace was an unsubsidized but affordable housing complex in the Cottage Grove community of East Greensboro, North Carolina. The 176-unit building had been in extremely poor condition for many years and was an eyesore for the residents who lived there and the surrounding community. These apartments were what real estate industry folks commonly refer to as a "Class C" property, buildings that are generally older and in need of repair, though housing advocates considered them to be an "F" because they were failing the residents and the neighborhood.
Housing advocates were long aware of the problems at Avalon Trace. The Greensboro Housing Coalition (GHC), where I am the executive director, is a nonprofit that advocates for fair, safe, and affordable housing in Greensboro. GHC's Healthy Homes team regularly fielded and worked to resolve tenant complaints at the Avalon Trace complex. Over the years, our staff has visited some of the tenants' homes and has seen virtually every problem you could imagine, including backed up sewage, mold and moisture issues, and severe and persistent roach and vermin infestations. Because their sinks wouldn't drain, some residents were forced to wash their dishes in bathtubs.
The owners of the property were free riders in a system that allowed them to profit while residents, the surrounding community, police and fire departments, the local health department, the health care system, advocates, local philanthropy, and others footed the bill. Almost every community has a place like Avalon.
Asthma Hospitalizations: A Poor Health Hot Spot
We knew that these housing issues were causing health problems for Avalon Trace's residents and therefore driving up health costs at local hospitals, clinics, and emergency rooms. After all, substandard homes with broken plumbing, mold, deteriorated lead paint, and cockroach and rodent infestation have been linked to health issues such as respiratory diseases and psychological problems. But for years we didn't have the empirical data to make that case to the local health system and insurers. This started to change around 2013 when GHC strengthened its relationships with Cone Health, Greensboro's hospital system, and other stakeholders like the University of North Carolina–Greensboro's Center for Housing and Community Studies (CHCS). We began our relationship with Cone Health around 2012 through the Kresge Foundation's Advancing Safe and Healthy Homes Initiative (ASHHI). We approached Cone representatives and said we thought we could reduce their emergency department utilization.
Cone Health provided data about asthma hospitalizations and emergency department visits to CHCS, which was able to analyze which census blocks and neighborhoods the patients were coming from. CHCS researchers found that the level of asthma hospitalizations and ER visits coming from the Cottage Grove community was significantly higher than what would be expected based on the size of the population living there. In fact, it was roughly 120 times higher.
The majority of ER and hospital visits coded with a respiratory diagnosis from Cottage Grove came from the Avalon Trace apartments. (GHC staff never saw the data that was specific to Avalon Trace as it could potentially violate HIPAA, but Cone Health did, and its researchers crunched the data and aggregated it.)
Cottage Grove has been the focus of several programs that aim to address the health disparities in the area. For instance, Cone Health is a major partner on a BUILD Health Challenge grant that focuses on the Cottage Grove community. The challenges are run by the de Beaumont Foundation, with funders including the Kresge and Robert Wood Johnson foundations. Their role includes access to data.
GHC has been involved in a community-centered health program funded by Blue Cross Blue Shield of North Carolina Foundation where we are working with the Cottage Grove neighborhood to address upstream social drivers of health that had been identified by community members. The main health priority identified by the community was asthma and respiratory issues caused by housing conditions, which largely led to the focus on improving substandard housing in Cottage Grove.
Because the community kept asking us what could be done about Avalon Trace in particular, we decided to make an effort to work with the owners of the property. At the time, the owners were out-of-state investors whose property was being poorly run by their own management company. Residents would attempt to get the management company to make repairs, and very little, if anything, would happen. It became apparent to GHC and our partners that the owner did not have adequate cash reserves or cash flow to make the needed repairs and were likely using the rental income to either service debt or to line their pockets instead of investing in the property.
Our initial strategy was to use "carrots" in the form of philanthropic investment, which would come via grants made through GHC by the Community Foundation of Greater Greensboro on behalf of the Avalon Trace residents.
We met with one of the owners in November 2016 and offered to invest up to $1,200 per occupied unit for things like roof, plumbing, and HVAC repairs; replacement of carpet with solid surface flooring; and sheetrock replacement if they would agree to correct any other outstanding violations of Greensboro's minimum housing standards. At first the owners showed interest, but then they stopped returning our phone calls. After several months it became clear that they were stalling so that they could try to sell the property.
Bringing in Codes—Selectively
By the time spring 2017 rolled around, the property was losing residents as people became tired and moved out. Vacancies increased to the point that most of the development's 13 buildings, which range from 8 to 22 units, had at least one vacant unit that had safety issues, such as broken windows or missing doors. Occupancy was at 60 to 70 percent. During conversations with residents and the community, there were discussions of whether we should use Greensboro's complaint-driven code enforcement system and petition for the entire property to be inspected by the city. If we petitioned the entire property, code officials might condemn many of the occupied units and force people to leave. Residents were adamant that that was not acceptable.
So we collectively decided that petitioning the whole property might cause more immediate harm to renters who had nowhere else to go. While those who had other options mostly did leave (except for a group of Burmese refugees who prioritized staying together to preserve their sense of community despite the conditions), Greensboro's rental market is extremely tight and many did not have options. Wage growth has been only 4 to 5 percent over a period of about 5 years, during which time rents have increased by nearly 40 percent on average, leaving low-income households with choices of "bad" or "worse."
We agreed that the open and abandoned units with all of their broken glass and other hazards should at least be closed, boarded, or otherwise secured to protect children. We asked if the city's code compliance team could inspect and cite only the unoccupied, unsecured, and abandoned units at Avalon Trace, and they agreed. Since the city had been at the table as part of our Invest Health team, it understood completely and also did not want to be the cause of a mass displacement. Avalon Trace began racking up violations and the resulting fines, without any immediate displacements.
Greensboro Housing Coalition and some of its community partners, including Verna Torrain, the president of the Cottage Grove Neighborhood Association, began speaking with news outlets to turn up the heat and make it more uncomfortable for the owners not to make repairs, or to at least encourage a change in ownership. Several local news stories ran about the conditions at Avalon and the plight of its residents. Shortly thereafter, a listing for Avalon Trace appeared on a commercial real estate website. We crossed our fingers and hoped for the best.
Meanwhile, CHCS, GHC, the City of Greensboro, Cone Health, and the community development group East Greensboro Now had been selected for a grant from the Robert Wood Johnson Foundation and The Reinvestment Fund through the Invest Health program. Invest Health was working with leaders in 50 mid-sized cities to develop new strategies for increasing and leveraging private and public investments to accelerate improvements in neighborhoods that face the biggest barriers to better health. Greensboro's Invest Health team identified Avalon Trace as a potential joint project.
Our first thought was that the Invest Health team and the community foundation would support an attempt by our partner, the Piedmont Triad Council of Governments, to purchase and rehab the development. We were working with local developers to put a deal together and Piedmont Triad Council was on the verge of making an offer on the property when we found out that it was already under contract.
At the same time, because the code enforcement violations in the empty units had not been dealt with, the property owner was referred to a hearing at the city's Minimum Housing Standards Commission (MHSC), a quasi-governmental commission set up to deal with persistent unaddressed code violations. For years, the commission had basically two choices: give a property owner more time to make repairs, or vote to demolish the property. But in 2015 the Municipal Housing Code was amended to include a third option—the city can make the repairs and then attach the bill as a first-priority lien to the property.
GHC mobilized Cottage Grove residents, Cone Health, and a doctor who operates a clinic in the community to attend the meeting and advocate for this third option. Because of these voices, the owners were not granted an extension and an order to repair was issued. Once the repair order is issued, the lender and other parties are notified. The repair lien would have priority over the mortgage, so notification to the lender was integral to applying the pressure on the owner to do something or to sell.
An Unexpected Relationship
Shortly after the meeting, Carolina Community Investments (CCI), the prospective buyer who had the property under contract, called me to ask about the property and whether GHC could assist with repairs and renovation. This resulted in several conversations and ultimately several in-person meetings. Though CCI was a for-profit real estate developer/manager, and GHC is a nonprofit housing advocate, we realized we were mostly on the same page in our vision of what the apartments could be if they were purchased and stabilized. All parties believed that a "clean Class C" vision was obtainable and reasonable.
We began in-depth conversations about how to make this work, including potential financing. Each conversation and meeting led to greater understanding of the strengths, weaknesses, and barriers to success that each party faced, and led to a deeper understanding of what it would take to make the partnership work.
Once we agreed to move forward together, the question of financing was central. CCI was looking at financing options from local and national banks, and even considering venture capital investors, who charge higher interest rates. We knew that every dollar CCI used on debt service would be one that would not be invested in the repair and upkeep of the property. Through Invest Health, we had a relationship with The Reinvestment Fund (TRF), a national community development financial institution, so we introduced CCI and TRF to see if there was a way to obtain more favorable financing rates. Financing from The Reinvestment Fund is impact driven, and the organization was very interested in the health impact of our project. CCI and The Reinvestment Fund negotiated financing for almost 80 percent of the acquisition and rehab costs at an interest rate nearly half what CCI could have gotten in the private market.
The City of Greensboro Neighborhood Development Department, which was also part of the Invest Health team, committed about $500,000 in short-term 1 percent loans to pay for energy efficiency upgrades, such as new HVAC systems, windows, doors, insulation, water-saving shower heads, and toilets. This was important to the project for two reasons: First, it was a low-interest contribution to needed repairs to the property. Second, these energy- and water-saving upgrades would lower the utility costs for the mostly low-income residents. Although the goal was to keep the development affordable to current residents, we recognized that there was no way to spend the funds to do all the work that needed to be done without increasing rents, so offsetting the future higher rents with utility savings was very important.
Meanwhile, CCI's owner began to engage with the community after the contract was accepted. I was cautious about bringing her around until we were we were pretty clear that the deal had a good chance to close. Doing so any earlier would have jeopardized our standing among this community by getting their hopes up and failing to follow through. We needed to be strategic. However, once it became clear that they would close, she immediately restarted the Dumpster services which bought her some grace with the community members since the seller had stopped paying vendors and there were mountains of trash on the property in the month or two before closing.
Working Together
There were some tense moments and continue to be as this project moves forward. We have used the premise that we can disagree, but we cannot disengage. Before we started working together, I had no idea what a capital stack or a pro-forma was, and I didn't understand much about lending for this large project. Before we started working together, CCI had never dealt with nonprofits. So far, most of our issues have revolved around money and liquidity. Nonprofits are slow even when we are fast. Board decisions require meetings, phone meetings require unanimous consent, and it takes a week to get a check cut and signed.
Recently a check from CFGG took longer than expected to arrive and to clear, which held up our check to CCI for repairs and improvements they had already completed. Happily, it worked out and CCI was able to make its payroll.
We push them to maintain a balance between completing new units for new tenants and addressing the needs of existing tenants. It's a balancing act that's tough for everyone.
Getting Over the Finish Line
Putting the financing and other details together took a significant amount of time and the looming deadline for CCI to close or lose its $75,000 earnest money deposit threatened to derail the project. (An earned money deposit is made to a seller indicating the buyer's good faith in an arrangement.) GHC approached the Community Foundation of Greater Greensboro (CFGG) and a grant was made to GHC, which paid $25,000 toward a second $75,000 earnest money deposit to buy time for the deal to close. In short, we assumed some of CCI's risk. In partnership with CFGG, we then committed an additional grant of $125,000 toward health and safety repairs, such as pest control, new locks, smoke detectors, plumbing and electrical repairs, and the replacement of old carpet with cleanable solid surface floors. CFGG has been instrumental both as a convener and a funder in Greensboro, especially as it relates to housing for the most vulnerable. GHC's partnership with CFGG for the improvements at Avalon is funded through a private donor-advised fund, but there were still several hurdles to overcome in this process, including getting both the CFGG and GHC's boards of directors to vet and approve the funding with the deadlines approaching.
We signed these agreements and paid the $25,000 in additional earnest money to the escrow agent in early December 2017. Because of the complexity of the financing, questions about the pro-forma, and the overall fact that none of the parties (the city, The Reinvestment Fund, GHC, or the buyer) had ever done anything remotely resembling this, it took until mid-March 2018 to close the purchase. There were some tense moments between January and March when many thought the deal would fall through and the owner would walk away with our collective deposit money. Even after the purchase closed, it took even longer for the city rehab loan to close so there was sufficient cash flow to get units fixed. By the time the ownership was transferred, the occupancy rate at the property was down to around 40 percent.
The property has thankfully now been renamed Cottage Gardens, which smartly acknowledges the community where it sits. The people of Cottage Grove are proud of their roots, and the complex is becoming something they feel good about.
Right now, the property is approaching a 60 percent occupancy level, and sewer line upgrades are mostly completed. It's anticipated that the complex will be at 80 percent occupancy by the end of October 2018.
As part of the BUILD Health Challenge, Cone Health is planning to examine emergency department utilization after the property is stabilized. We also gave the residents who were there at the time of the closing a health questionnaire and asked about the conditions of their units. Next spring we will ask the same people the same questions and compare.
We were fortunate to have a buyer and investor who not only wanted to seize an opportunity to make money on a run-down property over the long term, but who also had a triple-bottom line philosophy, meaning they were interested in social, environmental, and financial returns. We realize that with many other for-profit investors this would not be the case. "As a developer you can do well by rehabilitating and managing C class properties," says Brittany Kielhurn, the principal for CCI. "However, these projects are an extraordinary amount of work, and you really have to care about doing something good for the community as well."
Local leadership at many levels of city government, philanthropy, health care, housing advocacy, and most importantly the community were all crucial in bringing about change at Avalon Trace. We can't give anyone a blueprint for a specific and replicable model to fix unhealthy, poorly maintained apartments. But our experience shows that if you are willing to listen to community members and residents, to collaborate with partners across sectors including for-profits, and to get really creative, you can make a huge positive impact on people's lives.