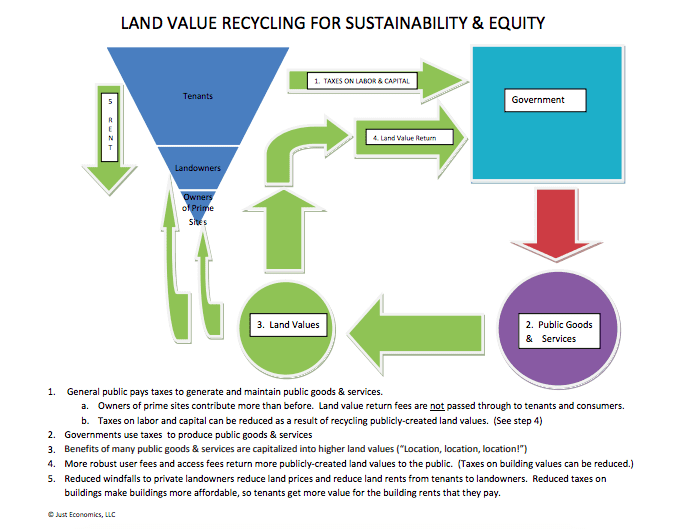 People live in communities because natural and human-made resources make them productive places to live, work, and play. Because geographically based resources are gifts of nature or created by the community, community control makes sense. Public parks, community land trusts (CLTs), and zoning are common ways to achieve "community control."  But there is another way—land value return and recycling.
Land values reflect the totality of all nearby amenities (and nuisances) that make a particular place suitable (or unsuitable) for residential, commercial, or industrial purposes. Today, most infrastructure-created land value becomes a windfall to those who own the best-served land. Thus, most members of the public end up paying twice for infrastructure. First, they pay taxes to create or improve infrastructure. Second, if they want to locate their home or business nearby, they must pay a landowner a premium rent or price to get access to the infrastructure that their taxes created.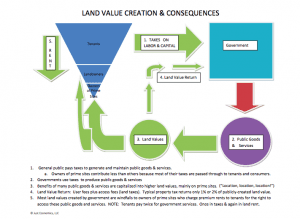 Landowner appropriation of publicly created land value is the fuel behind land speculation. Speculation creates nothing of value. But, it constrains the availability of developable land, thereby inflating land prices. Inflated land prices drive residents and businesses away from the most valuable and productive land toward cheaper, but more remote and less productive, sites. This creates sprawl, which harms the environment, requires costly infrastructure duplication, and reduces economic productivity. Speculation also creates land price bubbles which impair the economy.
Land Value Return and Recycling
Most communities practice some form of land value return and recycling (LVRR). That portion of the property tax applied to land values returns natural and publicly created values to the public sector where they can be recycled to help make infrastructure financially self-sustaining.
But most communities capture only a small fraction of the land value that they create. In most communities, property tax rates range between 1 and 2 percent of market value. If this stream of payments were collapsed into a single, one-time payment, it would be worth about $10 to $20 for every $100 of publicly created land value. Thus, most communities are giving away 80 to 90 percent of the land value they create. The best-served land in most communities is owned by wealthy individuals and corporations. So most communities collect taxes from everyone and, by providing infrastructure, enrich those who are already affluent. This is part of the reason for growing inequality.
Some communities apply LVRR more vigorously.  They obtain the following results:
Land prices are more affordable. Land prices reflect the benefits that people expect to receive from owning it. Taxing land values more heavily reduces ownership benefits, thereby reducing what prospective purchasers will pay.
Reduced taxes on privately created building values, reducing the cost to construct, improve, and maintain buildings. (Good for residents and businesses.)
Comprehensible, justifiable, and equitable taxes. Landowners pay in proportion to the public benefits received.
Less Sprawl. Taxes are high where land values are high, inducing development on these sites to generate income from which to pay the tax. High-value sites are near existing infrastructure amenities (e.g., parks, transit, etc.), which is where we want development to occur. Increasing development near existing infrastructure reduces development pressure in outlying areas, reducing sprawl. Compact cities require less infrastructure. They are more sustainable both environmentally and fiscally.