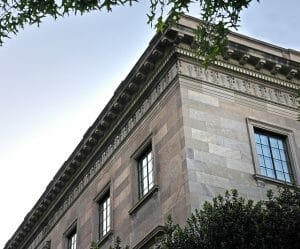 "Johns Hopkins University and Johns Hopkins Health System say they have hired 332 workers from distressed neighborhoods in fiscal-year 2017, part of an initiative to spur economic growth in low-income communities," reported Morgan Eichensehr in the Baltimore Business Journal. Combined, the two institutions employ over 49,000 people in the greater Baltimore area, making Hopkins easily the area's largest private employer. The fact that the institutions are now hiring locally marks a major shift in how Hopkins relates to the surrounding community.
Historically, Hopkins has been characterized as an ivory tower in the midst of Baltimore, a city of over 600,000 people that is 63 percent Black. In January 2014, the Baltimore Business Journal noted that Hopkins had "a decades-old reputation of . . . being aloof and more interested in international accolades than local popularity."
Ron Daniels, president of Hopkins since 2009, has sought to change that. "Hopkins is not just 'at' or 'in' but truly 'of' Baltimore," Daniels said in the same 2014 Baltimore Business Journal article. In June of that year, Hopkins was one of eight institutions to sign a pledge with then-mayor Stephanie Rawlings-Blake, joining an anchor institution partnership to support shared community-building and economic-development goals.
The current HopkinsLocal effort, a three-year program launched in September 2015, is also clearly a response to the death of Freddie Gray and the events that followed. Gray, a Black Baltimore resident, died of spinal injuries while riding in the back of a police van after having been taken into custody. HopkinsLocal, explains Eichensehr, "aims to increase economic empowerment in Baltimore neighborhoods by expanding partnerships with local and [people-of-color]-owned businesses, increasing hiring and training of city residents."
It is hard to overstate the impact of Gray's death on Baltimore City. Thousands protested, and unsurprisingly, the property damage (estimated at $9 million) and the calling in of the National Guard got the media attention, but the resulting uprising, as Evan Serpick of the Open Society Institute-Baltimore indicated, was far broader and deeper than the images of damaged buildings would suggest; it included many "weeks of protests, marches and the mobilization of thousands of Baltimoreans into a movement to change the status quo" and, indeed, continues to affect Baltimore City politics to this day.
Poverty and disinvestment in Baltimore City run deep, and much resistance to needed change remains. A retrospective that ran two years after Gray's death noted that "We're still fighting for the basics. Most young people in Baltimore City can't walk down the street and go to a rec center and have quality recreation and a safe place." As NPR noted in its retrospective, in 1991 there were 76 recreation centers in Baltimore City, but only 40 remained as of 2017.
Hopkins' efforts do not directly change the number of city parks and recreation centers, of course. Still, taking steps to align its purchasing and hiring to support the surrounding community has been beneficial. "According to Hopkins' most recent progress report, the university and health system boosted spending with local businesses by $20.5 million, or 23 percent, for a total of $109.8 million in the second year of the initiative," writes Eichensehr.
Hopkins' hire of 332 residents this past fiscal year from targeted city neighborhoods is on top of 304 hired the previous fiscal year. The "new hires accounted for 45 percent of the 739 people hired into those targeted positions—including roles like medical assistant, lab worker, administrative secretary, patient services coordinator, certified nursing assistant, and community health worker," notes Eichensehr. Among those hired were "138 returning citizens, or people coming out of prison, including 8 at the university and 130 at the health system."
Initial goals were to fill 40 percent of targeted positions with residents from low-income neighborhoods, increase purchases from firms owned by women and people of color by at least $6 million, and ensure that at least 17 percent of construction spending was with women, people of color, or low-income contractors. Those goals have been met, but there remains more to do.
Kevin Sowers, president of the Johns Hopkins Health System, said progress has been strong, but there is "much more [Hopkins] can and will do as an anchor institution in Baltimore City."
A version of this article originally appeared in Nonprofit Quarterly. For more Shelterforce articles on the role of anchor institutions in communities, and stories of how community groups have engaged them, click here.