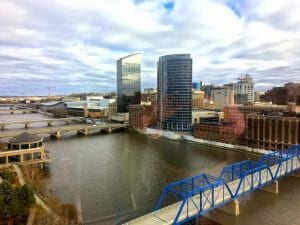 When looking for laboratories of urban development and resilience—examples of places working to improve quality of life for everyone—check what's happening in smaller cities.
We might be tempted to focus on familiar cities like New York, Los Angeles, Dallas, or Chicago. Instead, we'd like to suggest places like Grand Rapids, Michigan (pop. 196,500), Greensboro, North Carolina (pop. 287,027), or Roseville, California (pop. 132,671). Smaller cities like these deserve greater attention because not only are they where the majority of Americans live, they often lack the resources that larger cities enjoy from major foundations and employers. But they experience the same challenges associated with poverty, disinvestment, and poor health that larger cities do.
Despite their challenges, smaller cities are fertile ground for innovation and change, and come with some natural advantages. We've seen through a collaboration of our two organizations—called Invest Health—that in smaller cities it is typically much easier to engage high levels of leadership, get traction for strategies that are more visible, engage the wider community, build trust, and scale solutions more quickly than in larger areas. Here are a few examples:
In Grand Rapids, Michigan, Mayor Rosalynn Bliss is an active member of an Invest Health initiative that includes leaders from Spectrum Health; the West Michigan Center for Arts & Technology; LINC UP Community Revitalization; and The SOURCE, a local employee support organization. The initiative has aligned these local interest groups around a common vision for creating a healthier, more equitable city. Expanding the supply of affordable housing, a key social determinant of health, is a focal point of their work. Now, with $8.5 million in low-income housing tax credits secured by the city, 36 units of affordable rental housing are under development. "We need to be a place where a rich variety of residents not only feel accepted and want to call Grand Rapids home, but can afford to do so," Bliss said during her 2018 State of the City address.
The Invest Health team members in Roseville, California, include former Mayor Carol Garcia (who is also on the board of the local hospital), Kaiser Permanente, the city government relations administrator, the Health Education Council, and a neighborhood advocate. They have built a strong partnership that is working in three older, lower-income neighborhoods where residents have felt left behind by new development projects that have gotten more government funding for public works and services. With a population of 132,671, Roseville is small enough that this team has been able to quickly focus and prioritize their efforts to engage a significant portion of residents in the target neighborhoods.
The smaller community of Greensboro, North Carolina, allowed their Invest Health team to take focused action to reduce pediatric asthma with just one negotiation. The team, which includes representatives from the Greensboro Housing Coalition, the University of North Carolina at Greensboro (UNCG), the city Housing Services Division, and the East Market Street Development Corp., found that pediatric asthma cases in the city were highly concentrated in a few specific apartment buildings. The team reached out to the owner, and as a result, the buildings are under new ownership and are being renovated with tenant health in mind.
Such a targeted outcome would have been more difficult to achieve in a larger city, but in Greensboro, thanks to the involvement of UNCG's Center for Housing and Community Studies, the team had access to data that allowed them to pinpoint a manageable number of buildings that would make a big difference. In addition, the team only had to deal with one property owner, and had members with local power to help broker a deal with that owner.
Invest Health teams are working in 49 other small and mid-sized cities with health care partners and anchor institutions, engaging residents, collecting and analyzing data, supporting and strengthening community development, and launching pilot projects.
Through this work, we've seen in smaller cities a unique level of perseverance and tenacity. Residents of smaller cities tend to think long term, not only because they often grew up in these places themselves, but because they also want their children to stay and raise families there.
This kind of planning takes imagination, common-sense practicality, and a willingness to work together, and so the next time you're looking for a place to make needed change with impact, think small.