HUD has a entered into a compliance agreement with two California housing authorities after a voucher holder with disabilities sued them under the Fair Housing Act for not giving her extended time to look for a suitable unit in which to use her voucher. It's very good that HUD is still pursuing fair housing claims for now (and not braying about how their job is to care just as much for housing authorities and landlords *cough* Mulvaney *cough*), and people with disabilities do face significant housing discrimination, so we applaud the decision. But what stuck out to us about this particular case is that you don't even need to have a disability to have trouble finding a suitable unit with your voucher, given the reluctance of many landlords, especially in better-off neighborhoods, to accept them. Perhaps it's time to add source-of-income discrimination protection more broadly, to help all voucher holders.
Periodically, someone will observe that we don't have a housing cost problem, we have an income problem. This is true—the fact that housing costs have risen much faster than wages plus our increasing income inequality that leaves many more people operating at the very low ends of the income scale are major factors in our housing crisis. However, often that observation is made by someone who wants to argue against investing in housing-specific solutions and for broader "economic growth" solutions that will in theory "lift all boats." Those folks (or the people trying to work with them) might want to check out this study recently published in Housing Policy Debate that compared metro areas during the booming 1990s and found that "Neither economic growth rate nor poverty rate nor population growth rate distinguished high-shortage [of reasonably priced housing] MSAs from low-shortage ones. . . . Economic prosperity did not alleviate the problem of lack of reasonably priced housing in the past, and is not likely to do so in the near future."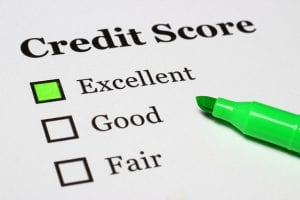 When a person pays their rent and utility bills on time, it's typically not included in their credit report so it can't positively impact their credit score. However, non-payment of those bills will negatively affect a person's credit if the account is moved into collections. By allowing positive monthly payments to appear on a person's credit history, the lending market can be expanded and directly affect the credit of African-American and Latino populations. That's why we were excited to see that the House is expected to vote on the Credit Access Inclusion Act of 2017, which would permit the reporting of positive rent, utility, and phone bill payment histories to the credit bureaus. But we mustn't forget: even if these payments are reported to the credit bureaus, most lenders use outdated versions of FICO, which don't take rental payments into account. So while we're moving in the right direction, more action is needed.
Still trying to work the problem: Calvert Impact Capital and Community Housing Capital have announced a new fund that will help finance parts of affordable housing development that require unsecured debt, such as "predevelopment, scattered-site single family, and other projects that are not exclusively backed by real estate collateral."
Detroit's latest move on regulating Airbnb seems slightly odd. Most of the high-cost cities that have pushed back against Airbnb have been mostly concerned about entire units being rented out full time, as that pulls housing units off the market and eventually raises rents. But Detroit seems to be doing the opposite, with a regulation focused on people renting out a room in their home. That seems likely to affect not only those who really are using the platform as a way to stay in their homes rather than be in an unregulated hotel, but also might possibly catch up people who are subletting or sharing expenses not through Airbnb to make ends meet.
Over the next three years, San Diego's homeless population is expected to get better access to health care services. The idea, according to the county's health and human services agency, is to provide more than 1,000 people with "intensive care management," help in getting housing, and assistance in navigating the bevy of social services available in San Diego. The initiative is part of a $22 million plan called the Whole Person Wellness program, the aim of which could be fewer expensive trips to ERs. We applaud the efforts to help the county's homeless population, but we want to caution against using cost savings to measure the value of the collaboration between the health care and housing sectors.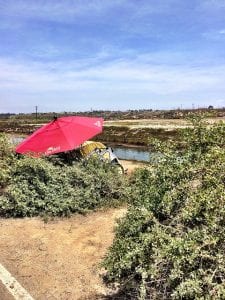 A temporary restraining order that barred the arrest of homeless people who refused to leave encampments along the Santa Ana River will stand, according to the Los Angeles Times. Public officials must now identify an alternative place to house folks who live along the trail. U.S. District Judge David Carter said he didn't "want homeless people who leave the river trail to be cited by cities, put in jail for a day, and then sent back to the streets, only to be cited again and have the process repeat itself," according to the Times. The goal, he says, is to find a temporary answer that can be reworked into a long-term solution. Bravo, Judge Carter, bravo.
As if we needed another example to show how little this administration cares about low-income folks . . . A budget proposal for the upcoming fiscal year calls for an 18-plus percent cut to HUD. The proposed slashing, which amounts to about $8.8 billion, will eliminate several programs, including the national Housing Trust Fund, Community Development Block Grants, the HOME Investments Partnership Program, and the U.S. Interagency Council on Homelessness. According to the National Low Income Housing Coalition, the proposal could lead to, among other things, "at least 200,000 housing vouchers being lost—a move that would undoubtedly increase homelessness and housing poverty." But there was a small bit of good news this week: the Federal Housing Finance Agency decided to continue Fannie Mae and Freddie Mac's contributions to the national Housing Trust Fund.
With increased conservative calls (and passage) of work requirements for recipients of rental assistance and Medicaid, it helps to know the facts. The Center on Budget and Policy Priorities released a Chart Book detailing the stats on people who receive federal housing assistance—and they are what we in the field already know. The majority of recipients are elderly or disabled (removing them from the work equation) and the remainder already work—in jobs that don't pay enough for them to fully afford rent. A smaller percentage are people who have significant employment barriers like low levels of education, being tethered to the home with caretaking responsibilities, or other circumstances that prevent them from working. The fact is, most people who can work, do. Those who aren't are likely trying, or simply cannot—but these realities don't stop conservative lawmakers from appealing to our most American of fears of being taken advantage of by our neighbors.
This narrative is nothing new, but it has reared its head recently as GOP lawmakers have turned up usage of the morality-based language of "takers" and the "deserving poor" to further their goal of getting rid of such programs entirely. It was interesting to read this etymology of the phrase "able-bodied" in The New York Times and learn how it has been used in the U.S. to exempt—or include—groups of people from work requirements in order to receive benefits. It is clear that the scope of "able-bodied" is trending toward expansion in order to increase barriers to aid, but advocacy groups like the National Health Law Program are taking action.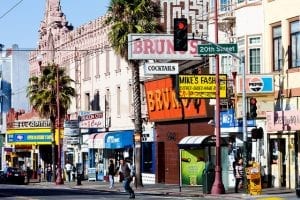 Over 300 people took to San Francisco's Mission Street in late January with calls to preserve the cultural significance of the area by protecting its affordable housing, small businesses, and longstanding institutions from gentrification. The goal is to designate the street a "Latino Cultural Corridor," which would bring increased protections for the many Latino-oriented commercial spaces on the street, as well as a greater voice in advocating for the longstanding community's equity in future housing and transit development.
Over the years, Shelterforce has written extensively on the ways being poor in America costs more. From food to financial products, what we know is that poorer consumers are penalized for their lack of mobility and choice. A new article in CityLab presents the astronomically high energy costs that low-income people pay—in many cases as much as 20 percent of their income, and how those costs go beyond the financial to have real health implications. Living in under-heated homes puts inhabitants at higher risk of respiratory and inflammatory illness. The article focuses on New Orleans, which is one of the least energy-efficient cities in the U.S., and we were happy to see contributor Andreanecia Morris of HousingNOLA interviewed for the article and focusing more attention on this crisis.
We can blame gentrification for many things, but according to Michael Llewyn's post in Planetizen, decreased transit use shouldn't be one of them. It would seem to reason that a slip in ridership in heavily gentrifying cities stems from the fact that lower-income residents have been displaced and no longer use the public transit. But taking recent ridership data from a very limited span of time (one year), Llewyn found that ridership in rapidly gentrifying cities like New York, Boston, and Seattle didn't decrease significantly at all (and in New York, ridership increased). Hey, we're always happy to take gentrification out of an equation, but maybe this one shouldn't have been made in the first place. These are also cities that are pedestrian-friendly, and getting around by car will likely never be easier or faster. Public transit is probably the last great equalizer in many big cities, and it just might be gentrification-proof.