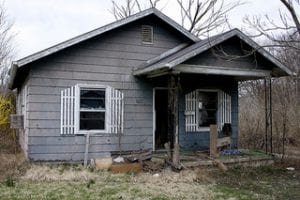 For years, code enforcement officers in the Western New York state Town of Cheektowaga had been aware of decaying properties in their midst, but finding a party to cite for code violations had been difficult, and getting compliance was nearly impossible. In some cases, town officials watched in frustration as heavy winters further deteriorated a vacant home, turning it from a local asset to eyesore, and then hazard. A worst-case scenario was that the home would end its life as a ruin, to be demolished and carted away at a cost of thousands or even tens of thousands of dollars—paid for by local taxpayers.
Since the collapse of the housing market after the Great Recession, thousands of properties stuck in foreclosure limbo—also called zombie properties—have been left vacant and deteriorating in towns and cities across the state. With the owner of record long gone and the bank showing little progress toward taking possession, the burden of maintaining these semi-foreclosed properties has often fallen on strapped municipal governments.
Recently, with seed money from a settlement between the New York State Attorney General Eric T. Schneiderman and a major bank over misconduct that led to the housing crisis, 76 New York municipalities are working to push these homes back into productive use. In the process, they are gaining fine-grained intelligence about clusters of vacant homes in their neighborhoods and developing preventative tools that can protect and benefit their communities into the future.
The Story of Zombie Remediation
In early 2017, the Local Initiatives Support Corporation (LISC) was enlisted to deploy and steward $70 million of the settlement. The settlement funds are in place to create and preserve affordable housing across the state and support 11 of its land banks—nonprofit entities empowered to acquire distressed properties at low cost and rehabilitate them when possible.
The "zombie relief" grants represent $12.6 million of the settlement, and will support the capacity of New York municipalities to inventory vacant and abandoned homes, dig into the causes of vacancy, step up code enforcement, and innovate policies that can put an end to the phenomenon. The grants are also connecting local governments with the specialized nonprofits to reach out to at-risk homeowners to offer foreclosure prevention counseling.
Grants are prioritized to towns and cities with at least 100 vacant properties. Through monthly check-ins with grantees, LISC is gathering insight from across the network, sharing it in real time, and brainstorming. Some towns, for example, are finding that they need to upgrade technology for code enforcement officers; others are discovering a need for legal research and representation.
"If you put more effort at the front end, at prevention and early intervention, even with limited resources you can do more to avoid blight," says LISC's Helene Caloir. "You can manage it in a way that doesn't create this terrible cycle."
Two Towns' Assault on Zombies
This brainstorming has been ongoing in about a dozen municipalities in Western New York, a region that has struggled to address a surfeit of vacant properties since long before the foreclosure crisis added zombie homes to the mix.
The problem takes a variety of forms. On Buffalo's East Side, abandonment may cast a pall over an entire block. Meanwhile, in Cheektowaga, a middle-class community along Buffalo's eastern city limits, vacant homes burden municipal services and threaten to destabilize otherwise vibrant streets.
The complicated stories around each of these properties—their physical, legal, and financial status—may be quite different, too, and so piecing together the facts is a labor-intensive but necessary step toward preserving a building's value and future reoccupation.
Using its $250,000 grant, the Town of Cheektowaga began by conducting street-by-street external inspections to update its vacant properties list and enlisting a part-time clerk and the legal nonprofit Western New York Law Center to research ownership and associated liens. By November 2017, Dale Marie Parks, a planner for the town, had a data-rich map and roster of 389 vacant properties. Some are habitable and some must be demolished, but most fall into a middle category of "need work."
And as it turns out, nearly a quarter of Cheektowaga's vacant homes are "bank-involved," or somewhere in the foreclosure process, but it now has the data and resources to stanch the downward spiral.
With a detailed, up-to-date list, officials are ready to mount the town's first major test of a state law passed in June 2016 that requires the foreclosing banks to secure and maintain vacant homes during the foreclosure process. "We're going to send our inspectors out to do full citations on those in disrepair," said Willis. "Our next step is to start contacting banks."
Another piece of the zombie program is connecting distressed homeowners to counseling and representation. Kate Lockhart, a paralegal at the Western New York Law Center, has seen the zombie drama unfold from a human angle. Many homeowners she has spoken with mistakenly assumed they had to leave their homes as soon as the initial notice of foreclosure arrived in the mail. Others, still reeling from personal crises that made them unable to make house payments—job loss, divorce, the death or illness of a breadwinner—were desperate to move on.
"I heard time and time again people saying they couldn't stay in this house, they needed to leave and wanted to turn the house over to the bank," said Lockhart. "But the bank won't just take a property from you. Even if you apply for a deed in lieu of a foreclosure, where the bank does take title instead of a foreclosure, it's still months of paperwork."
As part of its zombie grant, Cheektowaga plans concentrated outreach to homeowners, both those who may be at risk for foreclosure, such as low-income seniors, and owners of zombie properties who may be helped to get back into—or out from under—their properties.
In the neighboring town of West Seneca, also a grantee, Lockhart has already helped homeowners achieve beneficial outcomes in two cases where research revealed the bank had discharged the mortgage—in essence, walked away from the vacant home.
In one case, the owner moved back in. In another, an 88-year-old woman, after six long years of worry, was finally able to unload the two-unit property she'd owned with her son. She will receive a small sum from the sale, and the buyer intends to fix up the 100-year-old dwelling.
Cheektowaga and other towns also work with the Buffalo Erie Niagara Land Improvement Corporation (BENLIC), the regional land bank that in its four years of operation has become a major partner to many of the western New York cities and towns.
In a so-called "super bid," BENLIC can obtain empty homes at the county tax auction at greatly reduced prices then resell them with a scope of work the buyer is required to complete to bring the homes back to life and onto the tax rolls. The land bank may also return lots back to the town to build infill housing for income-qualified, first-time homebuyers.
Another kind of Zombie Threat
Just as the region's vacancies take varying forms, so, too, does the real estate market have varying implications for communities around Western New York. In Buffalo, for example, realtors and media call the market "red hot," and dwellings in some neighborhoods are selling for more than the asking price. This has special implications for the vacant properties.
Affordable housing advocates are troubled that real estate speculators, many from out of town, have turned up at the city tax auction and laid claim to some of the most ruined structures. They fear these new owners will not bring the buildings up to code, but simply milk them for rent, or sit on them and hope the market will deliver an easy return. Though certainly not a solution to abandonment, this speculation is a scourge to tenants and neighbors in a city where remarkable strides have been made toward equitable development in some historically underinvested neighborhoods.
In Cheektowaga, however, where the median list price on Zillow rose some 30 percent, from $89,900 in January 2015 to $119,000 in October 2017, the boom is good news. Longtime homeowners can experience some of the security that home equity brings. And the vacant houses the town is working to preserve and nudge back into the market are more likely to find takers. "People want property," said Willis. "And that's helping us."