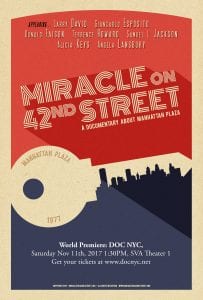 A new documentary, Miracle on 42nd Street, explores the story behind a bold idea to create a subsidized housing community for artists in one New York City neighborhood, and how its success helped build community in an area in need of revitalization.
On the precipice of an economic recession, New York City in the early 1970s was not an easy place to live, work, or do business; in fact, if one were to compare photos of New York City's 42nd Street in the 1970s with images from today, you might think the former were taken in the "Upside Down," the grey and ominous flip side from the Netflix series Stranger Things. "Urban decay" had taken root in the American lexicon, and New York City was its poster child. High unemployment rates, crime, and the threat of crime dampened tourism and would prompt nearly 1 million New Yorkers to move by the decades' end. And if New York City was an American symbol of all that could go wrong in our urban centers, West 42nd Street was ground zero.
Despite being part of the city's Theater District, which comprised Broadway and Off-Broadway theatres, studios, talent agencies, and restaurants, West 42nd Street was suffering from open-air drug and alcohol use and prostitution. Best exemplifying the area's decline into "seediness" was the proliferation of the now-iconic XXX-rated movie houses and peep shows, rented by landlords who couldn't find buyers for their properties.
The film's story of Manhattan Plaza begins with a pitch to jump-start a revitalization of the area; developer Richard Ravitch proposed building middle-income housing on a square block from 42nd to 43rd streets between 8th and 9th avenues. Using funds from the state's Mitchell-Lama Housing program, the city loaned Ravitch's HRH Construction all of the projects' $95 million cost and tore down several occupied tenement buildings to build the two high-rise apartment buildings. Construction began in 1974.
During construction, New York City fell into a deep economic recession and had to drastically cut its funding of the project. With no market in the area for such high-rent housing, the two 46-story buildings stood as a failure until a proposal came from the projects' management company and its owner, Daniel Rose, to rent the units to people who were employed in the performing arts.
Economically, though this subset of the city's population was considered poor and/or working-class, proponents of the plan said their presence in the neighborhood would be a stabilizing force. The proposal faced opposition from neighborhood residents and housing activists who believed subsidized housing should be prioritized for the neighborhood's existing poor residents, not set aside for a specific industry's workers. After nearly a year of debate and strong advocacy from performing arts unions, the plan was approved by the city.
Manhattan Plaza for the Performing Arts opened in 1977, with federal rent subsidy for 10 percent low- to middle-income earners, 70 percent performing arts workers (from dancers to wardrobe fitters, to writers and gaffers), and the balance for low-income seniors, the disabled, and local residents. In just over a year, all of its 1,689 apartments were fully rented.
The rent was on an income-fluctuating sliding scale, at one quarter of whatever a tenant's gross income was. Several performing artists interviewed in the film commented on how beneficial such a subsidy was to people in the industry, who in one year could be starring on Broadway and the next be unemployed. Actor and former resident Giancarlo Esposito recalled complaining about a rent increase after his break in Spike Lee's Do the Right Thing, and being reminded of how his rent had been subsidized by residents who'd done well in the years he hadn't.
Narrated by actor Chazz Palmintieri, the film documents Manhattan Plaza, focusing on the community it created during a bleak time in the city's history, and how the people who lived and worked there shared their lives. The film features accounts of famous former residents such as Angela Lansbury, Larry David, and Alicia Keys (Samuel L. Jackson was a doorman in one of the buildings, and Philip Seymour Hoffman was a counselor at Manhattan Plaza's summer camp).
Artist housing was a fairly new idea at the time of Manhattan Plaza's creation. A neighboring predecessor, Westbeth Artists Community in Manhattan's West Village, had opened in 1970 on the site of the former Bell Laboratories complex. Westbeth was an adaptive reuse of Bell's 13-building complex, and funded via private sources and the National Endowment for the Arts. The community still stands today with many of its original tenants.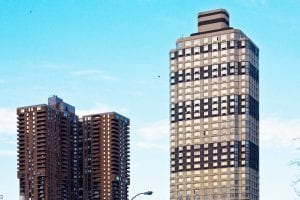 But according to residents and staff, what set Manhattan Plaza apart was its director, the Rev. Rodney Kirk. Manhattan Plaza's original owner Irving Fisher hired Kirk, an Episcopal priest who had no previous building management experience. Fisher, it was said in the film, "didn't want someone with preconceived notions" of what subsidized housing should be.
In the film, a resident recalled that Kirk formed a welcoming committee for new residents. The committee would conduct walking tours of the neighborhood, introducing newcomers to local merchants and pointing out the best places for things like produce and where to get clothes dry cleaned. (In the theater I smiled at this, thinking of how some New York City neighborhood's new residents would benefit from such tours today.)
In the 1980s, the AIDS crisis struck Manhattan Plaza hard, and for several years during the crisis' height, dozens of residents were dying each year. Manhattan Plaza was an oasis because, as a resident noted, "when someone became sick, they didn't have to leave." During this time, Kirk created an organization called Neighbors Helping Neighbors, which provided financial help and support for residents with terminal illnesses. Kirk served as manager of Manhattan Plaza from 1977 to 1997, and he died in 2001. Neighbors Helping Neighbors has since been renamed The Rodney Kirk Center in his honor, and it operates as a social services center for ill and elderly residents, helping them to maintain their independence and connection to the community.
Though not the point of the film, Miracle on 42nd Street does a fine job of presenting the benefits of targeted artist housing while also acknowledging the facts that other poor people were displaced because of Manhattan Plaza's construction, and many New Yorkers were angered by its exclusivity.
In one segment that discusses an earlier proposal to turn the buildings into Section 8 housing for the general public, an interview subject who was in favor of housing for an artist population describes Section 8 as the "lowest form of subsidized housing, and always turns a neighborhood down." In another, one of the projects' advocates is reported to have said, "If it's going to be for the poor, let it be for our poor."
Shelterforce has discussed the "preferred poor" when it comes to subsidized housing, and it's clear that artists make the cut as far as perception goes, but what about their actual benefit to community? "A community benefits in many ways," says Miracle on 42nd Street director (and former Manhattan Plaza resident) Alice Elliott. "The economic value has been proven in terms of both development [stimulus] and the tax revenue that follows. For example in Rahway, New Jersey, when there is a performance at the Union County Arts Center, the restaurants triple their revenues on those nights. There are other advantages, too—artists vote, get involved in the civic life of the community where they live. Schools improve, as do other services, because of the engagement of artists with their neighbors."
Elliot says she and the film's producers see it as a conversation starter. "Miracle on 42nd Street is a 'what if' catalyst. What if our town decided to have supported housing for artists? What would that look like? How would we start and sustain that mission?"
Today, Manhattan Plaza has several waiting lists of over 600 people. Like most of the city, the development's surrounding neighborhood has undergone a complete transformation, and it now sits on prime real estate. Related Companies purchased the complex in 2004 and extended its Section 8 contract, which requires renewal regularly. Elliot says there is a new plan to build 1,500 affordable housing units for artists in New York City.
"We are in conversation to work with HPD (NYC's Department of Housing Preservation and Development) to educate and inform the public about the value that affordable housing for artists brings to a community."
Miracle on 42nd Street premiered at DOC NYC festival in the fall of 2017.