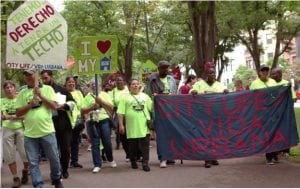 From September 18-24th, over 100 organizations took part in over 55 coordinated actions and assemblies across the country for the #RenterWeekOfAction. While the week itself was striking, the brewing and growing national housing justice movement behind it signals a dramatic shift in the fight for safe, secure, sustainable, affordable housing for all people in the country.
In the wake of the foreclosure crisis, community organizations and new autonomous tenant union groups have been rebuilding the housing justice movement block-by-block. In 2017, they are racking up significant victories that enhance renter protections, invest in community control of housing, and secure development without displacement.
"The string of victories in 2017 are a direct product of renters building power on the ground. Renters, faced with a historic housing crisis, are getting organized to change immediate conditions on the ground and build a movement to transform the way land and housing are treated in the country," says Tony Romano, director of organizing with the Right To The City Alliance.
This year's wins come as evidence continues to mount that the housing crisis is reaching epidemic proportions. According to a new study by PolicyLink and the National Equity Atlas, 51 percent of all renters are now cost-burdened.
Renter Protections = Community Stabilization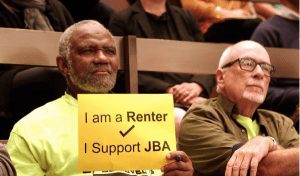 In late September, Boston renters celebrated the passage of the Jim Brooks Stabilization Act also known as Just Cause Eviction. The ordinance, which many in the movement contend still does not go far enough, established just cause eviction protections for homeowners after foreclosure, requires landlords to notify the city of all evictions prior to evicting, and mandates that the city provide renter rights information and referrals to local housing rights organizations to tenants facing eviction.
Led by tenants at CASA New Settlement and the Right to Counsel coalition, New York City passed even stronger protections in February, approving a first-in-the-nation law that guarantees a right to an attorney for low-income renters in housing court and eviction cases. The city has pledged $90 million to provide legal services to tenants facing eviction. According to the City of New York Independent Budget Office, evictions decrease by 77 percent when renters have legal representation versus when they are pro se, or one's self.
In San Jose, renters staged a hunger strike outside of city hall, leading to the passage of one of the strongest Just Cause for Eviction laws in the country in April.
In Seattle, the Fair and Accessible Renting for Everyone Coalition celebrated a long-fought victory to end housing discrimination against formerly incarcerated individuals  when the City Council passed a new law in August making it illegal for landlords to inquire or consider previous criminal record in housing applications. Organizers at the Miami Workers Center announced a similar victory banning discrimination against formerly incarcerated individuals in public housing applications in December 2016.
While these just cause eviction and non-discrimination laws are gaining steam, campaigns for city and statewide rent control are also gaining momentum.
Just weeks after Newark residents secured thousands of signatures to put a strengthened Rent Control law on the ballot this fall, the Newark city council passed an ordinance to strengthen the city's rent control and vacancy ordinances in September. The ordinance prevents landlords from imposing skyrocketing rents on vacant properties, requires landlords to comply with state and city health codes before increasing rents, and places oversight of annual rent increases for rent-controlled units into the democratic control of the council.
On October 6th, Glendale California Tenants submitted more than 11,000 signatures to certify a rent control ordinance on the ballot, and Illinois renters with the Lift The Ban coalition plan to go to the ballot to repeal the ban on rent control in March, 2018. State and citywide campaigns for rent control are being planned across the nation in California, Oregon, Rhode Island, Illinois, Maine, Colorado and Minnesota.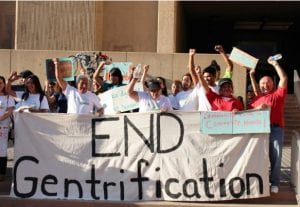 The success of these rent control campaigns have dramatic implications for the social and economic well being of neighborhoods. Besides the immediate benefit of defending against displacement and keeping families and children in their schools, rent control could have a significant positive impact on local economies. According to the National Equity Atlas and PolicyLink report, if every renter in the nation only had to spend 30 percent of their income on rent, the average renter would have $6200 more to spend in their local economy. The total economic contribution? $124 billion per year.
Community Controlled Housing and Development Without Displacement
In perhaps the most groundbreaking victory, Picture the Homeless (PTH) and the NYC Community Land Initiative won a landmark victory in July when they got the city to create a $1.65 million fund to support the expansion of Community Land Trusts. The funding includes training and capacity building to seed new CLT projects and funding for existing CLTs to secure additional land and housing and turn it into long-term, de-commodified space for the benefit of the community.
"This will help curb spiraling rent increases that tenants face every year, because CLTs won't have rent increases every year like we see in NYC." said PTH member Althea York. "The communities will have more control over land, and landlords won't profit from us anymore. Picture the Homeless has been doing this work for almost ten years. We proved community land trusts can work, and now I hope HPD (Housing Preservation and Development) and others follow in our footsteps."
In September, both the Newark and Detroit City Council adopted new inclusionary zoning measures requiring developers to ensure minimum of 20 percent of all new or renovated housing units are affordable and accessible to low and moderate-income families. While there continues to be ongoing debate about the long term viability of inclusionary zoning as a solution to the crisis, these victories come in response to growing pressure from public housing and private market renters, community members, small business owners and community organizations demanding development without displacement. Inclusionary zoning victories are one tool being employed in a longer term fight to secure greater democratic community control over land-use planning, housing and resources.
Tenant Union Organizing and Collective Bargaining
Behind these victories, organizers say that it's the explosion of building-by-building and block-by-block tenant union organizing that is building the necessary power to shift policy.
"We know that to truly win and transform the housing system, our movement needs to be rooted in the love, leadership and resilience of renters most impacted by the crisis. Through tenant unions and direct campaigns against corporate landlords, renters are making decisions, exercising their power, strengthening bonds in their communities and building a vision of a world where all people have safe, affordable and dignified homes," says Roberto de la Riva, and organizer with InquilinXs UnidXs in Minneapolis.
Minneapolis renters recently won class-action status in what is possibly the largest tenant class-action lawsuit in U.S. history against predatory and corporate landlord Stephen Frenz and his companies, The Apartment Shop and Equity Residential Holdings, building on a string of direct collective bargaining victories.
Similar efforts in Nashville led Inqulinos Unidos to win a groundbreaking collective bargaining agreement after just 2 months of organizing mandating repairs and continued negotiations.
Tenants unions in New York, Maine, Chicago, Oregon, Florida, Georgia, California, New Jersey and Massachusetts are building similar power and communicating with each other across states, regions, and the country. In doing so, they are laying the groundwork for bigger, collective fights against the powerful real estate industry.
The emerging tenant movement has the potential to radically alter the national political landscape more broadly, challenging long standing dominant narratives that restrict housing policy to relief and benefits for homeowners.
This resurgent movement is being led by women, people of color, working class immigrants, low-income communities and LGBTQ communities. This is neither accidental nor incidental. These communities exist directly in the path of the rampant property speculation and gentrification that are driving the housing crisis. Together, through national networks and coordinated organizing they are seeking to transform renters into a political class that advocates for its own interests, passes policies with real benefits, influences local elections and eventually take seats of local power.
2017 has been a historic year for renter victories, but organizers with the Homes For All Campaign, a trans-local housing justice campaign with member groups in 38 cities and 24 states across the country, say they are just getting started.
"We've only seen the tip of the iceberg," says Trenise Bryant who is a member of the Homes For All Organizing committee. "As more and more people feel the impact of the housing crisis we expect many more victories to come. We're angry, we're organized and we have a vision of a better world."