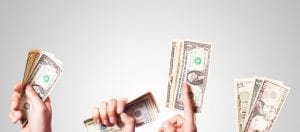 Around 150,000 families with 330,000 children turn to emergency homeless shelters to weather a housing crisis every year. Most people think of shelters as an inexpensive response, but they are actually an expensive bandage: data show that preventing homelessness in the first place, or cutting it short by providing housing vouchers, can improve families' lives and may even generate net fiscal savings.
An investment in a housing voucher reduces incidents of domestic violence, child protective services involvement, and food insecurity today, while putting children on a path to improved earnings and lower risk of incarceration over the long run. When the housing voucher buys access to a lower-poverty neighborhood, children experience additional improvements in long-term education and employment outcomes. Not only are these outcomes good for the families and their communities, they can also result in tangible savings for social services agencies.
In other words, when families have stable housing, the benefits are widespread. And perhaps that has been the problem.
In most jurisdictions, the cost of providing stable housing for the most vulnerable households falls squarely on a single agency—the housing authority—which operates under severe budget austerity and does not reap any cost-saving benefits even if every single family served goes on to lead healthier, more productive lives. Similarly, the costs of helping families exit homelessness falls to the continuum of care, although the benefits of homelessness prevention may come later or to a different agency. Artificial budget divisions between agencies or across fiscal years make it easier to pay after-the-fact for child welfare system involvement, schools, health agencies, and other treatments than to prevent those problems by paying for housing.
So many agencies benefit when families are well-housed that dividing the costs appropriately can be a complicated morass. When artificial budget divisions get in the way of funding effective programs, the pay for success (PFS) model could help move things forward. Our new paper describes how.
As a performance-based public-private partnership, PFS can bring together partners to break through artificial silos, bridge capital gaps, and provide tangible examples of programs that work.
The questions a jurisdiction might ask before embarking on PFS include:
How much is known about the outcomes different interventions can achieve?
Can these outcomes be tracked in local data systems?
What agencies could or should be involved?
Just the initial work to consider the viability of PFS can be beneficial unto itself. Having key stakeholders in common dialogue can open the door to ingenuity and effective problem-solving—perhaps unlocking additional ways to collaborate and strengthen opportunities for vulnerable families.
Since the government is paying for outcomes, not effort, the upfront funding for service providers comes from one or more outside investors, similar to the idea of syndicating Low Income Housing Tax Credits to cover development costs. The investors work with the jurisdiction, service provider, evaluator, and project intermediary to identify targeted outcomes and an appropriate outcome payment level based on the chance of success. If a rigorous evaluation shows that the program achieved those outcomes, the outcome payer repays the investors based on the terms of the contract. If the program does not meet its goals, the investors take the loss.
Pay for success can open the door to investments that would otherwise appear as a cost on one budget while yielding savings to a different agency or in a different fiscal year. A community seeking multi-year reductions in repeat shelter use could use PFS to align payments and savings in the same fiscal year. Or, a community interested in achieving a non-housing goal, such as reducing child welfare involvement or domestic violence, could use PFS to break through traditional divisions and fund supportive housing programs—or, more accurately, pay for the outcomes they achieve—through a general fund or directly from a health, justice, education, or child welfare agency budget.
Cuyahoga County, Ohio, for example, saw that homelessness meant a steady stream of children in their foster care and child welfare systems. A PFS project there has attracted investors to pay for reconnecting homeless families in the child welfare system with housing and offering intensive services during the transition period. The county will pay a return if the program reduces foster care placement days over its four-year implementation.
A community could also package a PFS project to include more than one outcome payer – effectively splitting the bill for each agency's share of the benefits. The Chicago Child-Parent Center Model, an early preschool program, uses the city's general fund as the outcome payer for kindergarten readiness improvements and grade-level reading by third grade, while the public school system pays if the program also achieves decreases in unnecessary special education.
Communities can also use PFS to reduce the risk associated with implementing a new program or to bypass the common roadblock of political will. Since the PFS model both shifts the financial risk to an outside investor and provides a clear motivation for the program to achieve results, PFS can allow elected officials to more readily agree to give a program a try. At a conference in 2016, Utah Speaker of the House Gregory Hughes described the blend of accountability and social impact inherent in pay for success as politically persuasive for both sides of the aisle.
While PFS can help communities bypass common challenges, it works best as a demonstration project to prove (or disprove) the value of direct appropriations in later years. After all, the additional stakeholders (and investor premiums) that come with PFS will raise the price of an intervention for the outcome payer compared with direct funding.
It's time to demonstrate that the research on housing's benefits is more than academic. A mountain of evidence that housing both solves homelessness and buys better outcomes for years to come has not led to large increases in housing subsidy funds. While advocates call for policymakers in Washington to provide adequate funding, communities can use PFS to end homelessness and get families on the path to better lives today.