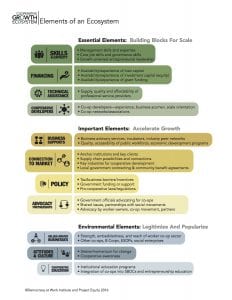 Since 2010, 60 percent of new cooperative worker-owners are people of color and more than two thirds of total worker-owners are women.
These are some of the findings from Cooperative Growth Ecosystem: Inclusive Economic Development in Action, Melissa Hoover of the Democracy at Work Institute, the nonprofit arm of the U.S. Federation of Worker Cooperatives, and Hilary Abell of Project Equity, a San Francisco Bay Area-based worker co-op developer consultancy.
Additionally, their report finds that nearly a third of U.S. worker co-ops operating today have been formed since 2010. 
This represents a remarkable change. Democracy at Work Institute data found that for the 100-plus worker co-ops founded nationally between the mid-90s through 2010, fewer than 3 in 10 members were people of color.
Overall worker co-op numbers, to be sure, remain modest. At present, Hoover and Abell estimate that there are 7,000 worker co-op member-owners. Yet it is clear that cooperatives, once largely overlooked in the community development field, are now an important part of the community wealth building discussion. As Sanjay Pinto argued in a recent Surdna Foundation report, Ours to Share: How Worker-Ownership Can Change the American Economy, "We see this moment in history as an ideal time to push for greater investment in the formation and expansion of worker-owned businesses as one method for closing the income and wealth gaps and increasing economic activity."
It was not long ago that not only did community development ignore co-ops, but co-op developers often ignored community development. There were, of course, some pioneers that used co-ops in their community development strategies, including Cooperative Home Care Associates in the Bronx, the Prospera network (formerly WAGES) of Latina green housecleaning co-ops in the Bay Area, the Center for Family Life in Brooklyn, and the Evergreen Cooperatives in Cleveland. But co-op development and community development often existed in largely separate worlds.
For example, five years ago, an article by a leading food co-op developer noted that food co-ops had the "greatest appeal to people who are better educated (college or graduate school), with incomes that are slightly above average, with occupation types that are more white-collar and professional in nature, and in age groups that run from the 30s through the 50s." Yet today, we are starting to see food co-ops and worker co-opsnestablished in much more diverse communities, with an appropriate focus on meeting resident needs (i.e., making sure healthy, affordable food is on the shelves). In Greensboro, North Carolina, the Renaissance Community food co-op is slated to open later this year in a low-income, African-American neighborhood that has been a food desert since a Winn Dixie store closed in 1998.
As Hoover, founding executive director of the Democracy at Work Institute, noted at a recent co-op conference, this shift is also leading to a cultural change. "In past decades," Hoover said, "we might have seen people use worker co-ops to exit the economy and create an alternative for themselves. Now, we are really seeing people using the form to enter the economy. And that is a substantial difference and I think it has huge implications for how we support the form through capital, technical assistance, and policy."
A core argument of Hoover and Abell's report is the need for infrastructure. Just like any business, co-ops work best when they are part of broader networks. Hoover and Abell identify 11 points for ecosystem intervention, organized into three broad categories. The first category of what the authors call "building blocks for scale" includes such basics as co-op development capacity, skills development, financing, and technical assistance. The second category of elements for growth includes links to business advisory services, market connections, policy support and advocacy strategies. The third category focuses on cultural tools, such as building networks of businesses, increasing public awareness of co-ops, and supporting co-op education.
Of course, Hoover and Abell's work builds on a longer history. As Jessica Gordon Nembhard's history of African-American cooperatives makes clear, co-op and community development have historically been strongly connected, especially in black communities.
One finding was the importance of study groups in developing co-op business ideas, a method that is once again being employed today. For example, supported by a Knight Foundation grant, the Philadelphia Area Cooperative Alliance has launched the 20 Book Clubs, 20 Cooperative Businesses initiative. The goal, over 15 months, is for 20 groups of people to begin to create co-op businesses, starting with meeting twice a month for six months in study circles to refine ideas and build group vision and cohesion before launching businesses. Also, of course, developing a cohort of businesses helps create a support system, which, as Hoover and Abell highlight, greatly increases the chance for cooperatives to thrive.
Nembhard, inducted this past May into the national Cooperative Hall of Fame, paints a picture of the opportunity: "I think we are a crossroads now. We have the chance again. I think we know the advantages of co-ops. I think we know how to create a co-op commonwealth. I think we need the political will. We need to convince people that the co-op route is really the right choice."