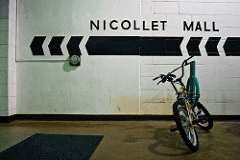 Earlier this year, the City of Minneapolis broke ground on a $50 million overhaul of Nicollet Mall, a 12-block centerpiece of its downtown. Like many main street projects, the Nicollet Mall project is rooted in high-minded principles of public space: that attractive, multifunctional, green, diverse, and life-filled downtowns beget economic activity and social well-being. The city hired the designers of Manhattan's High Line to lead the redesign. The website for the project touts that it is "making a mall for everyone."
There is some irony here. While Nicollet Mall is aesthetically outdated (one writer recently described it as "rather dull"), has poor frontage, and loses pedestrians to second-story skyways overhead, it already attracts tens of thousands of residents, workers, shoppers, tourists, and barflies every day. If you have attended a national conference in Minneapolis, you have probably been there too.
Some say the mall's problem is one of too many people, or at least too many of a certain type. Besides the above populations, Nicollet Mall is a gathering place for many of the city's homeless, mentally ill, and unemployed and disengaged youth. In a city that has come under scrutiny for its racial disparities, it is unsurprising that many of them are also Black. It is also unsurprising that many patrons of a different profile seem discomforted or threatened by their presence.
Few things dilute placemaking's ideals of urban harmony—of places for "everyone"—like the presence of Black poverty in shared spaces. At times, proponents of placemaking seem to talk around it by using sweeping terms ("inclusiveness," "empowerment," etc.) that tend to wash over just how messy the convergence of race and class can make such things. 
Last year, the Minneapolis Downtown Council, the partners on the Nicollet Mall Project, created a "Nicollet Mall Livability Working Group" to address "challenges like panhandling, loitering, boisterous, and threatening behaviors." Council CEO Steve Cramer wrote: "Downtown is a place for everyone, but everyone downtown should expect to have a positive and safe experience."
The council's primary self-interest is the comfort of its patrons, not the poor. Still, whether motivated by compassion or publicity, they have promoted strategies beyond heavy-handed policing, including philanthropy, social services, and community engagement. To this last end, the Minneapolis Downtown Improvement District—which is under the same leadership as the Council—commissioned the Tactical Urbanism team of a nonprofit called Juxtaposition Arts, JXTA for short.
JXTA's team began visiting Nicollet Mall sidewalks and bus shelters last summer. On different days they brought different items: a bubble maker and music; cards and games and dominoes; materials for making buttons and customizing backpacks. The objective behind these interventions was twofold: to engage the disenfranchised and to destigmatize their presence to the broader public.
JXTA Artistic Director Roger Cummings says that, while some higher-ups in the police force support JXTA's work, local beat officers have confronted its team for congregating people, occupying the sidewalk, and playing music—all activities that seem to conform to placemaking tenets.
Welukhea
JXTA's self-interest is to show youth how to make a living by making art. From a row of buildings it owns on a corner of West Broadway Avenue in North Minneapolis, it leads classes and workshops on a variety of creative processes, from screen printing to aerosol painting to environmental design. These efforts align with another motivation: to empower youth to shape their environment.
Last July, Roger Cummings gave me a tour of JXTA's kinetic day-to-day work. In one building, a circle of youth painted on canvas. Catty-corner and half-a-block away, an aerosol class practiced tags on the broad side of a squat warehouse. Back in another building, half a dozen participants in a summer co-op on black spatial politics discussed how they could reshape vacant lots along West Broadway. The co-op had just finalized a name for their cohort: "Welukhea." A student named Namir explained:
"Since our work is about reimagining spaces and language, we decided to do the same thing with our name. So we've taken our own experience as African Americans and some of our speech patterns to create 'Welukhea,' which is like 'we look here.' It can sound different in different mouths, and that reinterpretation by different people calls back to the work that we create in reimagining and occupying something for ourselves."
The workshop leader, Caroline Kent, elaborated on the purpose of the collective:
"Early on we talked about spaces and how they are occupied along West Broadway. So we were talking about how, in front of the laundromat, people be hanging out and it's considered loitering. We asked, what is loitering really? We have had discussions in here about what it looks like for black bodies to occupy space, how we view it and how we're viewed from the outside."
This dynamic, Cummings told me, was at the heart of JXTA's work in Tactical Urbanism:
"Black spatial politics is in the work we are doing on Nicollet Mall. There are groups of people who can sit and smoke and have wine and nobody is worried. You get a couple of cats with dreads doing the same thing, and it's like there's something nefarious happening. It creates a weird energy. We want to demonstrate that there is no weird energy. People all just want to enjoy this space. The crime doesn't go up, and the property values don't plummet. It's a good thing to be able to occupy space no matter who you are."
Lurking and Spitting 
One subject that arose in JXTA's Black spatial politics co-op was Minneapolis' "lurking and spitting" ordinances, which for years had faced criticism for enabling biased policing. City data shows that, over the last five years, 60 percent of those arrested for lurking were Black, in line with an ACLU-MN study showing that Blacks in Minneapolis were 8.7 times more likely than whites to be arrested for low-level offenses.
"What's the difference between hanging out and lurking, and who gets assigned those signifiers?" Roger posited. "And who gets penalized for those crimes? The group is working on ideas within that."
This past June, the Minneapolis City Council repealed the lurking and spitting ordinances on a 12-1 vote. In response, the Minneapolis Downtown Council wrote the following statement:
"Contrary to the assertions of proponents, eliminating laws defining an expected level of conduct that help insure public safety throughout Minneapolis will not solve the deeply rooted challenges of bias in our criminal justice system. Instead, we may find that the ripple effects from such changes simply undermine the security of individuals who live, work and visit here."
The Minneapolis Regional Chamber of Commerce took a less diplomatic tone. In an email to members, Chamber CEO Todd Klingel wrote:
"We are about to embark on a $50 million reconstruction of Nicollet Mall (one-half of the money provided by business). I, for one, do not want to see this effort to make Minnesota's main street more inviting thwarted because people are allowed to lurk in the trees and spit on the lovely new surfaces."
The latter statement spawned a week-long #lurkingintrees Twitter-fest among local activists, which took a gleeful turn after the vote. Yet the undoing of a rarely-used law probably does little to alter the contested nature of a space like Nicollet Mall, which is why JXTA's Tactical Urbanism team is still active there. Roger told me that JXTA's latest related project was to design a mobile Port-a-John to give the poor of Nicollet Mall have access to a bathroom, something most patrons take for granted.
JXTA's principles may not reflect those of the downtown business community, but at least in this case, their self-interests remained aligned. As it relates to criminalized populations in public spaces, this alignment beats a blind eye. Too often, a blind eye simply keeps matters in the hands of the law.
For more, read Conflict and Placemaking in Humboldt Park: Paseo Boricua and Conflict and Placemaking in Humboldt Park: La Crucifixion.