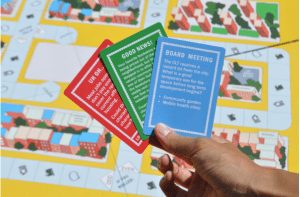 People are not made to sit in windowless rooms breathing recycled air and squinting at tiny writing on screens for days on end. If you can do that without at some point zoning out or almost falling asleep, you are a better person than I am. (Or you aren't human at all.)
There are many things that can be done about this, from "un-conferences" and fishbowl sessions to just banning PowerPoint and prioritizing audience engagement, but I wanted to briefly share two things from the last day of the National Community Land Trust Network conference that really helped me and others stay awake through that last morning.
First was the board game Trustville, which Picture the Homeless (PtH) debuted. Designed as a popular education tool, the game gives everyone a character (all low-income, from homeless to working poor) and after a playing time in which everyone gains and loses points based on the "news," and learns about mutual housing associations and land trusts, all the players must collectively decide how to develop a vacant parcel of land. (We'll let everyone know when the game is finalized and ready for distribution.) For the very reason that PtH wanted to have a game to engage members and residents in a different way, it was also exciting to see the range of people at the conference gathered around tables laughing, talking, and interacting instead of passively absorbing information.
Second was the Ignite Pitch Fest, in which six land trusts had three minutes to pitch their brilliant/interesting idea for an audience vote. Now, I'll admit that pitch sessions have been enough of a trend lately that I was a bit skeptical. Why does everything have to be a competition? Some really valuable programs take longer to describe or just don't sound so exciting. But then I sat down to listen.
I was immediately aware of the reason poetry slams started—to remind poets that when they read their work, they have an audience—that they became performers, and therefore their delivery along with their content deserved attention, practice, and consideration. (Poetry slams are competitive poetry performances where the poems are scored 1-10 by 5 random judges from the audience.) Not every good poem scores well in a slam format. Scoring poems is on some level, silly, and yet the movement has made poetry a much more interesting thing to listen to, even outside of slams.
Those three-minute land trust pitches had clearly been thought through and practiced, and their visuals added to their presentations rather than distracting from them. None of the presenters said things like, "Oh, sorry, you can't really read what's on that slide, can you?" And there was some humor. They had been forced to find the heart of what they were saying and get right to it. It was fun and interesting, and I'd been planning to leave partway through to get a leisurely lunch before my airport shuttle and I didn't.
Here's the downside of this though: folks who present on and moderate panels: We can no longer claim that a meaningful presentation can't be done in three minutes and that
you need longer. We don't need to dress up as Batman (as one land trust director did to make his pitch). But we do need to practice and prepare and distill and remember that we have an audience. The pitch trend should not be how real fundraising happens; nevertheless, the bar has been raised for all of us.