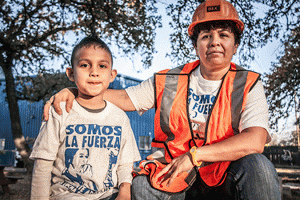 Fernando Lopez is a husband and a father of two teenagers. He works in and around Central Texas as a painter. In 2009, Fernando's employer stole $3,500 in wages from him. "This contractor, just like so many in the construction industry in Texas, took my money," says Fernando. "That money was to pay my rent, buy groceries, get medicine when we're sick, fill my car with gas. It's for the basics to get by. But this man, he used this money to take his family on a vacation, buy a brand new car, and live a more luxurious life. When employers steal workers' wages they don't see the damage they cause to working families."
Unfortunately, Lopez's story is not uncommon. There are an estimated 11.2 million undocumented immigrants living in the United States, and according to the Pew Research Center, they represent 5.1 percent of the U.S. labor force. Texas, the state with the second largest population of undocumented people in the country, is home to approximately 1.7 million undocumented immigrants. Although they make up 6.3 percent of the state's overall population, they account for 9 percent of the labor force and according to the Institute on Taxation and Economic Policy, pay $1.6 billion annually in state and local taxes.
Despite their contributions to the Texas economy, undocumented workers earn less than 2 percent of all employee compensation. This discrepancy is partially caused by their overrepresentation in the lowest-paying jobs, as is clearly seen in the construction industry, and partially by abuses such as the wage theft that Lopez experienced.
An All-Too Common Problem
Workers Defense Project (WDP) is a statewide organization that empowers low-income workers to achieve fair employment. For the last decade, WDP has focused strategically on improving working conditions within the construction industry, in part because of the industry's culture of worker mistreatment.
Construction is one of the most important industries to the Texas economy. According to the Bureau of Economic Analysis, the Texas construction industry earns $72.6 billion annually, generated 1 out of every 20 dollars of the state's economic output as of 2012, and has grown by a staggering 21 percent in the past two years. Approximately one million workers in Texas labor in construction, and WDP has found that half of them are undocumented.
The success of the construction industry depends on its workforce, but despite their contributions to this lucrative industry, construction workers aren't feeling the benefits. Workers in Texas labor long hours for low pay, and the state is the deadliest in which to work construction in the country. According to Build a Better Texas: Construction Working Conditions in the Lone Star State, a 2013 University of Texas study on working conditions in the state's construction industry, workers regularly face:
Dangerous and deadly working conditions: More construction workers die in Texas than in any other state. One in five reported suffering a workplace injury that required medical attention.
Poverty level wages: Fifty-two percent of surveyed workers reported earning poverty-level wages, leaving them unable to support their families.
Failure to be paid: More than one in five workers (22 percent) have suffered wage theft, which means being denied payment for completed work.
Predictably, among undocumented immigrants, these problems are even more common. Compared to their U.S.-born counterparts, undocumented construction workers:
Earn $3.12 less an hour, on average;
Are 18 percent less likely to receive rest breaks on worksites, leading to higher rates of heat exhaustion and heat stroke; and
Are 2.5 times more likely to experience wage theft.
In addition, because most employers do not provide bilingual safety instructions, workers who do not speak English, like most undocumented immigrants, are twice as likely to be injured on the job (Orrenius, 2009).
These conditions have dramatic impacts on working families. Unfortunately, Lopez's story is common largely because the construction industry is one of the least regulated in the state. The Texas construction industry has leveraged its economic success to build a significant amount of political power within the state to keep labor costs low. Unlike other states, Texas lacks basic protections for its construction workforce, and:
Is the only state in the country that does not require workers' compensation coverage or an alternative.
Has no statewide law mandating rest breaks for construction workers.
Has no program to ensure that private employers properly classify their employees.
Through its lobbying efforts, the industry has effectively created one of the deadliest and most unregulated construction markets in the country. As a result, both documented and undocumented workers face poverty-level wages, dangerous working conditions, and rampant payroll fraud.
The Real Costs of Cutting Corners
For construction workers like Lopez, the costs of the state's cutting corners in overseeing this industry are painfully tangible—eviction, injury, and empty stomachs. But this regulatory race to the bottom has a high cost for honest businesses and Texas taxpayers as well.
In an industry where payroll fraud is rampant and companies fail to pay workers owed wages, honest businesses that treat their workers well face a competitive disadvantage. Construction is an extremely competitive industry, and contractors must submit bids in order to win projects. Misclassifying employees as independent contractors, withholding workers' compensation coverage, and paying lower wages helps to lower contractor's costs and win more bids. At the same time, contractors who make unreasonably low bids are also at risk of running of out of money before the completion of a project, meaning they can't pay their workers. Responsible businesses that pay employees a living wage and provide workers' compensation face increased labor costs, leaving them at a bidding disadvantage.
This competitive bidding process also creates additional costs for Texans and social service providers. Texas allows employers to opt out of workers' compensation, even in a dangerous industry like construction, meaning the real cost of care is shifted. WDP found that only 42 percent of Texas construction workers report being covered by workers' compensation or an alternative plan. When uncovered construction workers are injured, hospitals and clinics are left to pick up the tab, which is passed on to taxpayers. A Fort Worth hospital's 2008 data showed that construction workers are 6 percent of the workforce in Texas, but make up 18 percent of uncompensated care costs.
Furthermore, Texas and the federal government lose hundreds of millions of dollars in potential tax revenue when employers break the law. Wage theft results in an estimated loss of $8.8 million in sales tax revenue for Texas. Roughly 40 percent of the Texas construction workforce is misclassified as independent contractors rather than employees, meaning the state loses an additional $54.5 million in unemployment insurance tax revenue each year.
But it doesn't have to be this way.
Building It Better
Policymakers can avoid these costs by leveling the playing field for honest employers and ensuring basic protection for hardworking families. Workers Defense Project has succeeded in winning policies that create safer jobs for Texas construction workers by:
Passing Texas' first misclassification protection law that imposes fines on employers caught misclassifying employees on state contracts—protecting not just construction workers, but any worker employed by a state contractor.
Winning one of the nation's most progressive economic development policies. To be eligible for tax incentives from the City of Austin and Travis County, companies must now agree to ensure higher standards on construction projects including offering living and prevailing wages, OSHA basic safety training, workers compensation coverage, and protection from misclassification for all workers on a project. Project owners are also incentivized to hire from "disadvantaged" populations (workers who are low-income, have a criminal record, or do not have a high school diploma).
Winning changes in city contracts to require basic safety trainings for all construction workers on city-funded sites in Austin.
Passing a statewide wage theft law. This bill makes it easier for police departments across Texas to arrest employers who don't pay their workers, and closes an important loophole that allowed employers to avoid charges of criminal theft of services by making a minimal compensation payment to their workers. Since this bill passed in 2011, Workers Defense Project has recovered over $300,000 in stolen wages for its worker members.
Winning paid rest breaks for Austin's 60,000 construction workers by holding a "thirst strike" with WDP construction worker members and leaders outside of City Hall during the summer. The action drew the attention of local media and health experts, which pressured Austin's City Council to pass a paid rest break ordinance for all construction workers in the city—the first of its kind in Texas.
While these are important victories, Workers Defense Project knows that more needs to be done to raise workplace standards for construction workers. In 2014, WDP launched the Better Builder program to win better working conditions for low-wage workers through private codes of conduct.
The subcontracting chain makes it very difficult to hold anyone accountable for the working conditions on worksites. Developers can easily wash their hands of responsibility by pointing down the subcontracting chain, and subcontractors are often small enough to evade enforcement if someone tries to hold them responsible for mistreating their workers. At the same time, developers incentivize mistreatment by accepting low bids on projects, leaving subcontractors without enough money to compensate workers fairly. The Better Builder program addresses the accountability problem with the creation of an innovative model that works with developers to create codes of conduct, known as Better Builder standards, that guarantee all workers on their sites a living or prevailing wage (whichever is higher), workers' compensation, OSHA-certified safety training, and professional development opportunities, regardless of their immigration status.
Once developers agree to adhere to a code of conduct, WDP provides them with monitoring services to ensure compliance with the code. Whereas traditional organizing methods focus on negotiating with workers' direct employers, WDP works directly with the developer at the top of the construction supply chain, affecting all of the workers and contractors that are a part of that project and solving the accountability problem of subcontracting.
To date, Workers Defense Project has experienced tremendous success with its Better Builder program, and it is currently monitoring over 1,000 workers on $500 million in construction projects for organizations like Foundation Communities, Pflugerville Community Development Corporation, and Apple, Inc. WDP is also pursuing opportunities to use the Better Builder program to partner with public developers like Austin Community College. Finally, through this program, WDP is collaborating with union partners to develop the Spanish-language training and apprenticeship programs necessary to help undocumented immigrants secure good, safe jobs in the long run.
The Better Builder program shows promise as a scalable model to address the issues construction workers face every day in Texas, and our legislative work is also important. But more needs to be done. Although deadly and low-wage work is prevalent in the industry as a whole, undocumented workers face higher risks than their citizen counterparts. To address this we need to address their legal status.
The programs created under President Obama's executive action on immigration, when allowed to take effect, will grant legal work status to some workers and bring temporary relief to immigrant families. But in order to create safe, good jobs, comprehensive immigration reform must happen. Especially in a state like Texas, where one in 10 workers is undocumented, our communities and our economy greatly need long-term solutions. Workers Defense Project will continue fighting to change the way low-wage and undocumented workers are treated on the job.
_______________________
RESOURCES
5 Facts About Illegal Immigration in the U.S., Pew Research
Everything You Wanted to Know About Illegal Immigration (But Didn't Know Who to Ask), by Jeff Salamon, Texas Monthly
Immigrants Drive the Texas Economy: Economic Benefits of Immigrants to Texas, Center for Public Policy Priorities
Undocumented Immigrants' State and Local Tax Contributions, Institute On Taxation And Economic Policy
Statistical Portrait of Hispanics in the United States, Pew Research Center
Build a Better Texas: Construction Working Conditions in the Lone Star State, Workers Defense Project
Build a Better Nation: A Case for Comprehensive Immigration Reform, Workers Defense Project