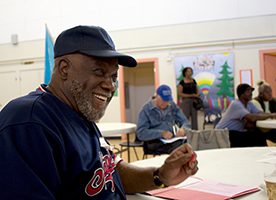 At East Bay Asian Local Development Corporation (EBALDC), we are re-examining our work in community development, including with our many senior residents, based on the belief an ounce of prevention is worth a pound of cure.
EBADLC has built over 2,000 affordable apartments, a third of which are senior housing. Many of our seniors have high needs. Some of them are formerly homeless. Others belong to the small group of patients who account for the majority of health-care spending as they contend with chronic illnesses and difficulties in accessing adequate care. While we feel it's important to connect these residents to whatever health services they need, managing illness may not address the root causes.
People who live in the more affluent neighborhoods adjacent to where we work in Oakland, Calif., will live on average 14 years longer than people in the neighborhoods we serve, according to the Alameda County Public Health Department. This insight is supported by studies from the World Health Organization and the Robert Wood Johnson Foundation that indicate that your zip code has more to do with how long you live than your genetic code. These studies illustrate that we must do more than create safe housing with services that benefit the surrounding neighborhood.
The quality of life for our residents relies on the quality of the whole neighborhood, not just the building we are responsible for, and their connections to and within that neighborhood. In recognition of this, EBALDC adopted a Healthy Neighborhoods Strategic Plan in 2013. We realized that to succeed in changing the lives of low-income seniors and residents of all ages, we have to do more than build housing. We must reinforce our colleagues' work throughout the neighborhood, and we must build a strong community for our residents.
Building Up Community
We place a residential services coordinator at each of our buildings and at one of our recent projects, the California Hotel, we employ two full-time, on-site social workers. We try to integrate our resident services coordinators with the health-care system, so we can provide health interventions long before a visit to the emergency room is necessary.
But beyond treating illness early, we want to mitigate the factors that lead to illness in the first place. In addition to drastically reducing health-care costs, this also improves quality of life. People who are relegated to a life of chronic pain are more likely to strike out at those around them. Freedom from pain can open up whole new vistas of meaningful activity.
Therefore, our workers go beyond goals like making sure seniors have transportation to get to the doctor—to help forge connections among the residents, and improvements in how they experience their neighborhood.
We saw this in action at our San Pablo Hotel Building. The resident committee realized that many residents had trouble crossing the street in front of the building to get to the grocery store. The walk light allowed only seven seconds, not enough time for a senior to navigate the busy four-lane street. Some residents simply didn't cross the street and, as a consequence, went without groceries.
With the help of our resident services staff and tenant organizers from the East Bay Housing Organizations (EBHO), residents reached out to the neighborhood, the Oakland City Council, and the mayor. They got the walk light changed to 40 seconds. In the process, residents widened their network of neighborhood connections. We are building on these efforts by supporting walking clubs, dance classes, civic engagement events, shopping trips, and other ways for residents to feel safe in the neighborhood.
Arts and cultural activities are also important. At the California Hotel, People's Grocery has been working with us to hold Fresh Foods Thursdays in the building's community garden. The garden has become a regular gathering place for social connection, as well as learning how to prepare food from the garden.
One of our residents, an artist who had been living in her car, pulled me aside recently and told me that she would not be alive today without the mix of housing and services that allowed her to express her creativity through her art. She is now creating art again and engaging with the community.
The California Hotel was once a hot spot for jazz, blues, and other music by artists who were not allowed to perform in other venues. We are now investigating ways to bring regular music performances back to the building. At one of our recent trial performances, a resident known to be particularly quiet got up and belted out a beautiful blues ballad. By the time he was done, he looked 10 years younger and his neighbors looked at him with admiration, commenting that they had no idea he could do that.
Small activities like these build the social relationships that help residents and neighbors to connect with each other about everything from finding inexpensive places to eat to job opportunities. People who connect with others have been shown to live longer. Breaking bread together with healthy foods, having people to talk with, and feeling like we are part of something bigger than ourselves is part of wellness. To be rich in terms of social networks is just as crucial to health as material wealth.
Our residential service coordinators allow us to foster this kind of wellness. They coordinate our work with local churches and temples; they organize our tenant council and coordinate with neighborhood efforts; and they leverage our efforts by coordinating our work with other organizations that serve the neighborhood.
We try to build in funding for this position at each of our senior buildings. Unfortunately, our tendency as a society is to pay for doctors to deal with the results of the problems, instead of the causes. This has made it difficult to fund the prevention work that reduces the much more expensive problems. Nonprofit housing developers may get points for including facilities such as healthcare centers in their properties, which helps fund the building phase, but that doesn't solve the problem of long-term revenue to keep those services in place.
Partnerships
Under our Healthy Neighborhoods strategic plan, we are looking for ways to support our partners to provide similar services to the broader neighborhood. For example, many of our senior residents at various properties rely on the Center for Elders' Independence (CEI), a nonprofit integrated health plan and delivery system that offers the Program of All-Inclusive Care for the Elderly (PACE). This program helps seniors remain living in their homes as they become frail. CEI collaborates with EBALDC to make sure there are no gaps in the care that residents need. We have built a custom PACE center (including a day center and clinic services) for CEI on the lower level of our San Pablo Hotel. CEI serves clients from throughout the neighborhood. With lessons from this partnership, we are now looking for ways to modernize the building and increase affordability. We are also working with CEI to incorporate space to serve seniors in our other facilities.
We are also now using our real estate expertise to assist age-friendly community partners who are less expert in that area. One is the People's Grocery, a cooperative grocery that has been seeking a location in the neighborhood. As their consultant, we will help them with determining feasibility and the acquisition of their site in the neighborhood.
We also learn from our various partners. Working with our local hospitals we have identified primary health issues in different neighborhoods. Hypertension, for example, is a major health threat that we were not aware of. Working with residents and neighbors to address hypertension can result in reducing emergency room visits and saving lives. To the extent that we can demonstrate the linkage between our work and reducing emergency room visits, we hope to find a way to support the healthy neighborhoods work from a small portion of the savings it generates.
Through our partnership with St. Mary's Center, an organization that works with homeless seniors, we learned that there is a gap in services for low-income seniors aged 50 to 65. Many seniors are choosing to stay on the streets because they are too young for senior housing and did not feel comfortable in shelters with younger people. As a result, our 144-unit San Pablo Hotel defines seniors as anyone over 55 (the youngest allowed for senior housing under California law).
Coordinating multiple organizations for collective impact is not easy, but we do not believe that any one organization can address our fundamental health disparities alone. It's incumbent on us to look beyond housing to build the resources that people need into neighborhoods and create the infrastructure to support those resources.
We want to strengthen our partners and we want to strengthen the voice of the residents they serve. Our job is to step across gaps, bridge divides, and bring different groups together to build healthy, vibrant, age-friendly neighborhoods and to shrink the disparities in life expectancy.
We want to make sure our residents have access to the pound of cure, but our ultimate goal is to align the resources needed to foster health, so that an ounce of prevention is all that's needed.