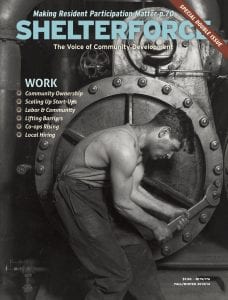 In theory, the recession has been over since 2009. But that theory means little for most workers in this country, who have only seen only 5 percent of economic growth since then accrue to them. We still have a jobs gap of 7.7 million jobs in order to return to pre-recession employment levels and absorb new workers, and the jobs that exist are often low-paying and unreliable as well—wages have stagnated even while productivity explodes.
And of course, the overall unemployment rate masks much higher jobless rates among younger workers, workers of color (unemployment rates are twice as high for African Americans as for white workers), and residents of weaker economies and neighborhoods without good access to job centers.
Rising income inequality and poverty levels make the goals of stabilizing distressed neighborhoods, increasing equal opportunity, and making a healthy home and neighborhood accessible to all many, many times harder. Community developers know this.
In fact, the community development field began as the community economic development field. Alexander von Hoffman wrote in our Winter '12/'13 issue about how early CDCs tried to lure factories to distressed neighborhoods and invest in small businesses. It wasn't easy, he noted: "Community development groups that invested directly in local supermarkets and restaurants often lived to rue the day, if they survived the ordeal. These kinds of early business failures were valuable, if painful, learning experiences for the new grassroots practitioners of community development."
But at least some persevered. Despite the challenges, there are practitioners who have been supporting economic development in communities in need all along, whether it's the community development financial institution field financing small businesses, community land trusts developing commercial space, or CDCs focusing on who builds their housing as well as who lives in it (one estimate is 150 jobs for every 100 units rehabbed).
Community economic development is not just a matter of helping some households to get jobs and pay their bills. Done thoughtfully, it's about shifting the location of economic power. As Gar Alperovitz writes in our opening article, "One part of linking project-based work to systemic change efforts must involve creating institutions of democratized ownership of wealth (rather than elite individual ownership)—institutions that can generate revenue, provide jobs, and build up an independent economic base for the community over time."
Among the kinds of institutions of community ownership that Alperovitz is talking about are worker-owned cooperatives (and here) and nonprofit-owned social enterprises (and here). These businesses are mission-oriented, concerned with creating good jobs for those who are in the most need of them, and are also likely to stay put in their communities.
Community economic development also means thinking not just about raw numbers of jobs. It means thinking about what kinds of jobs are created: Are they permanent, dignified, living wage jobs? Could they be union jobs? It means thinking about who has access to those jobs: Are there targets for hiring and contracting locally? Are there unnecessary barriers to getting those jobs? Is the job training and job retention support effective? It means thinking about the demand side: Who is spending money in your communities and could that spending power be turned toward local businesses that have a positive economic multiplier?
Who Owns It?
Ownership is not just a question when it comes to economic power. It's also a question when it comes to social change efforts themselves. Community development came out of a tradition of community organizing, but what's the role of community residents in a complicated real estate deal? Answer: It can, and should, be significant. Jennifer Vanica describes the different ways community members not only planned, but implemented and now partially own, a shopping and cultural center called Market Creek Plaza in San Diego.
And then we explore some possible ways to strengthen community accountability and connection in a community development organization, from prioritizing inclusion of resident board members to consensus decision-making to having a membership base rather than a self-perpetuating board. The common theme is that taking the time to intentionally focus on process is not just about feel-good inclusiveness: it strengthens the organizations and affects their directions in crucial ways.
A quality job and a say in the direction of your community provide different kinds of empowerment—bread and roses, if you will, in the words of the old union anthem, opportunity and citizenship, two of the core values of the community development field. I hope these articles inspire you with new ways to reach toward each one.